Releases in September 2023 to the Workiva Platform included improvements to the following products and features: 

Binders
Attachments can now be included in reviews
When sending a binder for review, you can now include file attachments.

Improvements to nesting in Binders
You can now create parent-child relationships and titles in PDF outlines using tabs and nesting.
Certifications
Certification letter preview
You can now preview how a letter will look for the assigned signers and approvers prior to running your process.
Chains
Fixed: Box key pair fails when generated on Windows
We discovered an issue with the Box connector that caused RSA key pairs to fail when generated on Windows OS. This has been addressed and the key pairs should now function on both Unix and Windows.
Charts
Fixed:

Comments
Comment Permissions are now available
You can now add permissions on comments. With this feature, you can have private conversations with a select few individuals while still ensuring the larger team has access to the report they need.
Copy/Export/Import
ICML Export Support for Floating Objects
ICML exports support export of floating objects. Text from floating text boxes, text from floating shapes, and floating tables will be contained in a single ICML file for the respective section folder where they appear in a Workiva document. Floating images and floating charts will be exported as individual files contained in the section folder where they appear in the Workiva document.
Note: The order of text from floating objects in the ICML file may not perfectly align with the read order of the Workiva document.

Import non-Workiva files into an existing folder
When importing a non-Workiva file using the Create menu, you will now see an option to choose a destination folder. You can import directly into a folder by right-clicking within an active folder and selecting Import.
Presentations
Floating objects included in PDFs with tracked changes
Floating objects are now included in PDFs that include tracked changes.
Note: This feature is only available in Workspaces with Designed Reporting capabilities.
Processes
Bulk edit assignees and approvers
You can now bulk change the assignees and approvers who are assigned to the actions in your process.
Section 16
Bulk file multiple Section 16 forms at once
You can now file multiple Section 16 forms at once from the Unfiled Forms tab. Use the checkbox to select the forms you wish to file and click the file button in the toolbar.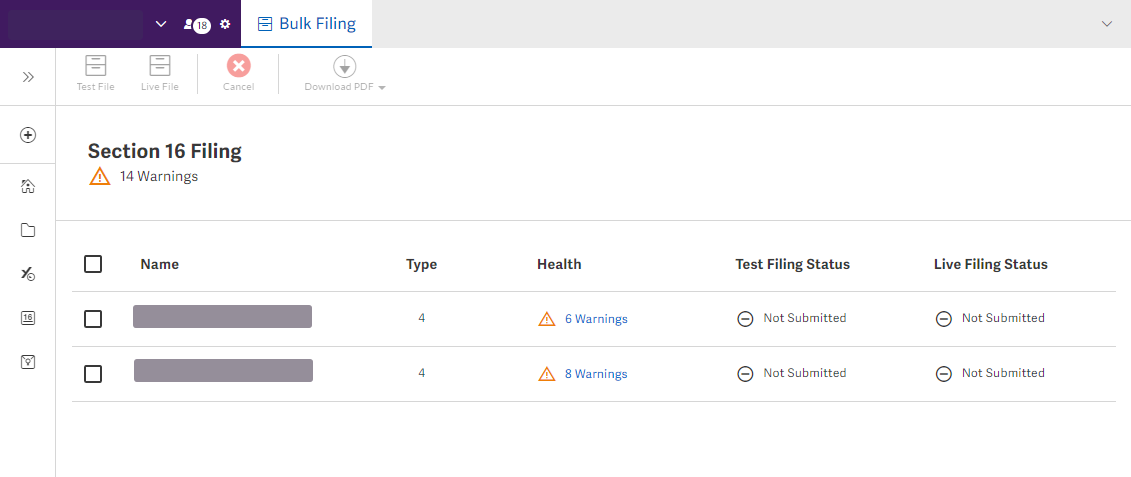 Section 16 Download as PDF and XML
You can now download forms as PDF or XML in Section 16. This allows you to download the form along with any attachments included in that filing, such as power of attorney.
Spreadsheets
Wdesk Sync will be shut down as of September 30, 2023
Workiva Sync is the replacement Add-in for Microsoft Excel. It is ready for your install and use today. Learn more by viewing the Workiva Sync Community Page.
Workiva Platform
Classic Admin Changes - Classic Profile removed
As a reminder, Workiva is shutting off access to specific experiences within our Classic Admin application to streamline your administrative tasks.
In our most recent release, we shut off our Classic My Profile page. The new My Profile page is already available in the current Workiva Platform.

Classic Account Admin navigation removed
All Classic Admin features that Workiva supports can now be accessed through our current platform. As a result, all Classic Account Admin features have now been shut down and we've removed the ability to navigate to Classic Account Admin from the current platform navigation menu.
For more information on Classic Admin changes, see this community post.

Fixes to the /Schemas endpoint
The /Schemas endpoint will no longer return schemas with the names "Schema", "Resource Type", or "Service Provider Config".

View value details from ESG Metrics panel
With Workiva's ESG solution, you can view information about ESG Program metrics from their connected source file's ESG Metrics panel. From this panel, you can now view details about a connected value, including:
Data type, such as Number or Currency

Unit of measurement, when applicable

It location within the file, such as the coordinates of its spreadsheet cell
View task status and assignee from ESG Metrics panel
With Workiva's ESG solution, assignees can complete data collection tasks for ESG Program metric values from the ESG Metrics panel of their connected source files. From this panel, workspace members can now view the status and assignee of a connected value's task. 
Streamlined browser validation
Users with classic browser validation now only have to go through a single verification step to log in.
Workspaces
Enhanced Role Management
Org Workspace Admins and Workspace Owners can now use the new Roles tab to set the default roles that will automatically be assigned to newly added members.