Welcome to Workiva's new design tools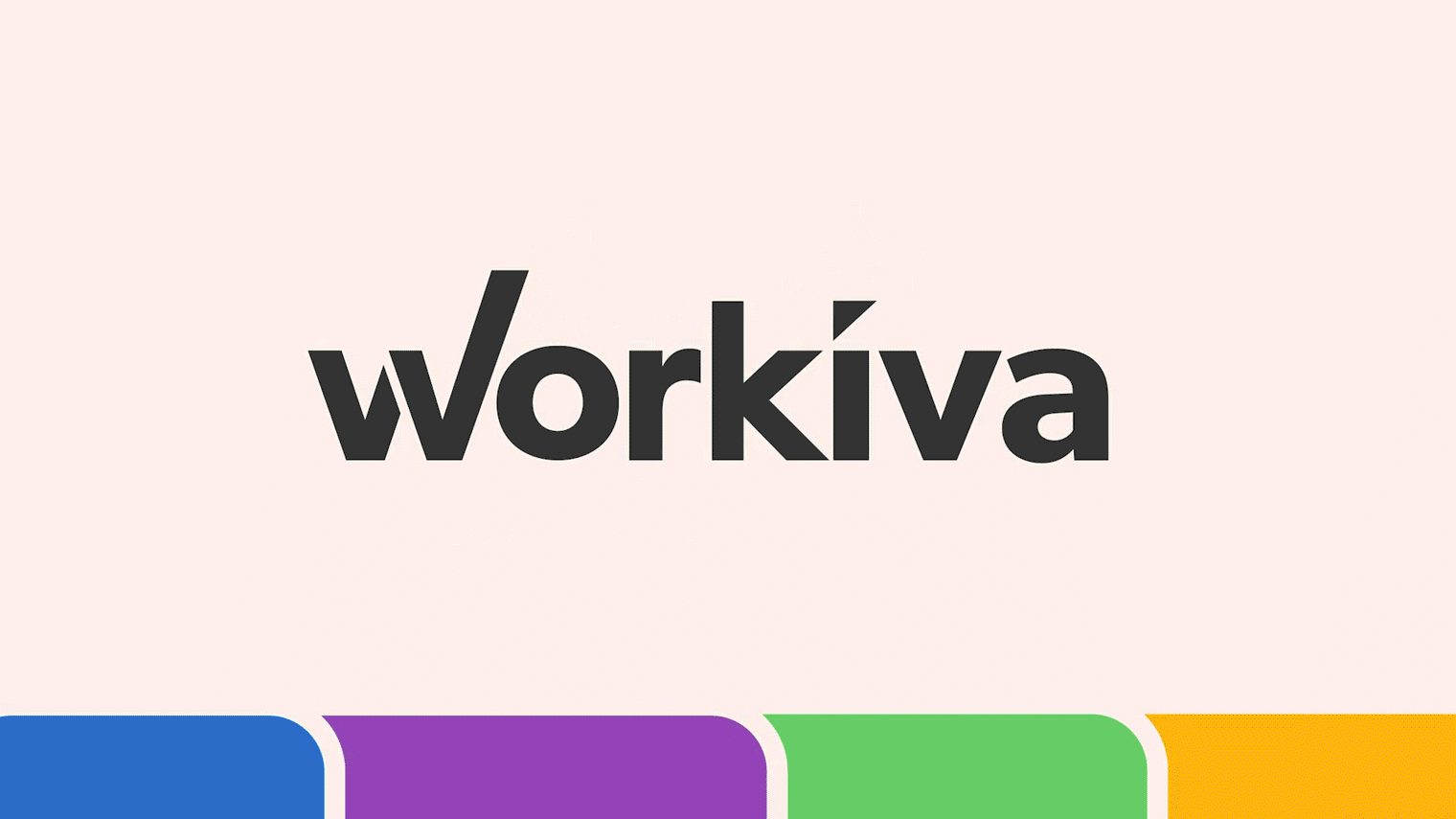 Whether you are designing on the Workiva platform, using InDesign or a mixture of both, everything the professional designer needs to know is on this webpage. There are over 40 webinar and workshop videos that explain, in detail, the Workiva to InDesign integration and designing within the Workiva platform. Bookmark this page to find out about all our upcoming events.
How design works with Workiva!
This brochure explains how Workiva works regarding design and how flexible it can be to satisfy all your design requirements. This accompanies our Getting Creative with Workiva webinar below.

Download the brochure [here]
Next advanced training course from Workiva for designers

Please fill in the registration form here
Design guidelines available in English, French and Spanish
Essential Course for Designers using Workiva
This course will guide you through, step by step, about designing on the Workiva platform and using Workiva with InDesign. 
Module 1 - Beginners Design Reporting: Starting off the right way
This module is for designers new to Workiva. We introduce the power of structured content and ways designers can use Workiva. Join us on a tour of the platform as we show you the best way to start your project for best results further down the line.
Module 2 - Beginners Design Reporting: Using Workiva with InDesign
Let's look at on-platform communications for designers, flowing content to Adobe InDesign while maintaining 100% data assurance, and managing exports and RGB and CMYK workflows in a way that meets your online and print quality requirements.
Module 3 - Beginners Design Reporting: 
Workiva, a design platform

Explore the power of working in a multi-channel environment and using Workiva for all your design needs. We'll show you our tool set from creating charts, using presentations, and pushing content online via the Workiva web API.
To access and start the Design Reporting learning path:

Log in (register if you haven't before) to the learning academy.
Then use the Search function in the upper-right to query "Essentials & Advanced Design Reporting"

Webinars
Today's environmental, social, and governance (ESG) reports need to not only look great but also provide data that stakeholders can trust. 

In this webinar, you'll see how ESG teams, financial reporting teams, and designers can collaborate in the Workiva platform to produce polished, engaging reports with accurate data, even as numbers change.

For the first time at Workiva, we will explore getting the job done from the people who actually have done it – producing a report with 266 pages full of graphs, maps, images and tables. See how it is done the Workiva way!
Getting Started Guides
You're at the beginning of your process and looking for a quick guide as you get more familiar with the Workiva platform and Design Reporting, start here with our Quick Start Guides!
Downloadable help guides
How to get an RNS (Regulatory News Service) suitable document from Workiva
Endnotes
Endnotes - new information here
Essential videos for designers - step by step
1 - Introduction to structured content

Structured content is information or content that is organized predictably.

Understanding the nature of structured content is critical to obtaining the maximum benefits it offers. Efficiency, accuracy and ease of authoring are all desirable benefits. 

What do we mean by structured content?
Why do custom styles matter?

[Full webinar link]
Please note that Workshop 1 and 2 are together in this webinar
2 - An introduction of the Workiva platform for designers

An introduction to tools and functionality in the platform for design - this workshop will get you familiar with the Workiva platform and get you started quickly

How to set up your document properties in Workiva
Margins, gutters, headers and footers
Setting up your style guide and fonts
Columns, tables, charts and placing an image

[Full webinar link]
Please note that Workshop 1 and 2 are together in this webinar
3 - Importing content into Workiva


This workshop will guide you through the best way to import content into Workiva. Importing from the wrong source can have undesirable consequences later in the project. 
We will cover:
Where did that Word file come from?
When is it best to use Word or plain text?
Can I import from InDesign?
How about importing XHTML?
4 - Workiva and Design

We want you to make the best choice for your project wherever you design. With Workiva, design is totally flexible - all in Workiva or integrating InDesign or even a mixture of both!
We will discuss 5 different ways designers can integrate with Workiva.
5 - Helping workflow

In this workshop learn how to make full use of comments, blackline and track- changes as well as digital review. A good grasp and awareness of these features can help any project. 
What permission level should a designer have?
How to manage permissions
How to use comments
Creating milestones
Take a look at the Workiva blacklining and track changes
Digital review
6 - Exports from Workiva

All the available export options from Workiva for designers:

Word, Powerpoint and Excel
PDF
XHTML for EDGAR filing
XHTML for ESEF filing
XHTML for web deployment
7 - ICML - InDesign integration

This is a high level introduction to Workiva and InDesign integration. Learn what ICML is and how to export ICML and place it in InDesign. You will understand how you can change style attributes, flow content from page to page whilst maintaining 100% data assurance. No more amends in InDesign!
What does Workiva export via ICML
How to design with linked ICML
What are the benefits of ICML for the designer
What content can you add in InDesign
8 - ICML- Managing RGB and CMYK workflows

Workiva is RGB first but if you need professional print quality, you will need CMYK
Many designers will opt to work in RGB and at some point in the process create a CMYK version of the report.
This workshop looks at
Changing external assets
Spot colours
Changing the InDesign colour pallet
Post-production tools.
9 - Managing Assets -  images, charts and info graphics

This workshop covers:
Importing images into the Workiva platform
What formats
Sizing and cropping offline
Charting tool for designers
How to handle info graphics
10 - Linking to Presentations

Many designers coming to the Workiva platform are unaware of our presentations tool. In this workshop you will learn how this tool can produce effective and accurate stakeholder presentations making full use of Workiva linking functionality.
We will look at:
Linking content from documents to presentations
Examples of design
Presentation tool overview
11 - Introduction to the WebAPI

This is a hands-on demonstration of integrating Workiva content into a website and shows content updating in real-time. 
Demonstration of how our WebAPI works
Linking content across multiple channels
Integration strategies for web teams
12 - Building digital value

Completed this series? Now let's look at new opportunities that data driven authoring together with Workiva can bring
Help Videos
Document set up using InDesign

How to get content into Workiva

Web compliant style names
RGB colours
Applying styles correctly
Getting content into Workiva

This workshop shows the best way to start your project to get the best results. If you want to get content into Workiva, watch this video first!
Justified verses range left text

Headers and footers

This workshop looks at text when it is converted into XHTML and the considerations when using justified text.

Justified text in InDesign
Justified text in XHTML
Considerations

This video looks at setting up your headers and footers in the Workiva platform. Part one is an introduction to settings and part two is a workshop with real examples

Headers and footers
Achieving a full page image
Managing different headers and footers
Using a table in your header or footer bar
Margins and gutters

Client review

 This video is very important to watch if you are using InDesign


Adjusting margins and gutters
Fixing a tables width in InDesign
Mirrored margins
Placing a full page image

This video looks at setting up your margins and gutters on the Workiva platform to:
1. Better align your InDesign and Wdesk documents.
2. Fix table width differences between Wdesk and InDesign.
3. Place a full page image.

How you review when there is a mixed workflow.

Outline labels
Managing comments
History/milestones
Blacklining
Send for review
Your first ICML pull

Workiva to InDesign font mapping

This video is about the first time ICML is placed in the InDesign document. We do recommend that you watch this video before you start any design in InDesign when using content from the Workiva platform.

Step by step guide
When to pull the first ICML?
Character verses paragraph styles
Changing style attributes
Working with linked content

Styles brought in from the Workiva platform to InDesign are discussed in this video and when designers should adjust font family and font attributes in a project.
Top tip - import enough ICMLs to capture all the styles

Styles and ICML
Find and replace fonts
Bullets
Use of character and paragraph styles
Nested styles
Table or galley

Importance of a style guide

This workshop shows scenarios where it might be best to design in a table in Workiva rather than just using a galley format. It shows the benefits and considerations of both formats

Using tables to create design
Table verses galley format
Subsequent ICML pulls with galley only format
Considerations for designers regarding tables and single column content

This workshop shows why in multi-channel publishing it is so important to use styles.

Setting up your styles
Best practice naming of styles
Applying styles
Why have I got so many styles

Rogue styles

Workiva works with structured content which is what you need when you publish for online viewing. Every piece of text needs an associated style. So why are you getting more styles than you thought when you open your ICMLs in InDesign and how do you manage this. All explained in this video.


Character and paragraph styles
Auto-generated styles
Managing styles globally
Managing styles uniquely

Getting too many styles? Find out why and what to do!

Indepth video on why Workiva generates auto-generated styles Locking styles in Workiva
Deleting unused styles
Successful Workiva table formatting and InDesign

Managing RGB and CMYK workflows

This workshop shows how styling in the platform effects your design in InDesign. The Workiva platform does not have cell styles so our ICML export will generate an auto generated style for every group of identical cells. See how to manage these globally and how to manipulate an individual table.

Custom styles
Table brought into InDesign via ICML
How to manage tables globally in InDesign
How to alter a single table in InDesign

Working with layers
Converting hi-res to web format
Colour palettes
Illustrator files
Exporting to XHTML

Workshop No 4 goes through designing for print and online and how do you author for both. Watch this workshop to find out the easiest way to design for multi-channel publishing!

Hyperlinks

How to remove XML structure from my InDesign file

This workshop looks at how you create hyperlinks in InDesign that pull through to your PDF and clickable in your online XHTML. This is great for your contents page or breadcrumb/menu bar.

Hyperlinks
Contents page
Anchors
Breadcrumb bar

This video shows you how to remove XML tag markers from your InDesign file if they become corrupted preventing the formation of a validated iXBRL file.

 
Images

Cell styles

Good workshop to watch regarding optimising your images quickly

How to check for large images in your XHTML report
How to reduce the size in InDesign and Photoshop

Confused why you have so many? Find out why and what to do
Last minute edits

IDML testing

This video talks about that stressful time towards the end of the project and this happens.

Edits one day before filing
Edits one hour before filing

Blackline reviewing
Updating all ICMLs
Updating
Fonts converted to CSS/base64
Small text sizes in SVG

This video introduces you to the Workiva integration plugin.

Installation advise
How the plugin helps
Discrepancy report
IDML testing
Missing rules in XHTML

How to keep my XHTML file size down?

This workshop looks at how you can deal with missing rules, images and tint boxes in your Xhtml by amending your InDesign file.

Missing rules in Xhtml
Missing images in Xhtml
Missing lines in Xhtml
Missing tint box in Xhtml

All the tips and tricks to keep your file size down - perfect for filing requirements and for your user.
Managing web and print assets
The importance of cropping images

Why is the file so big?

Images for web usage

Multi-channel output

Image requirements
Exporting XHTML for website usage

How to build an iXBRL file in the XBRL profiler

This video looks at the reusability of well-structured XHTML. What else can you do with your code from Workiva!

Workiva XHTML for websites
Responsive websites
Corporate website content
SEO
Building value

Scenarios explored for example:
One Workiva document linked to multiple InDesign Documents
Multiple Workiva documents mapped to multiple InDesign documents 

Combining multiple files in Workiva
Overriding the Workiva file with the XHTML from InDesign
Setting sections in Workiva to non-printing
Filing

Extending the Inline Viewer

This video talks about filing in XHTML from a designer's perspective. The ESEF mandate is referred to but is applicable to anyone wanting to design for the medium of the web.

Style based design
Testing your fonts
Effects of Google translation
The impact of ESG

This video is about starting the journey of extending the viewer and adding other assets like video. 

 

Things you can do with CSS
Adding video
Altering the inline viewer
Filing verses website usage
Web integration
Web API demonstration

This demo video gives you a taster of how your web teams could link data from Workiva to your website
Additional resources