About Workiva
Workiva is a document and data collaboration platform that helps teams work together to connect reports and data. It is cloud-based, which means you can access your work from almost any device.
Teams can work together on complex business reports or simple day-to-day activities in one place. Workiva enables your organization to get things done accurately and efficiently.
First Sign-in
When you sign in, you'll land in Home—the home base for all your documents, files, and activities. If this is your first sign-in, you'll see a clean slate. You're in a view called My Recent and you haven't opened anything yet. Just select Files on the left to see all the documents you need.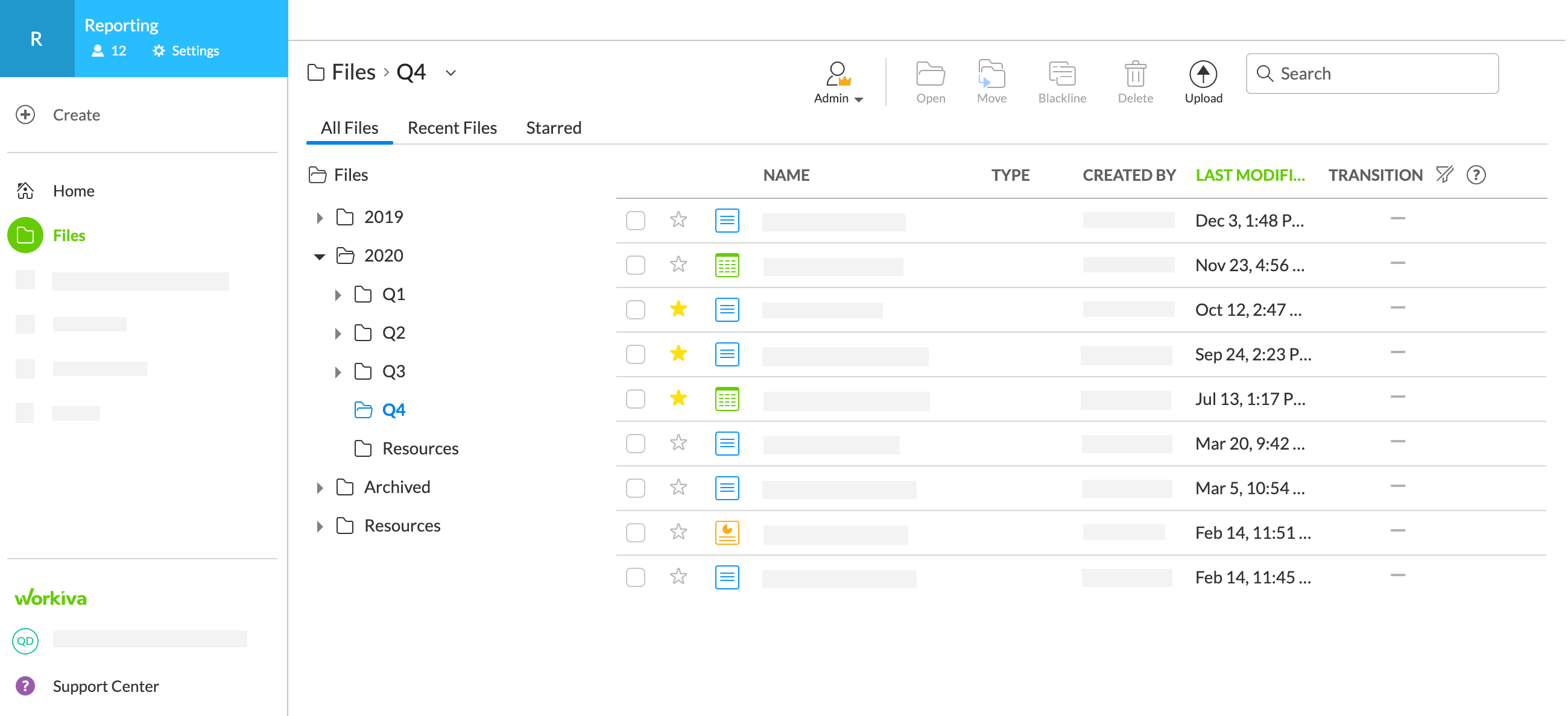 Files and Documents
In Workiva, there's no switching between multiple versions of files. You can collaborate with your team in a way that's controlled and transparent. In a nutshell, your documents are safe, up-to-date, and as accessible as you want them to be.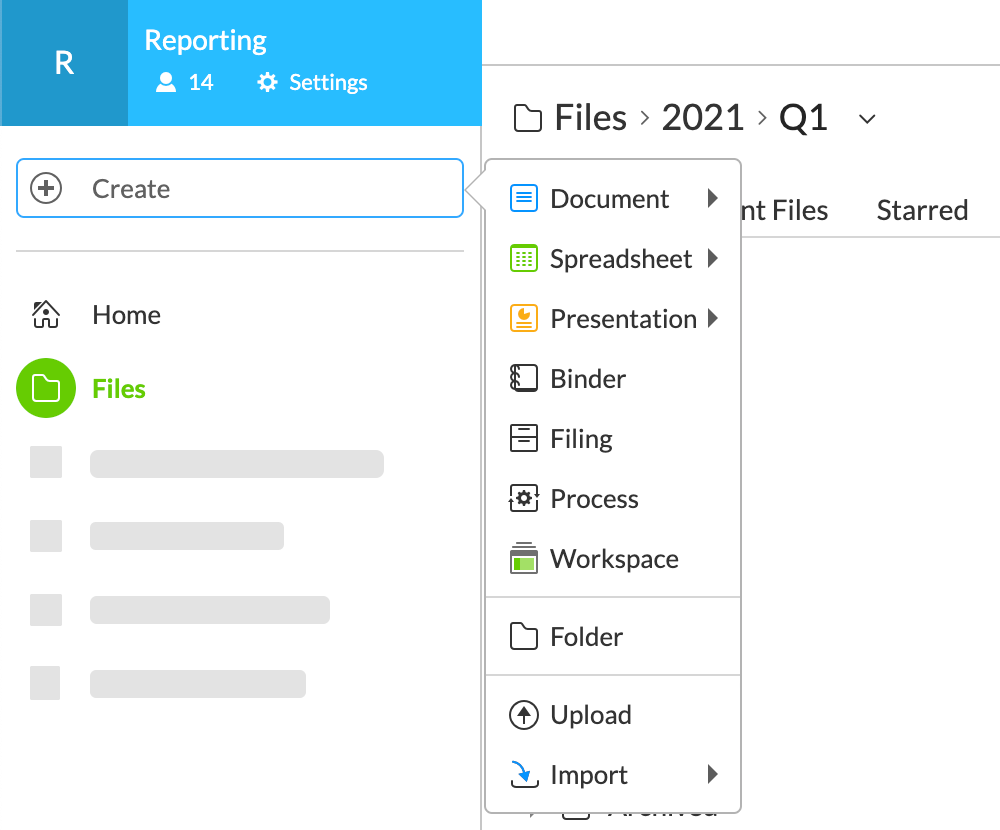 File Types
Documents
Collaborate with your team on documents at the same time, scroll through the full document, and create split-screen views. Learn more
Spreadsheets
Collaborate at the same time on sheets, work with large amounts of data, create cross-sheet formulas, and create split-screen views. Learn more
Presentations
Collaborate and format presentations with your team at the same time using information and data from documents and spreadsheets. Learn more
Process
Use processes to create a workflow that automatically sends tasks to assignees, helping you efficiently collect and approve content in your files. Learn more
Filings
Collect documents and exhibits and walk through steps to creating a filing with the SEC. Learn more
Organizing Files
Folders
Folders are the primary way of organizing all of your files, such as documents, spreadsheets, and presentations. This makes things easier to find and helps when you need to roll forward your files. Learn more
Binders
Combine related documents from both Workiva and outside sources. Use binders to combine reports with supporting documents for executive review.
Linking
Linking eliminates the risk of conflicting values in your files. Numbers are the same, no matter where or how they're shown. You establish links by creating a source link. Then, copy and paste your source link to another location to create more destination links. Updates to the source link value or source text flow to every destination link. Learn more

Source Links are the primary location for a particular data point —the root from which all other instances of that data stem. These links are indicated with a blue triangle in the upper left corner of the cell or text selection.
Destination Links are pieces of data that come from a source link. These links are indicated in green, either with a triangle in the upper left corner or an underline.
Search for Files
Search is the quickest way to find something if you know the name, or part of the name of the file you're looking for. If you have a large number of files, you can also sort alphabetically, by file type, or by date modified. Learn more about searching for files in Overview of Home.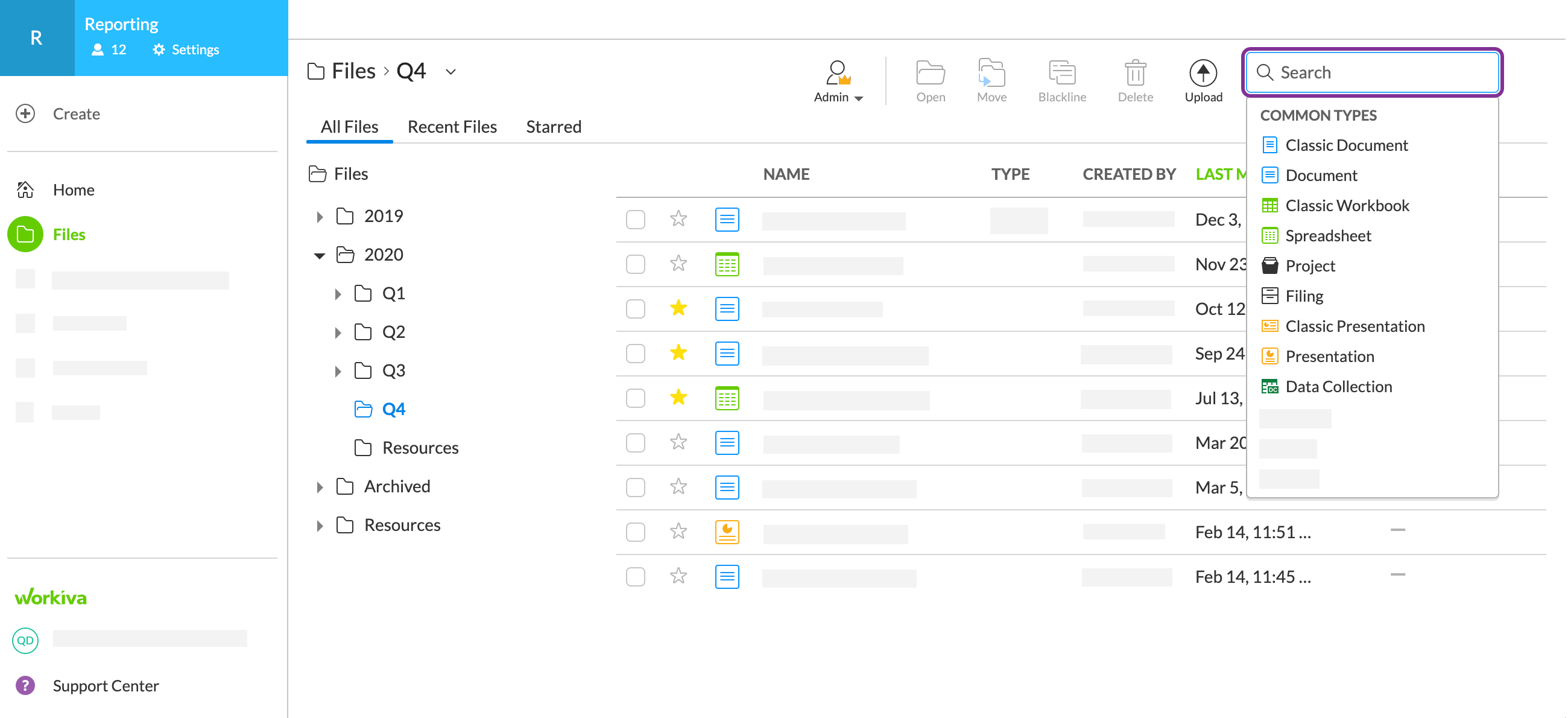 Permissions and Roles
You grant and control access using a combination of permissions and roles. To determine the overall access needed in a workspace, assign a role to provide access to features and then set permissions for documents or data. Only workspace and organization admins can assign roles to members in a workspace. 
Roles provide access to features, such as Filing or XBRL. An example is having a workspace role that lets you access the Filing feature. Watch a video and learn more about roles in the Change a member's role article.

Permissions provide access to documents and data, such as a specific document or section. An example is having permission on a specific document to edit it. Learn more in Understanding permissions.
What's Next
Now that you have a sense of the basics, here are a few things to help you along the way: