Folders are the main way to organize all of your files, such as documents, spreadsheets, and presentations. You can use folders to help make things easier to find and create subfolders to organize your files into meaningful ways, such as by year or quarter.
Create a folder
To create a folder in Home:
1

Click the Create in the top left corner.

2

Select Folder .

3

Enter a folder name and click the checkmark to finish. Clicking will cancel creating the folder.
You can also create folders by right-clicking on an existing folder and then selecting New Subfolder. You can create folder hierarchies up to 6 subfolders deep.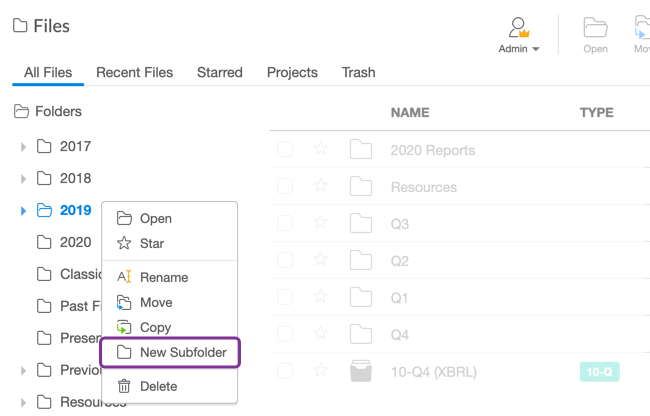 Rename a folder
After you create a folder or file, you may need to change the name of it. When you rename a file, there are a few things to keep in mind.
Folders need to have a unique name based on the folder it's in. For example, you can have two folders with the name of "Q1 Report" as long as they are located in different parent folders.
To rename a folder:
1

Go to Files or Home.

2

Find the folder you want to rename.

3

Right-click it and select Rename .

4

Enter the new name, then press enter or click the blue checkmark.
Note: You cannot rename items that are in the trash.
Delete a folder
If you no longer need a folder you can delete it. In order to delete a folder, it cannot contain any files. To delete a folder, right-click the folder and select Delete. You can delete multiple folders by checking the box next to each folder, then click Delete in the toolbar.