This article is for:
Workspace members with the ESG role
From your ESG Program, you can curate the key data points — or metrics — to disclose for Environmental, Social, and Governance (ESG) topics. With metrics, you can:
Collect quantitative and qualitative values to report for ESG topics.
Reference ESG frameworks and standards to align with stakeholder interests.
Request and track the data collection of ESG values.
To ensure meaningful ESG reporting, your metrics — regardless of their values — should follow a common lifecycle.
Step 1. Identify topics to report
As you define your ESG Program, identify the ESG topics that matter — or are "material" — to your company. For each topic you include in your ESG Program, you can add the metrics required to track to report its respective values.
For example, to report your company's environmental risks:
Topic
Metrics
Carbon (or greenhouse gas (GHG)) emissions

Amount of GHG emissions, in metric tons (Mton)
Emissions intensity per unit

Waste

Amount of waste generated, in Mton
Waste intensity per unit

Product lifecycle

Percentage of product from recycled material
Percentage of product recyclable or compostable, including packaging
Step 2. Define the metric's details
To help determine the metrics required to disclose a topic, search and browse ESG Explorer for related guidance from common frameworks and standards for ESG reporting. When you add a metric, you can specify the ESG Explorer content it aligns with in Related ESG content.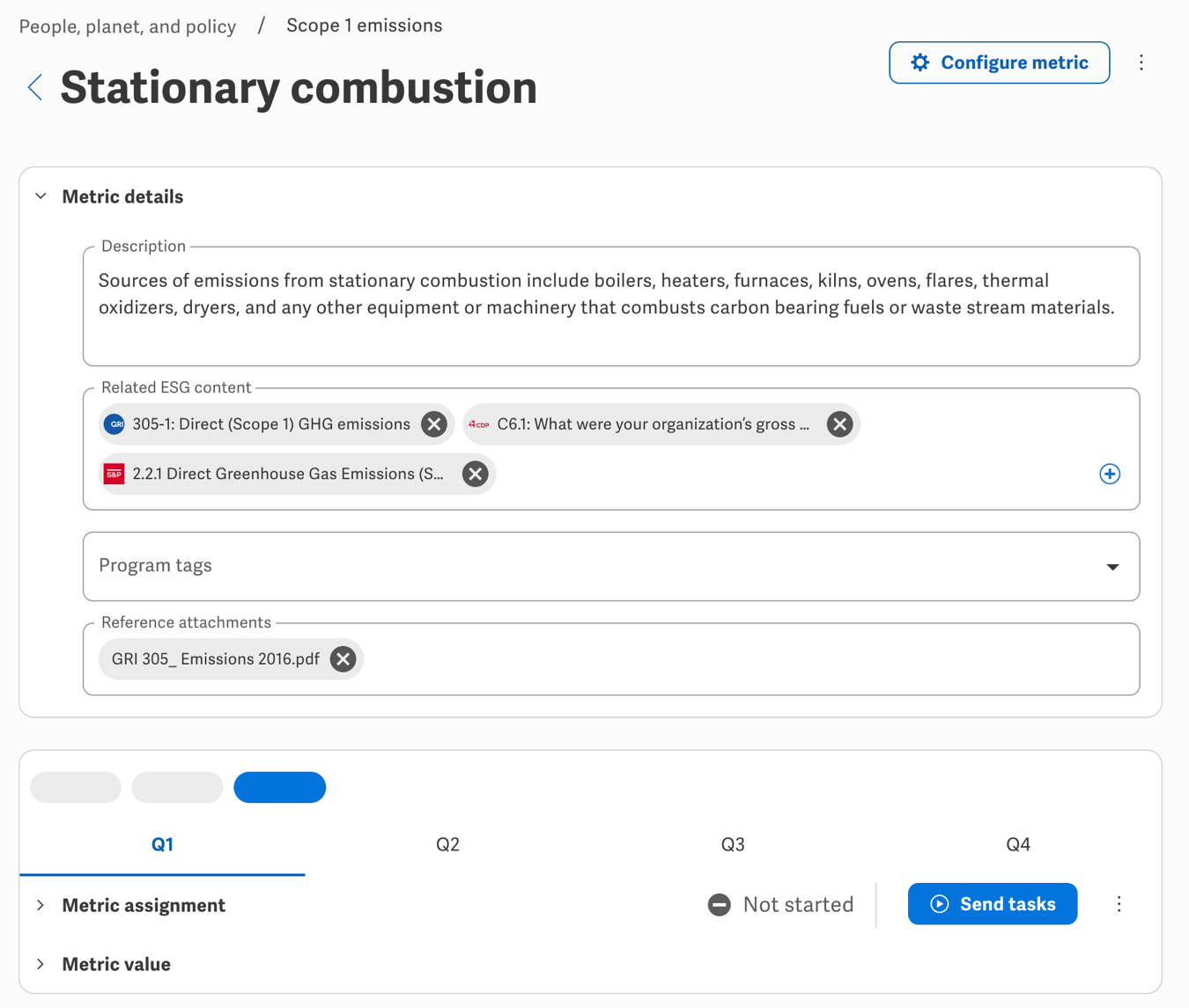 Tip: From ESG Explorer, you can review guidelines from multiple frameworks and standards at once, including CDP (formerly Carbon Disclosure Project), Global Reporting Initiative (GRI) Standards, Sustainability Accounting Standards Board (SASB), Task Force on Climate-related Financial Disclosures (TCFD), and the United Nations Sustainable Development Goals (UNSDG).
By aligning with metrics with frameworks and standards in ESG Explorer, you ensure your reporting addresses the disparate interests of stakeholders, such as:
Investors, who track your company's ESG performance agnostically and compared to your industry peers
Local and national governments, with regulatory guidelines to ensure sustainability and human services
Your company's management, with interests in how ESG-related outcomes translate to tangible activities that impact and influence the organization
In Metric details, you can define additional context about the overall metric and all of its values:
Description, such as a detailed explanation of the ESG factor the metric supports or measures
Program tags, or custom details your organization tracks for a metric, such as company goals it aligns with, or its prioritization based on materiality assessment
Reference attachments, or files that provide context around the overall metric, such as full PDFs of related ESG content downloaded from the issuing body
Step 3. Set up data collection
From a metric's Configure metric panel, you can set up the metric to collect values based on:
Quarterly or monthly data collection
A specific data type — Number, Currency, Percent, Text, or Date
A custom dimension, such as location, business unit, or demographic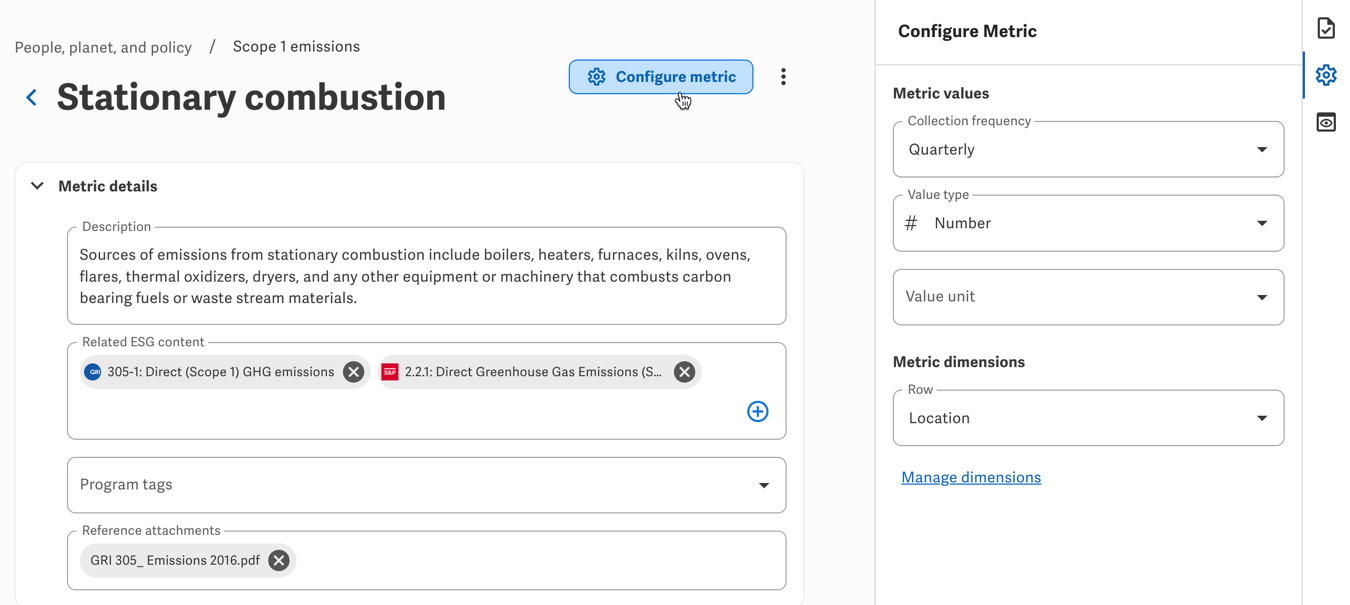 To collect a value, you can enter it directly in the metric, or connect its source Spreadsheet or Document. You can also assign workspace members to prepare and approve values:
For a metric with a Yearly frequency, you can select its value's assignee and approvers. If the metric has a dimension applied, this is the default assignment for all of its values.
For a metric with Monthly or Quarterly frequency, you can set a default assignment for each period's values.

If the metric has a dimension applied, each dimension's value can have a custom assignment, different from the metric's default assignment. 

Therefore, you can set up different default assignments for each period throughout the reporting year, and individual dimension values can inherit that same assignment or have their own custom assignments.

Note: If you edit a metric's default assignment, the new assignment also applies to its dimension's values — including any that previously had a custom assignment.
Step 4. Define the metric's values
In Metric value, you can specify details about each value the metric collects: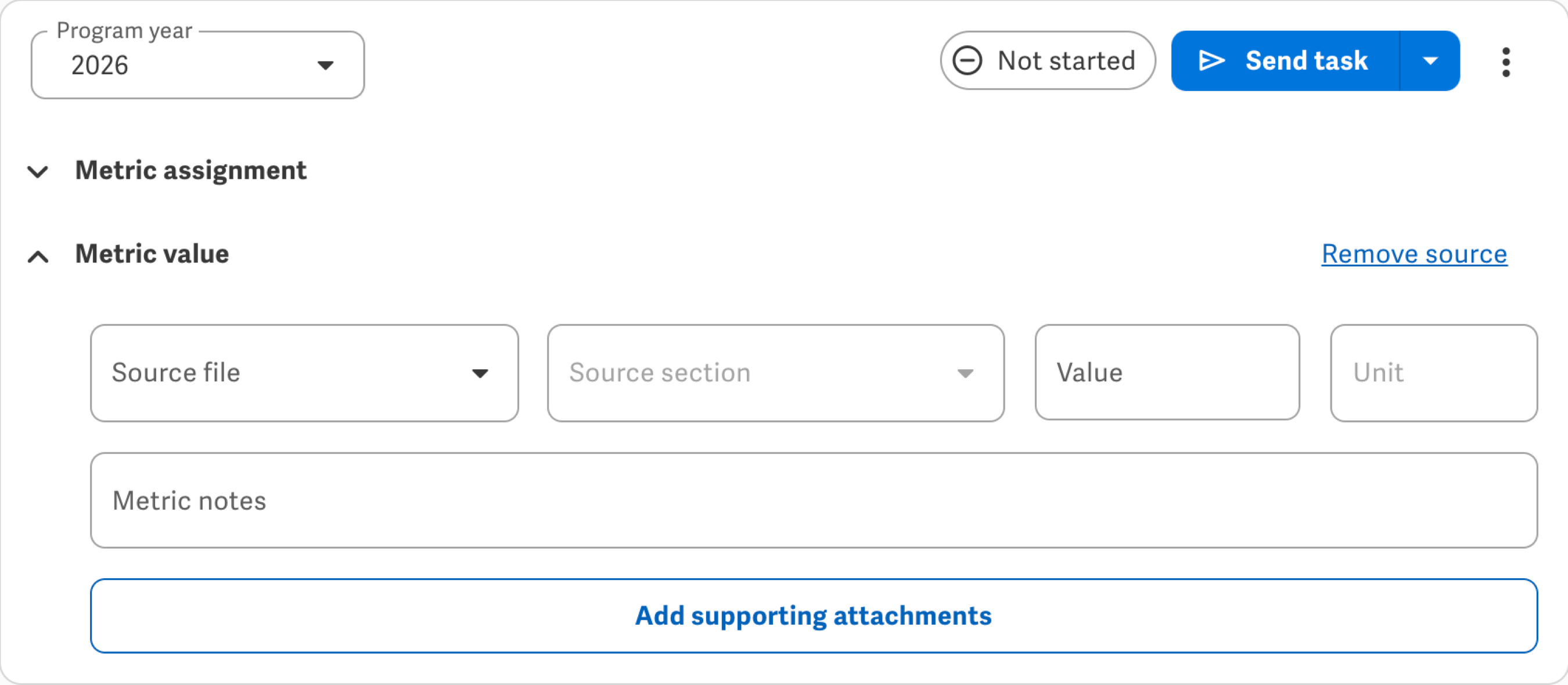 Value, as the data entered in the metric or collected through Workiva Tasks, or as its cell's coordinates if collected through a connected spreadsheet

Note: For a value with a type of Number, Currency, or Percent, its unit of measurement — as selected in the Configure metric panel — appears in Metric value. All of a metric's values share the same type and unit.

Source file and section, if collected through a connected source spreadsheet or document
Metric notes, with additional context specific to the value — such as for the reporting narrative or to appear as a footnote 
Supporting attachments, or files that provide evidence for the value — such as utility bills or underlying calculations
Step 5. Collect values to report
To send data collection tasks to its assigned collaborators, click Send tasks. When you send tasks, the assignees receive tasks to collect data. When they complete their tasks, their approvers then automatically receive tasks to verify the data. You can track the status of these tasks from the ESG Program or the metrics' topics.
Tip: From an ESG Program topic, you can send reminders to metrics' assignees as necessary.
To use these values in reporting outputs, such as a sustainability report or a board meeting slide deck:
From Wdata, use the ESG Program as a query source to explore and refine its values, such as based on specific dimensions or parameters.
Connect the query as the source of Spreadsheets — such as your ESG Factbook — and link their cells to your reporting outputs, or connect the query directly to tables or charts in those outputs' Documents or Presentations.