Stakeholders—including investors, companies, regulators, communities, and non-governmental organizations (NGOs)—rely on Environmental, Social, and Governance (ESG) reporting to make informed decisions. To help meet this need, several organizations developed frameworks and standards that work together to ease comparable, consistent, and reliable disclosures in ESG reporting.
Note: Frameworks provide principles-based guidance on how to structure information about ESG disclosures, while standards help make frameworks actionable by providing specific, detailed requirements for those disclosures.
From ESG Explorer , you can browse content from multiple frameworks and standards to identify the disclosures that matter—or are material—for ESG reporting in one location. No need to track down each framework's disclosures or juggle multiple PDFs and websites!
Note: Only workspace members with the ESG role can use ESG Explorer.
Browse and search frameworks
To identify material disclosures to your organization's ESG reporting, browse and search frameworks and standards in ESG Explorer. 
From the Frameworks panel, you can browse the disclosures and reporting requirements of a specific framework or standard. Simply click a framework or standard in the panel to browse its outline and view its content.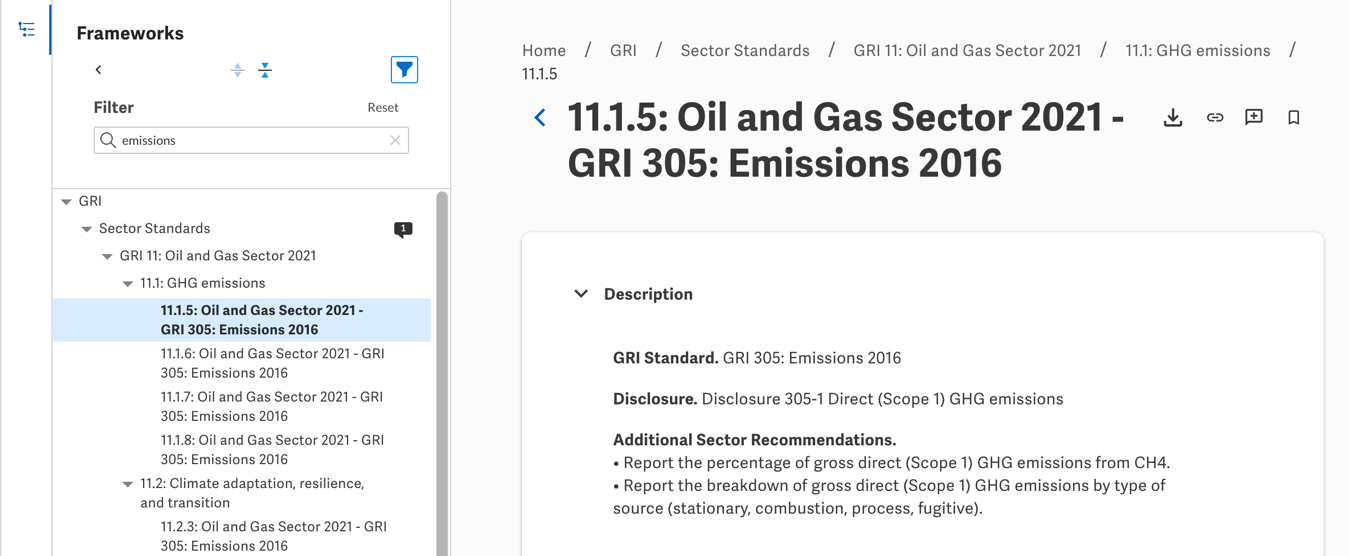 Tip: To find specific content in the outline, click Filter , and search for it by standard or keyword. You can also select to Expand all or Collapse all content in the outline.
To browse all frameworks and standards, search by keyword—such as Water, Gender, or Climate—to view their relevant disclosures in the main pane.

Tip: As you identify material disclosures and metrics, click Bookmark to create a curated list for everyone in your workspace. From ESG Explorer, you can reference bookmarks pinned on Home or from the Bookmarks panel.
View a disclosure's details
When you select a disclosure, you can view its details — such as its description, reporting requirements, and related disclosures from other frameworks and standards — in either the main pane or the Preview panel. For example, you can view one disclosure's details in the main pane, while you also view a Related disclosure in the Preview panel.
To focus on a detail in the main pane, click its name.
To view a detail side-by-side with other content, click Preview .



Tip: To open the content from the Preview panel in the main pane, click Open in Explorer.
View related content
To help identify disclosures you may be interested in, ESG Explorer lists content that may be related, based on industry guidance or a common ESG factor.
From Related, you can review this content, such as determine whether it applies to your reporting needs.
To go to the related content, click its name.
To view the related content in the Preview panel, click Preview.
Download original source content
To enable deeper review of content outside of Workiva, you can save a ZIP file of portable document files (PDFs) for:
The downloaded PDFs include the original source content from the publisher, including any images, introductory front matter, formulas, and tables.
Note: The downloaded PDFs do not include any comments, related disclosures, or other context added in ESG Explorer.
In ESG Explorer, browse to the content to download.
Click Download original source files .

Click Download.