This article is for:
Workspace Owners with the ESG role
To help ease the data collection for Environmental, Social, and Governance (ESG) reporting, create an ESG Program.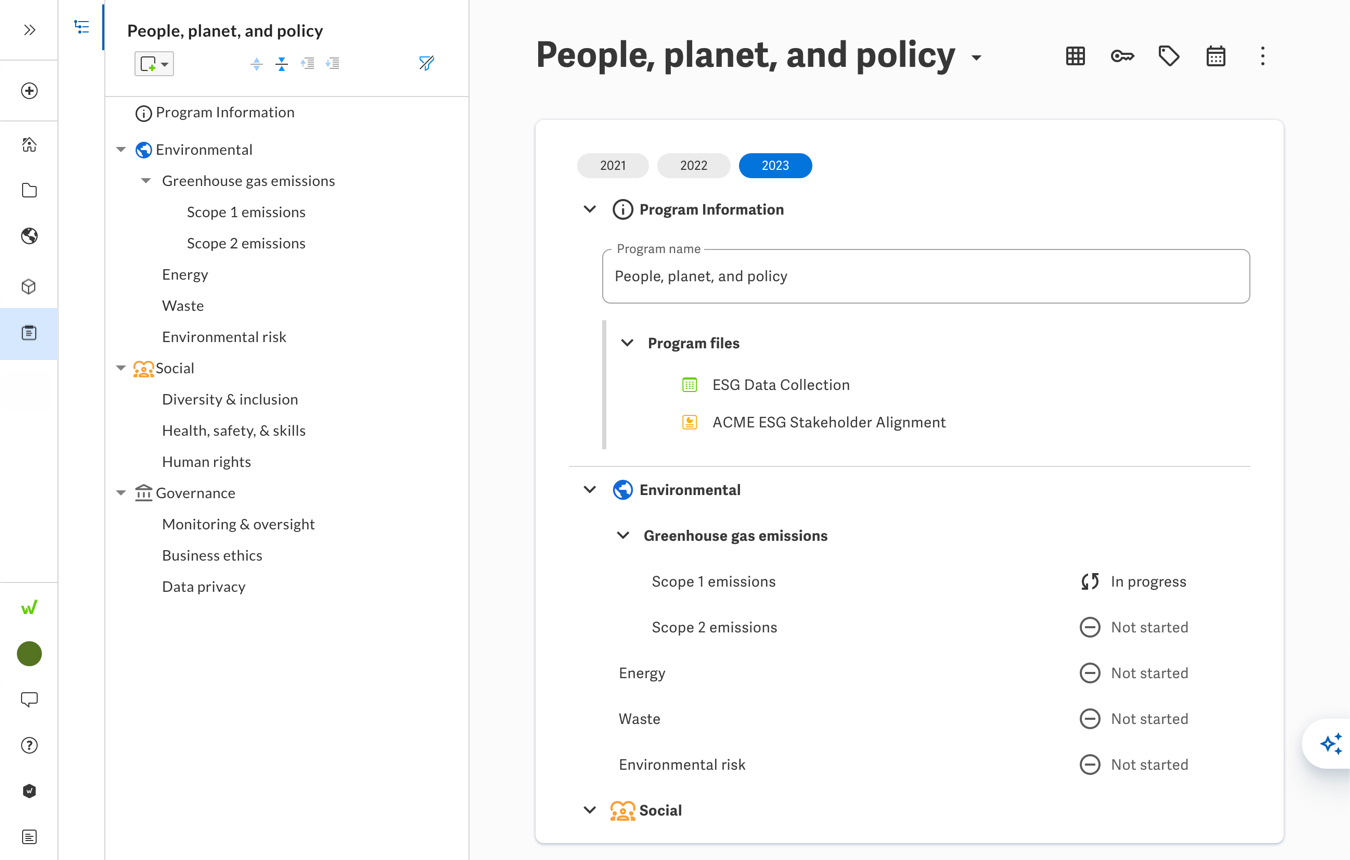 ESG Program acts as the central hub for your ESG reporting, where you can curate:
Files related to your reporting and data collection
Topics that matter—or are material—to your reporting
ESG Explorer content that aligns with data collection
Data and values—or metrics—collected in source Spreadsheets for each topic
Step 1. Create an ESG Program
Tip: First things first! Before you create an ESG Program, know what topics to include. If you haven't yet, assess the materiality of topics and, from ESG Explorer, set up the frameworks you align with.
From ESG Program , select Create a new ESG Program from the menu.

From the new Program, under Program information, enter a unique name to identify the Program.

Under Program files, add any files in the workspace related to the Program and its topics, such as:

Spreadsheets with source data or values that support the topics' metrics
Documents used to identify the Program's topics, such as materiality assessment or competitive research
Presentations, such as previous years' ESG reports

To restrict access to the Program, click Permissions , and select appropriate permissions for collaborators and groups.
Step 2. Set up the outline
ESG Program categorizes its values based on topics, which can be categorized within sections: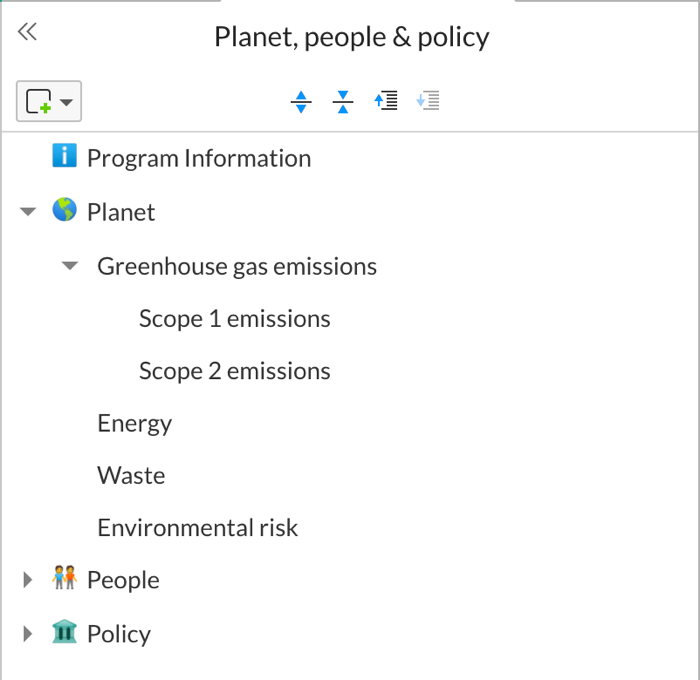 Sections categorize topics by general themes, such as Environmental, Social, or Governance—or Planet, People, and Policy. To further categorize topics, you can use sections within sections, such as a Greenhouse gas emissions section within a Planet section for topics based on Scope 1, Scope 2, and Scope 3 emissions.
Topics indicate the specific ESG factors that the Program addresses; for example, an Environmental section may include topics such as Energy and Waste, while a Social section may include topics like Diversity & inclusion (D&I) and Human rights. Each topic contains metrics to track the data used to disclose its values.
Note: You can't rename or remove the default Program Information item in the outline.
From the outline, add topics with sections, and set up the Program's hierarchy. For example:
Arrange sections and topics as necessary.
Apply icons to help identify Program items and ease scanning the outline.
For more information, see Manage items in ESG Programs.
Step 3. Add and track topic metrics
Tip: To track special details about metrics, Workspace Owners can set up tags for ESG Programs.
To collect the values to disclose in your ESG reporting, click each topic and add metrics for its values. When you add the first metric, select the reporting year of the ESG Program's values.
After you set up a topic's metric, click Send tasks to begin its data collection. When you send the tasks, the metric's assignee received a notification of their task to collect the value. You can manage your tasks from Home .

For more information, see Track data collection of ESG Program metrics.