A Workiva file is a secure file type that can only be used within the Workiva platform. This file type maintains permissions and links when used within the same workspace. It can also be used to move Wdata-connected files between workspaces.
Which export/copy tool should I use?

Workiva offers a variety of ways to move, copy, and export your files. Here's how we recommend using each one:

- Use Move when you need to copy files between workspaces and don't use Wdata.

- Use Workiva exports if you need to move Workiva files that include Wdata connections.

- Use Wdata exports when you need to move only Wdata objects (like queries or tables).
Requirements
By default, importing and exporting Workiva files is only available for Workspace Owners and Content Managers. To enable it for all users contact Workiva Support. To learn how to find a Workspace Owner, see Find Members and Admins.
To export a Workiva file type, you need at least Viewer permissions.
Export a Workiva file
To export a Workiva file:
Find the file you want to export in Home or Files.
Click the dropdown menu on the right side and select Export Workiva File.

Place a checkmark next to each item you'd like to include in your export: comments, outline labels, XBRL, and Wdata connections.

Click Export to begin extraction.
Click OK to continue working, or select See export progress to advance to the Workspace Settings - Content screen.

Things to know
Only connections within the same workspace can be exported. Any connections to other workspaces will not be included in your file.
When exporting connections, ensure that the source files are included. Queries can be imported without all of their source files, but additional data entry may be required. Learn more about repairing broken queries.
Downloading Workiva files
Workiva files are stored in the Content section of the Workspace Settings screen. Your exported files can be downloaded here at any time.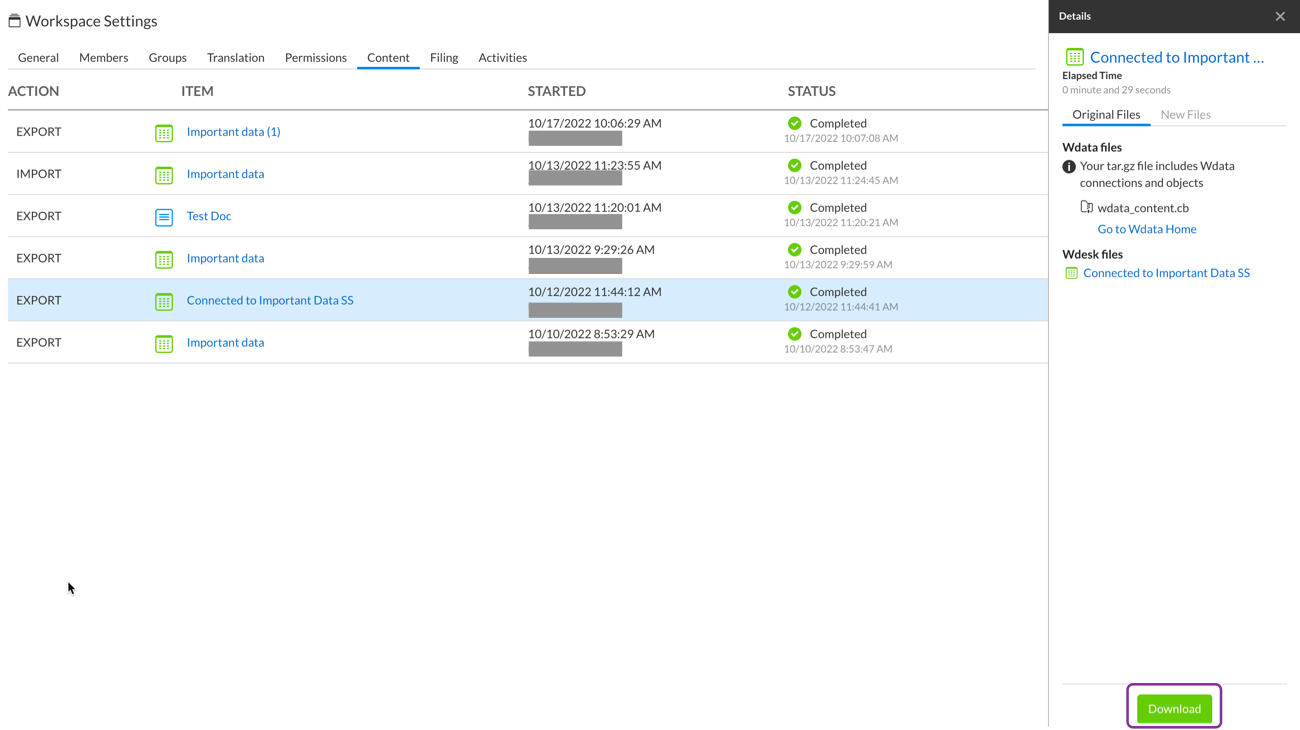 Additional options for exporting single files
If you need to export a single file, there are additional options:
Import a Workiva file
When you import a Workiva file, permissions are only kept if you import it in its original workspace. Permissions are reset if you import a Workiva File into a new workspace.
To import a Workiva File from Home:
Click the Create menu at the top left and select Import > Import Workiva File.

Drag and drop your tar.gz file -- or browse to find it -- and then verify your file list. Click Next.



Note: If your import includes Wdata-connected files, ensure that the source files are included here. Queries can be imported without these sources but additional data entry will be required.

Learn more about broken queries.

Select import settings and a folder location, then click Import when finished.



When uploaded to a specific location, imported files -- including any Wdata tables and queries -- will inherit the permissions of their parent folder.
If no file location is selected, your top-level root directory will be used.

Click OK to continue working, or select See import progress to advance to the Workspace Settings - Content screen.

Additional options for importing single files
If you need to import a single file, there are additional options:
Importing files from another workspace
If you are importing a Workiva file from another workspace, there is an additional step to ensure you are importing into the correct workspace. To proceed, we ask that you type the name of the workspace you are importing the file into. In the example below, you'd type "Reporting" and then click OK.
FAQ
My imported query doesn't work. How do I fix it? (broken queries)
When exporting files that use Wdata queries, we recommend including all connected source files in your export. Queries exported without these files can still be imported in the destination workspace, but they won't work properly until the missing files are added. This is known as a "broken query."
In all, the following data types aren't automatically exported and will require manual entry:
ESG sources
Tables
Connected spreadsheets
A dependent query that uses another query as its source
Learn more about broken queries
What if I add the wrong source file to a Wdata query?
You can swap out one source file for another within Wdata by right-clicking on the incorrect file in the Sources panel, and then selecting Replace Source.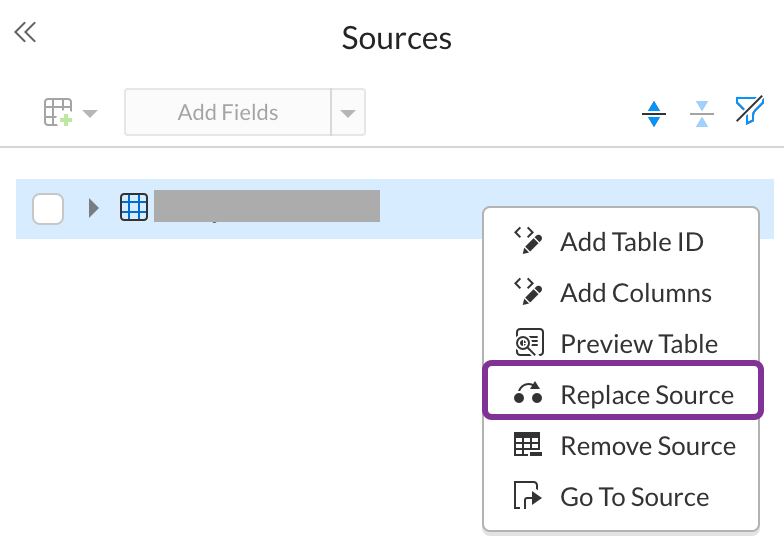 Learn more about managing query sources
How long will my export and import take?
This depends on the size and complexity of the files you're moving. The import/export process runs entirely in the background so you're free to continue working elsewhere in Workiva while waiting on your file. You'll receive an in-app notification and an email as soon as it's ready.
Once the process is finished, you can view or download your file from the Workspace Settings - Content screen.
If I have permission to part of a spreadsheet, can I export only that part?
Not at this time. You'll need access to the entire spreadsheet in order to start an export.
Please note that this permission model does not apply when exporting directly from Wdata. Because Wdata exports do not contain actual data, Admins can view and export these objects even if they don't have permission to access the connected sheets. The export itself is merely a model, and the data itself must be filled in later.
Can I export sheets that use Input Mode?
Yes, but you'll need to re-enable Input Mode for each sheet once the data is imported. These settings currently aren't retained when importing or exporting Workiva files.