Learn how to modify and position shapes. Fill shapes with color, add text, add borders and duplicate as needed. Connect your shapes with lines and arrows for effective infographics.
Modify shapes
Shapes have yellow edit points that let you modify the shape. If you hold down the Shift key while resizing, you'll maintain the aspect ratio of the object.
Click and drag the yellow edit point on a shape to make the following modifications:
Convert a rectangle with rounded edges into a square or a circle.
Use the yellow edit points to move the tip of a triangle or the tail of a call out.
Convert a parallelogram into a square or diamond.

Fill a shape with color
To fill a shape with color:
1

Select a shape.

2

Click the Fill icon in the Edit toolbar.

3

Select a color or create a custom color by entering a HEX number or RGB code, or you can import your own colors.

Add a shape border
To add a shape border:
1

Select a shape.

2

Choose the Outline tool.

3

Choose a weight, style and color for your border.

Create a transparent shape
To create a transparent shape:
1

Select a shape.

2

Click the Fill icon in the Edit toolbar.

3

Adjust the transparency level with the slider at the bottom of the color picker.

Use the Align and Arrange tools in the edit menu to create a layout with multiple shapes. For more information on arranging slide content, see Adding Content to a Slide.
Authorship of shapes
If another user is working on a slide simultaneously with you, you'll see icons for each user in the lower left-hand corner. Hover over a shape to see the name of the user currently working with that shape.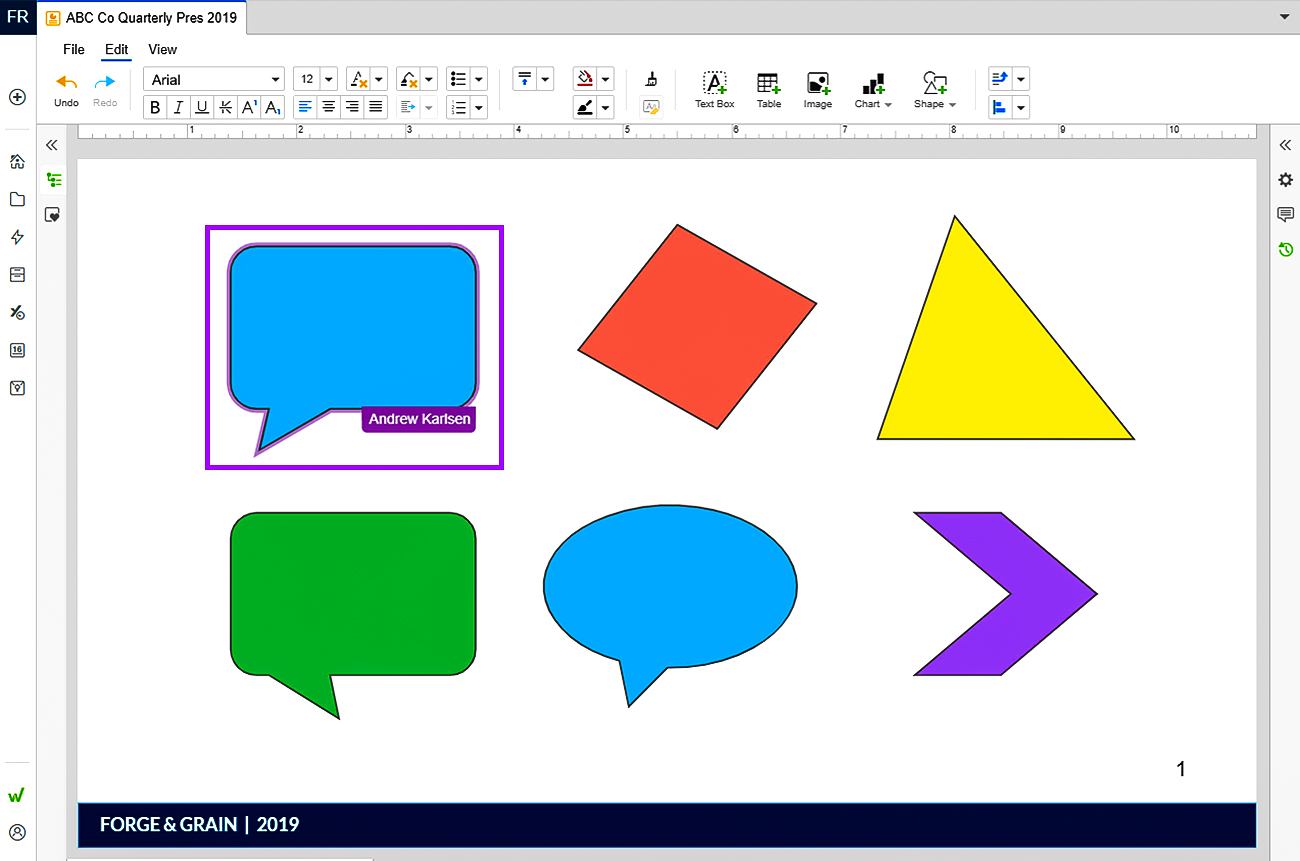 Add connector lines between shapes using the Lines and Connectors in the Shape drop-down menu. The lines will move with your shapes.
Adding text to shapes
All shapes can have text added to them. You can adjust text margins in order to control the amount of text that will fit within a shape.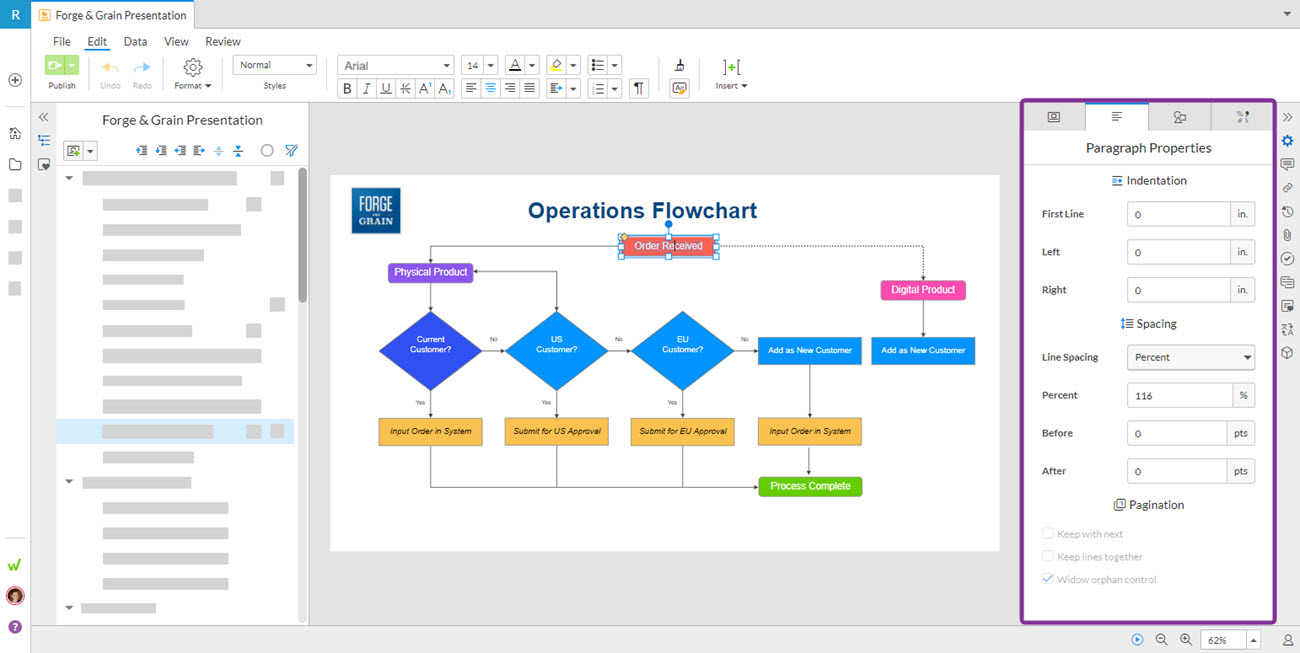 Working with lines
To add a line or arrow to a slide:
1

Select the Edit toolbar.

2

Click the Shape icon.

3

Choose a line style under Lines and Connectors.

4

Click and drag on the slide to create the line.

To format a line or arrow:
1

Select a line.

2

Click the Brush icon.

3

Choose the line color.

4

Choose a weight, line style and cap style.

If you select a line and right-click, you can Cut , Copy , Paste , Duplicate and Arrange your lines. This allows you to display multiple lines overlapping in a certain order.
If you select a line and begin to move the line, guides will appear to help you place your lines accurately. Lines can be used for flowcharts and in many other types of graphic displays.
For information on working with elbow connectors and anchor points, see Create Flowcharts.
Keyboard shortcuts for shapes
There are keyboard shortcuts available for arranging and sizing content on slides. With your Presentation open, click the Workiva icon in the lower left-hand corner of your screen. Choose Keyboard Shortcuts. Then choose Presentations.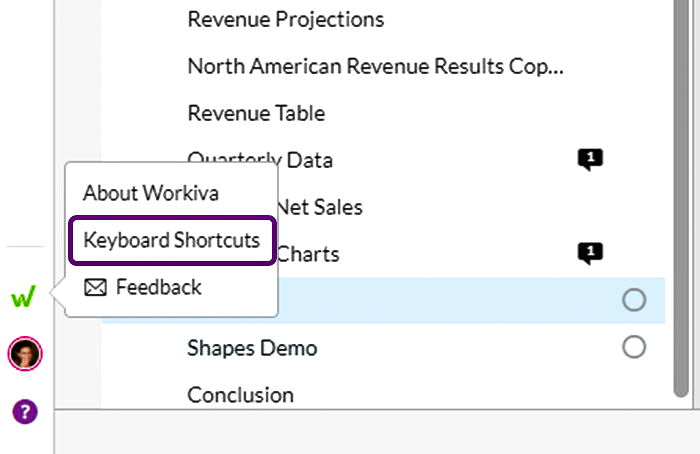 A complete table of presentation shortcuts is also available at Keyboard shortcuts.
What's next