Releases in October 2023 to the Workiva Platform included improvements to the following products and features: 

Binders
Ability to export native files types to desktop now in Binders
The ability to export uploaded files in binders down to their native original format is now available in Binders. This now empowers users to either export these uploaded files as a pdf or back down to their original format.
Chains
Added "Transition with warning" option to Update Request Status command for Oracle EDMCS connector
Oracle's October '23 release introduced a new parameter that, by default, prevents requests being submitted, approved, or committed when a custom validation failure with a WARNING severity is found. These requests were previously passed through.
To accommodate this change, we've added a Transition with warning checkbox to the Oracle EDMCS connector's Update Request Status command. When enabled, any custom validation failures with a WARNING severity will be bypassed and the transition will proceed to the next stage. This is unchecked by default.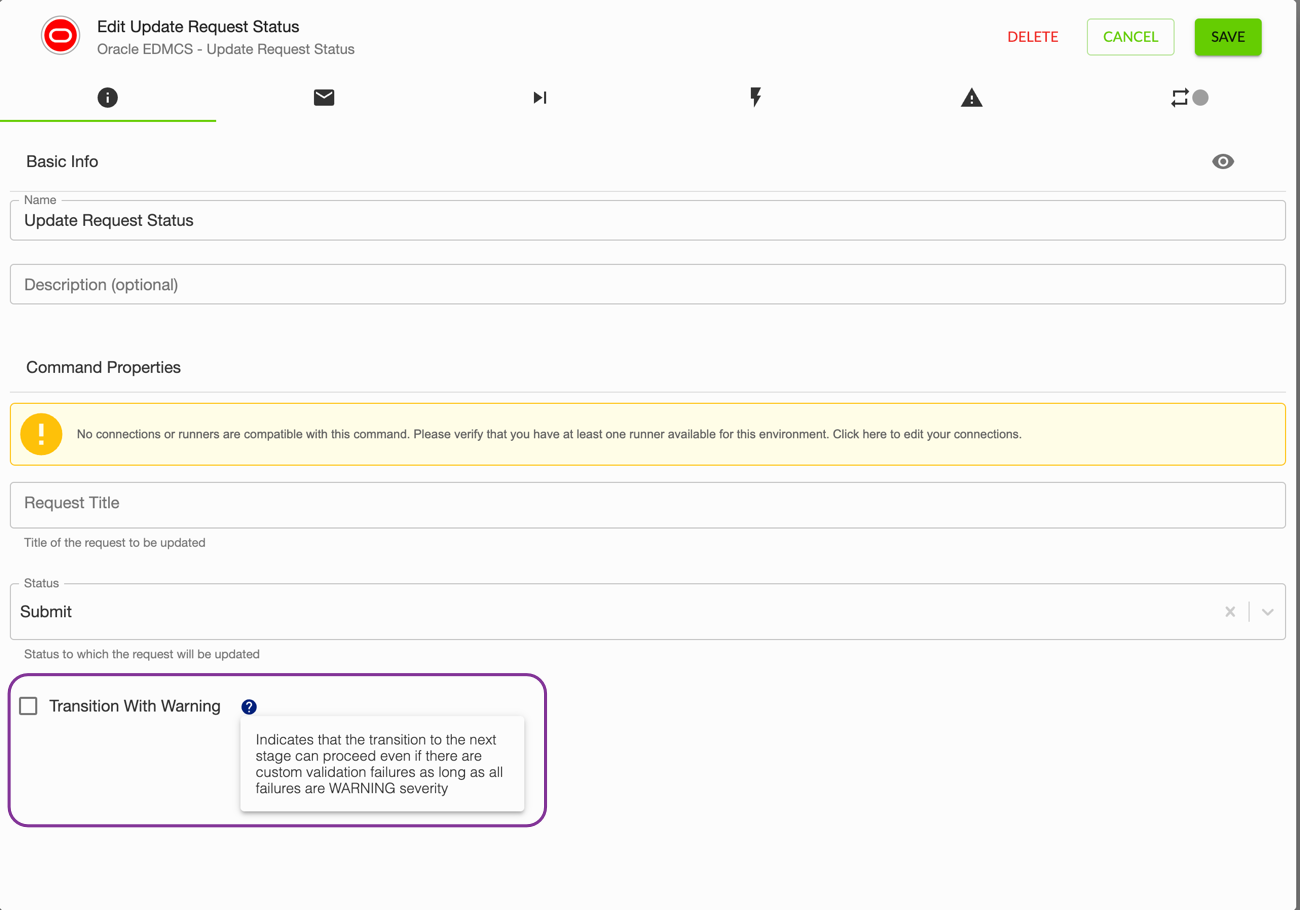 Learn more:
JDBC connector updates
We've made a number of security-related changes to the JDBC connector that will impact future installations. 
Moving forward:
Drivers must be stored on the GroundRunner.
Drivers can't be uploaded; the driver path must be entered in the Path to JDBC Driver field during connection setup.
New chain templates available
Chain templates provide a pre-built sequence of commands and events that can be used as-is or as part of your own custom chain. While you can always create your own templates from scratch, our team of Workiva experts also provides pre-made templates targeting more common, repeatable workflows.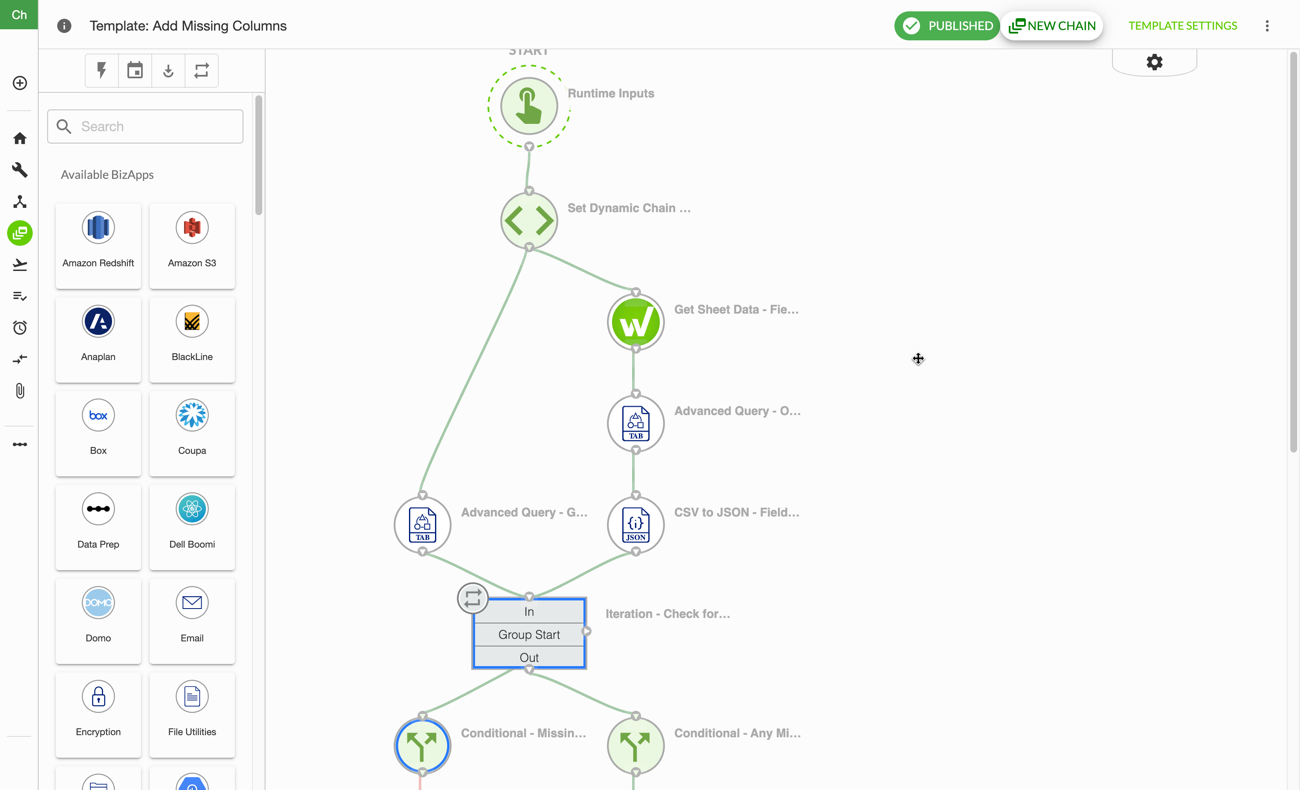 Here are just a few of the most recent additions to our template library:
To learn more about using templates and view all available samples, visit our Chain Templates section.

Charts
Updated chart service for line, bar, area, and waterfall charts
We've made some backend improvements to line, bar, area, and waterfall charts that will result in increased reliability and improved performance. We've also fixed several issues you may have encountered on occasion:
The Marker Border UI for Line/Area/Bar/Waterfall charts now matches Scatter charts.
We fixed an issue where the Total Label formatting would fall out of sync with the server.
We fixed an issue where Total Columns appeared on waterfall charts unexpectedly.
Improved reliability of data label placement when changing series type.
Improved reliability when resetting waterfall positive color.


Fixed: Color picker is no longer cut off
We've fixed a display issue with the right-hand panel for Pie and Scatter charts where the color picker popup would occasionally be cut off and not show the entire color palette.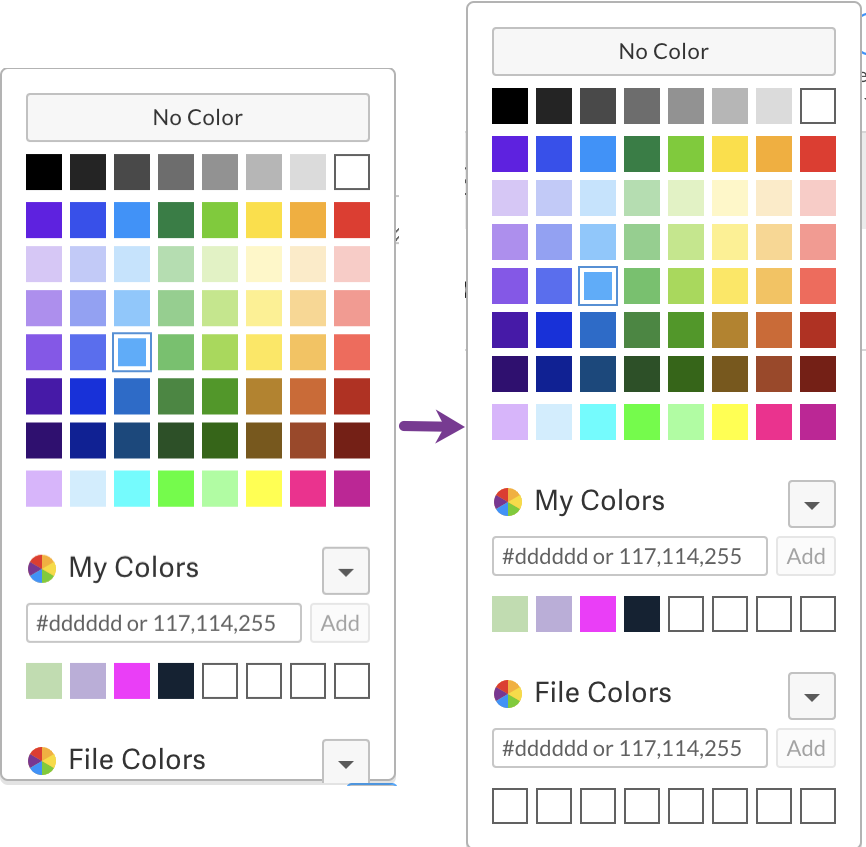 Dashboards - GRC/ESG
My Dashboard widget interface updated
As part of our efforts to continuously improve our user experience, we've improved the typography, icons, and formatting throughout the My Dashboard experience.
Documents
Use undo/redo for section tracked changes
You can now use undo or redo if you approve or reject all tracked changes from the current section in a document.
ESG
View and download reference attachments for ESG metrics in Workiva Tasks
With Workiva's ESG solution, workspace members can prepare and approve their assigned ESG Program metric values through a streamlined experience in Workiva Tasks. From Tasks, these members can now view and download any reference files attached to the ESG metric for additional context.
Require notes or attachments for ESG Program metric values
From a metric's Configure Metric panel, you can now select whether to require metric notes or supporting attachments for the values' data collection through Workiva Tasks, a source file's ESG Metrics panel, or the metric itself.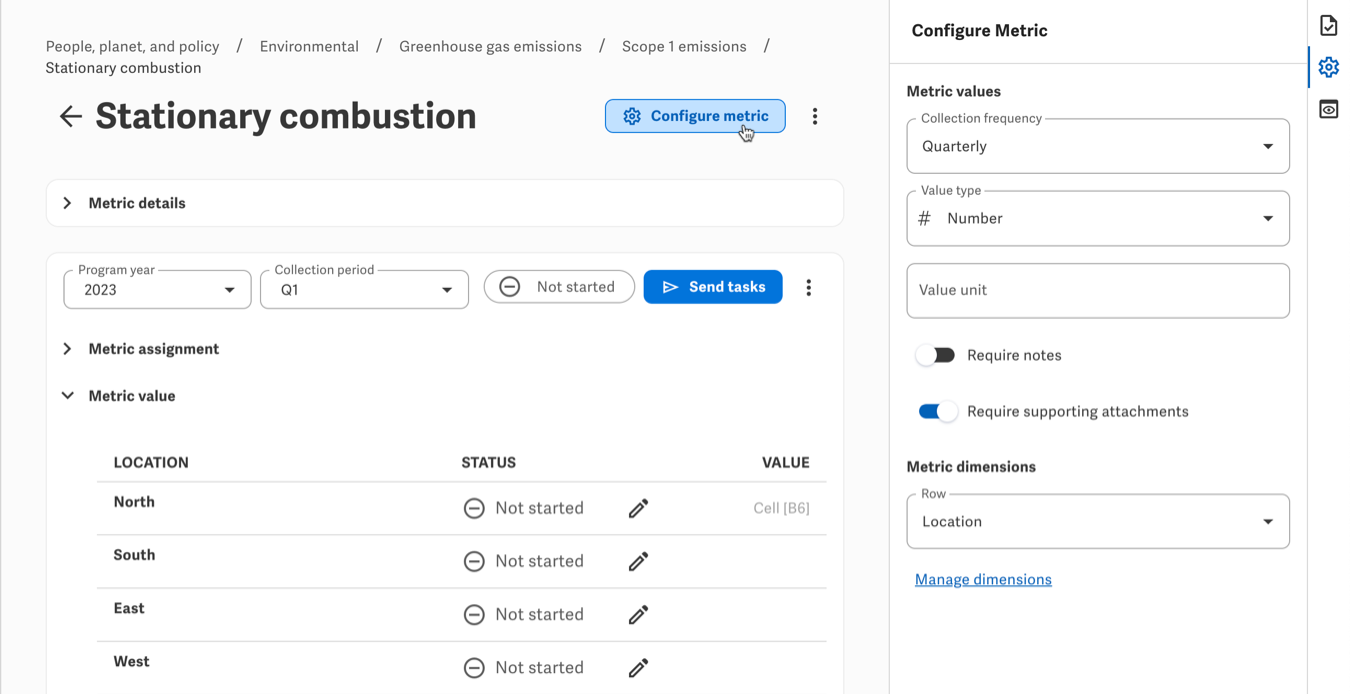 Learn more: Configure an ESG Program metric's data collection
Files
Container folders are now optional when copying or importing files
When importing or copying a Workiva File, you'll now see a "Create destination folder" checkbox option. This option is enabled by default, but you can uncheck it if you'd prefer to not create a new container folder -- either because a destination folder or already exists or you're only working with a small number of files.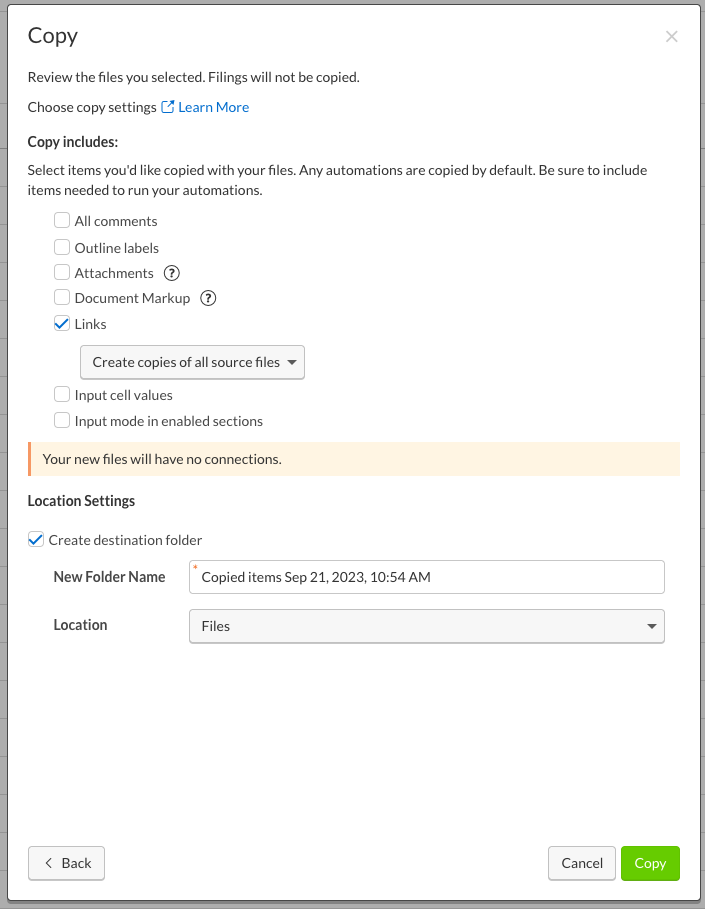 Learn more:

GRC
Bulk requests: Notify others & copy permissions
When creating requests in bulk, users now have the ability to copy permissions from their previous requests. They can also edit the notify others on the request or add notify others as an additional column in the spreadsheet upload.
Updated Request Creation page
When you create a new request, you will now see a revamped request page that looks and feels like other pages (e.g., the SOX Test form or Audit Procedure). Please note that there are no changes to the underlying functionality of the requests themselves.

Request / Workiva Tasks
When a process or control owner receives a request notification asking them to provide evidence documents, they will now be re-directed to the new task portal. This portal provides a more intuitive experience that allows you to easily upload the evidence documents requested by the internal audit or controls team.
Organization management
Remove users via CSV file
Org User Admins can now remove multiple users from an organization by uploading a CSV file with a list of usernames; and Workspace Owners and Org Workspace Admins do the same at the workspace level.
Presentations
Updated Object Properties Panel design
The Object Properties Panel in presentations now matches the updated panel design released in Documents earlier this year (for those with access to Design Reporting capabilities.) In addition, you can now reset object padding on a mixed selection of overridden and non-overridden object formats.
XHTML
New Editable XHTML export option for text and tables
When exporting Editable XHTML, you can now choose to export a leaner XHTML that is focused on the content of text and tables while removing auxiliary items like images, fonts, and IDs.