Releases in August 2023 to the Workiva Platform included improvements to the following products and features: 

ESG
Assign multiple members to approve ESG metric values
From an ESG Program metric, you can now assign multiple workspace members to approve values by a shared due date or through a series of approval steps with their own due dates.
When multiple approvers have the same due date, any of them can complete the task to move the value to its next approval step. To require approval from all members, you can set up an approval step for each.
Learn more at Collect values for ESG Program metrics

Access ESG Program from left navigation
To ease access, you can now open your ESG Program from the left navigation, just like ESG Explorer. By default, your most recently accessed ESG Program will appear; if you have multiple, you can select another ESG Program to view. From here, you can also create ESG Programs — instead of from the Create menu — and delete an ESG Program forever.


ESG Workspace interface updated
As part of our efforts to continuously improve our user experience, we have improved typography, icons, and formatting throughout all ESG experiences. In addition, easily collapse or expand the Experience Panel as you look to navigate through the platform.
ESRS available in ESG Explorer
To help comply with the European Union's Corporate Sustainability Reporting Directive (CSRD), ESG Explorer now includes the pending European Sustainability Reporting Standards (ESRS). With ESRS enabled, you can review the Standards, and align disclosure and application requirements with ESG Program metrics.
Learn more in Use the European Sustainability Reporting Standards for ESG reporting

Remove reporting years from ESG Program
From ESG Program, you can now remove a reporting year, including its metric values and any in-progress data collection tasks. To remove a year, click Manage reporting years, and select Remove year for the reporting year.
Learn more in Manage an ESG Program's reporting years

Remove values from ESG Program metrics
To no longer collect values for an ESG Program metric, you can remove them from a collection period or reporting year. If a metric has a dimension applied, you can remove values for all dimensions or only those that no longer apply.
Learn more in Manage ESG Program metrics

Review ESG Program and bookmarks activities
From Settings, Workspace Owners can view activities in the workspace related to an ESG Program — including to its topics and metrics — and to ESG Explorer content bookmarks.
Learn more in Review workspace activities

Spreadsheets
Switch from Wdesk Sync to Workiva Sync by Sept. 30, 2023
The Wdesk Sync Excel add-in will be retired September 30th, 2023. The Workiva Sync add-in for Microsoft Excel is ready for you to install and use today. Learn more by viewing the Workiva Sync Community Page.
Presentations
Improved rendering of line charts in non-English languages
We've improved the rendering of line charts in languages other than English so they are more visually consistent.
Section 16
Filing health warning updated
The "Incorrect amount owned after" validation is now a filing health notice instead of a filing health warning. This notice applies when auto-calculations are overridden in Form 4, table 2, box 9: Number of Derivative Securities Beneficially Owned Following Reported Transaction(s). As a filing health notice, it can be marked as verified, removing the associated warning label.

Wdata
Select JSON functions for query calculations
From a query's Field Properties panel for a calculated field, you can now select JSON functions to include in a calculation to adjust JavaScript Object Notation (JSON) arrays and values. For example, you can use the new W_JSON_ARRAY_JOIN function to return a comma-separated list of an ESG Program's related ESG content based on framework or standard.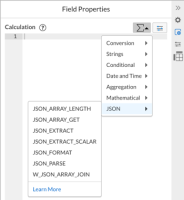 Set advanced permissions for Wdata items
From Wdata Home, you can now click Permissions to manage access to multiple tables, queries, or views at once.

Include an ESG Program's available dimensions and tags in Query
With Workiva's ESG solution, you can now include all tags or dimensions available for an ESG Program's metrics and values in Query results. To include an ESG Program's available tags or dimensions, add program tag data or program dimension data — respectively — as the query's source.
For more information, see Include ESG Program data in query results.

Certifications
Skip Certification signers or approvers
Certification process owners can now choose to skip signers or approvers in their process.

Mark Certification signers as Signed
Process owners can now sign a letter on behalf of an original assigned signer.
If a signer can't sign their certification but has responded without exceptions (e.g. via email outside of Certifications), the process owner can manually mark that the signer has signed using Mark as Signed.

SOX & Internal Audit
Report descriptions now available
Data Admins can now add descriptions to your reports to further identify the purpose of individual reports. To learn more, see Add a report description.
XBRL
XBRL Manager Role Name Change
The name of the XBRL Manager Role has been renamed to include XML, in advance of updates to support XML Reporting. Only the role name has changed, with no change to what existing XBRL users with these roles are able to do.

Workspaces
Activity Report Export Improvements
We've improved the report export process by removing the need for an additional notification click and adjusting some report field columns to provide consistent reporting.
Partner Subdomains:
We enhanced Activity Report Exports for Partner Subdomains, particularly kpmg.workiva.com subdomains.
Previously, exporting from KPMG subdomain posed challenges. The newly-implemented process ensures successful downloads across all user domains, providing a seamless experience.
Org User Report: We've moved the SAML ID, Organization Licenses, and Organization Roles columns to improve consistency. We've also added an option to include all of a user's assigned Workspace roles.
Workspace User Report: We've moved the Workspace Roles and Group Members columns to better align with other reports.

Cross Workspace Connections
Workiva has extended the Connections feature to share data across sheets in two different workspaces. This reduces the complexity to share data across workspaces/solutions when the same data is needed in multiple reports spanning different solutions. Connections also allow you to have full visibility into where your data is shared with and when it was last refreshed. This feature requires the workspaces to have Wdata enabled.
Learn more about setting up a connection in Connect sheets to source or destination spreadsheets

Workspace Owners can now create OAuth2 grants for users
Workspace Owners and Workspace Admins can now create and edit OAuth2 API grants for users from Workspace Security Settings. The user for whom the grant is created will be able to view the client credentials and regenerate client secret in the User Profile Security Settings page.
For more information, see Create and manage API grants in Organization Admin

Workiva Platform
ESG Explorer always provides the current frameworks and standards
To ensure you always have the latest guidance, ESG Explorer now automatically uses the current versions of frameworks and standards. You can access a previous version of content — including any comments or bookmarks — from its History panel. To reflect an updated version elsewhere, such as in a Spreadsheet or ESG Program, edit its framework references as necessary.

Upload supporting attachments from ESG Metrics panel
With a Workiva ESG solution, you can view details about all ESG Program metrics connected to a spreadsheet or document from the file's ESG Metrics panel. From this panel, workspace members can now upload a metric value's supporting attachments if they are:
- An Owner or Editor of the connected source file or the metric's ESG Program
- An assignee or approver with an open task for the metric
Learn more at Connect Workiva files to ESG Program metric values.
Updated SCIM API responses for the GET /user endpoint
The SCIM API responses for the GET /user endpoint have been updated, removing the following optional fields: User Type, Profile URL, Address, Employee Number, Cost Center and Division and subfield Version.
The SCIM API responses for the GET /user endpoint have been updated to include preferred language and department.
We have added testing to prevent breaking changes moving forward.
Select date format from your profile
You can now select your preferred date format from the user profile preferences page.
Improved handling of deprecated password expiration and reset password pages
You can no longer access the deprecated password expired page and password reset routes. Attempting to navigate to the deprecated password expired page generate an email to reset your password. Trying to access the deprecated password page will now redirect to Home.

Password requirements are now viewable from the Organization Security Admin
Organization Security Admins can now view Workiva's password requirements from the sign-in setting admin page.

Select Binders as source for copy
Binders can now be copied as a part of a Folder and selected as the source of the Copy.
When copying a Binder with referenced files present in the workspace, those references should be identical in the copied Binder, including any checkboxes for Attachments/Markup, and the revision the referenced files were set at.
Referenced files will not be copied when the Binder is copied, only the references to those files.

S&P Global CSA 2023 available in ESG Explorer
With Workiva's ESG solution, you can now review questions from S&P Global's Corporate Sustainability Assessment (CSA) 2023 and align them with related ESG Program metrics. To enable CSA in ESG Explorer for your workspace, first agree to Workiva's Third Party Terms of Use for materials licensed from S&P Global, Inc.
For more information, see Respond to S&P Global CSA for ESG reporting.