Once you run your process, assignees are notified via email and within Workiva with any instructions. They're also given permission to the file in the request, if needed. Approvers for content requests must review the task before the process can continue.
View a task
Whenever an action starts, assignees receive an email notification that they've been assigned a task. The task also appears in their list of tasks in Home.
To open an assigned task from an email, click Go to Task to open the Tasks page in Workiva. If the assignment is a content request, the link goes directly to the assigned document. If the assignment is a certification, the link goes directly to the assigned letter.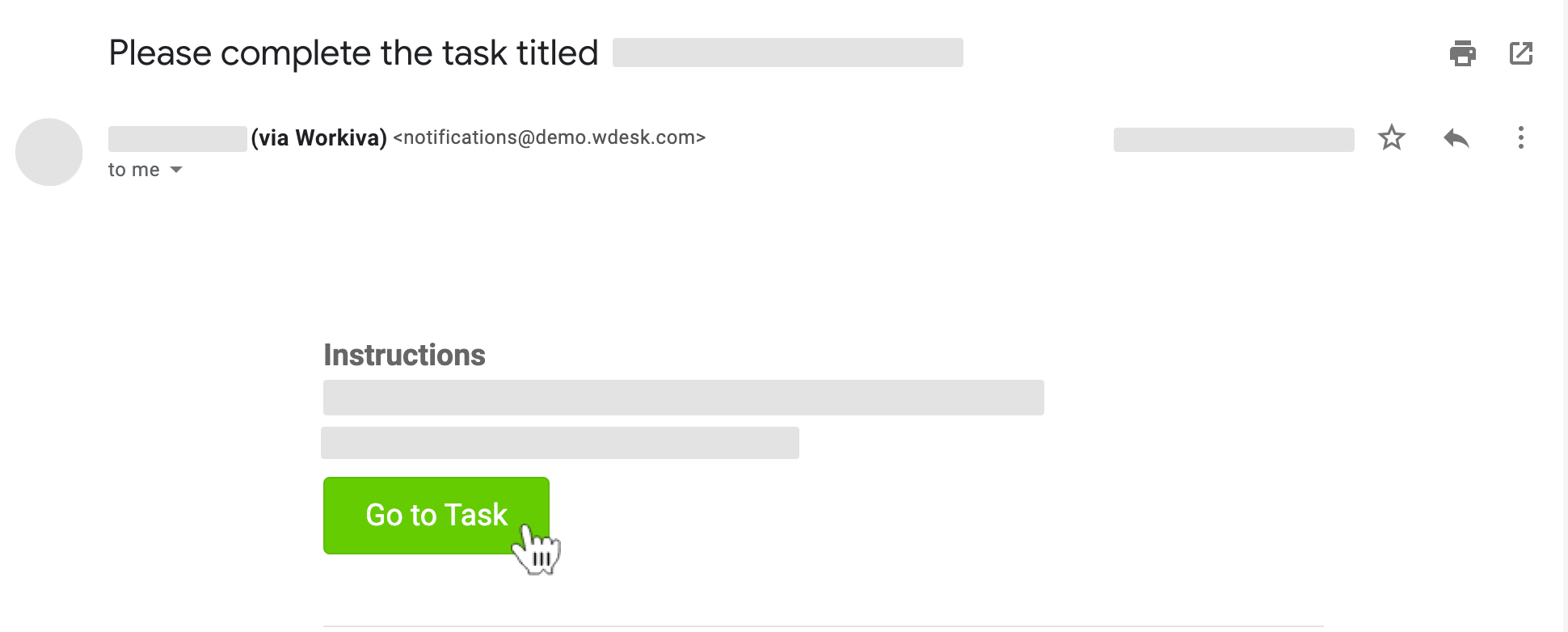 To open the task from within Workiva:
From Home, go to the Tasks tab.
Select the task to open the Task details panel.
If there's a Task location, click the Go to task icon to open the assigned location in the file.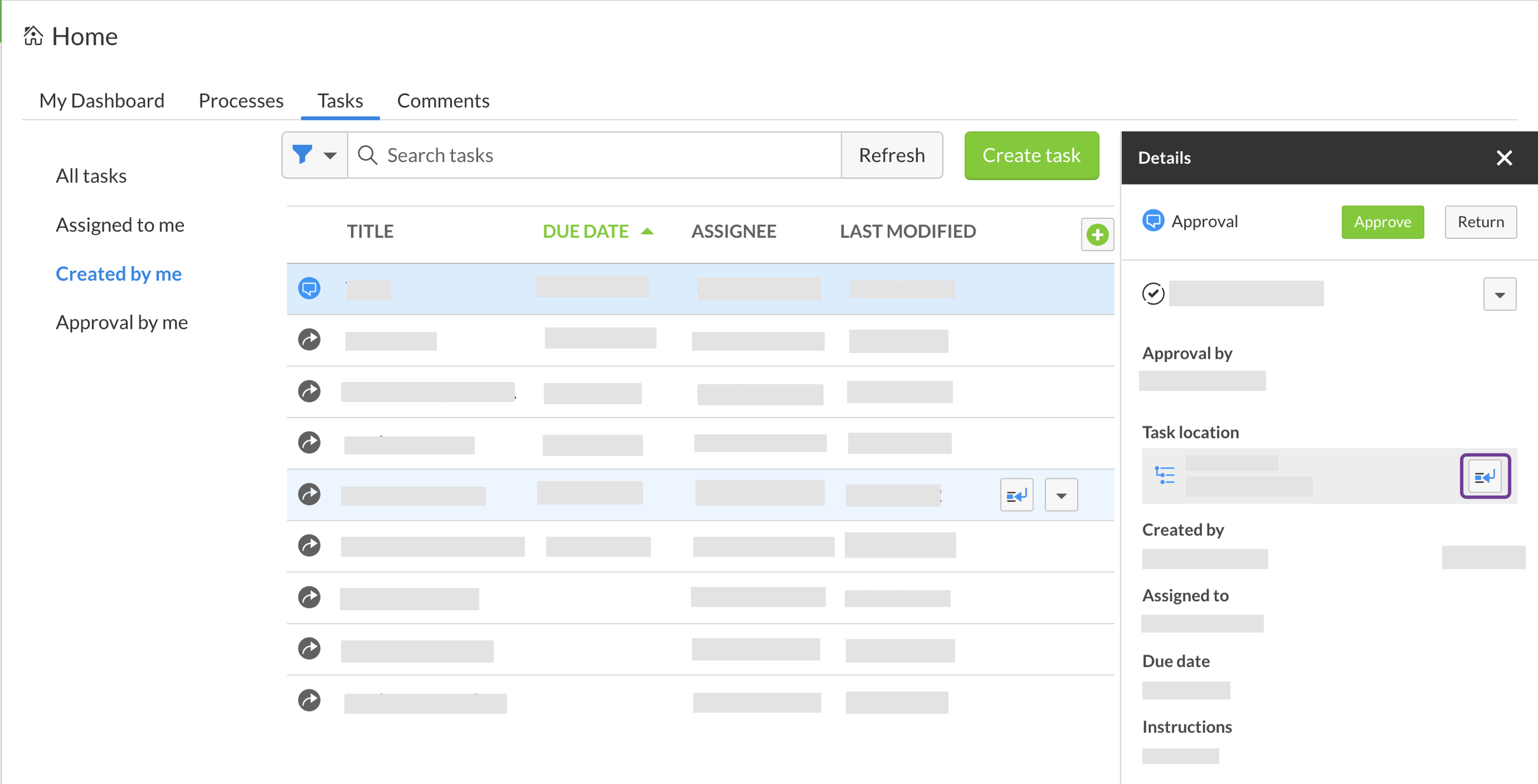 As a process Owner, tasks in your process are distributed on your behalf. You can see all the tasks you've sent out, including from processes, by selecting Created by me in the Tasks tab in Home.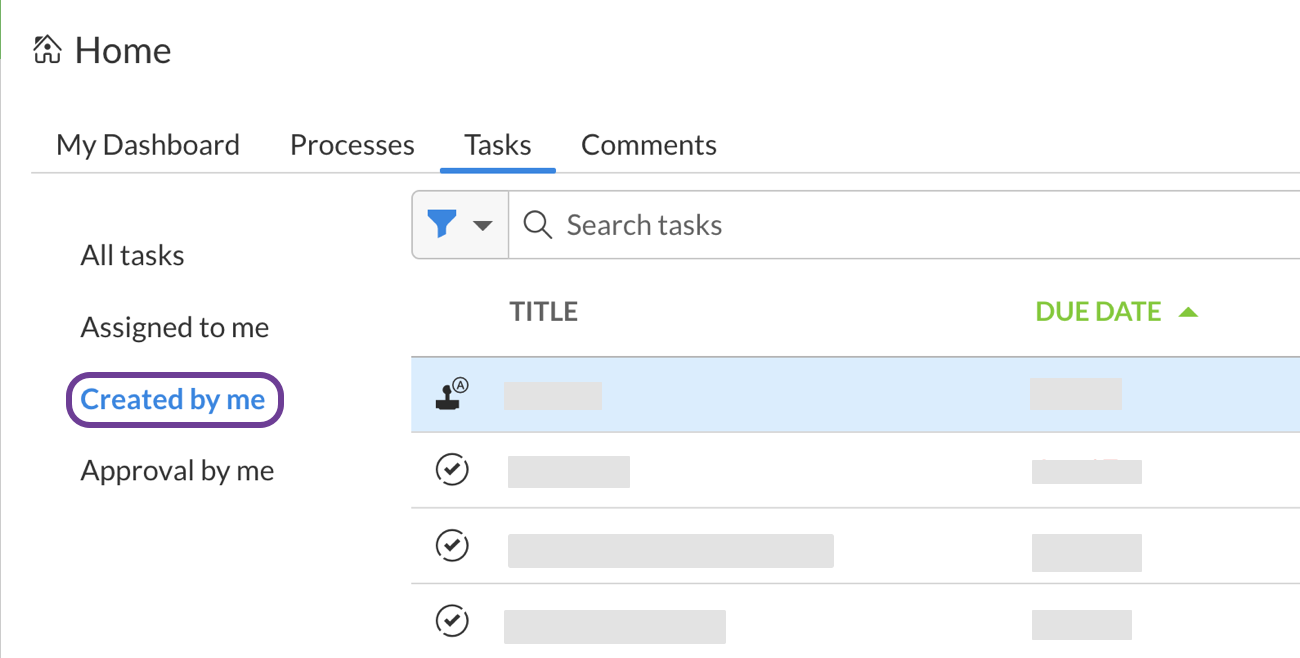 Complete a task
For tasks with specified files and for content requests, the assignee can use the Tasks panel to view the task's details, like the due date and instructions. For completing certification tasks, see Sign a letter.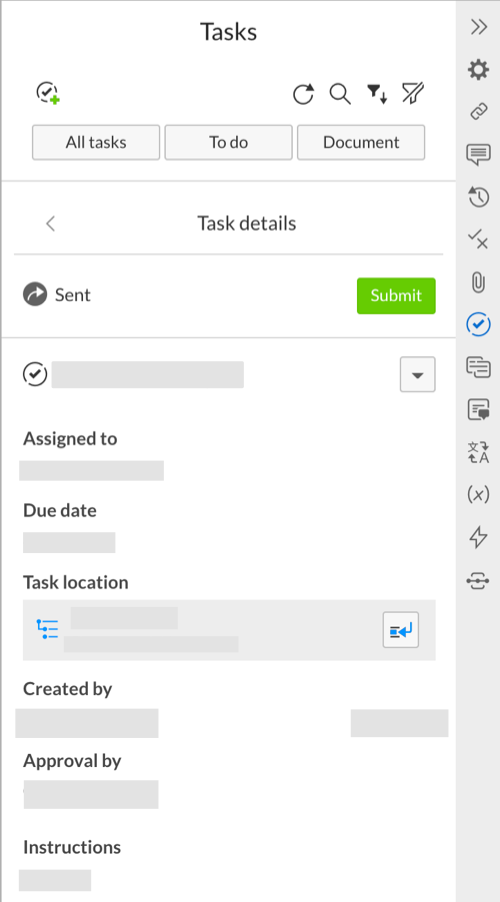 Once the assignee finishes the task, they click:
Complete if the task doesn't need an approval

Submit if the task requires approval

If the task has an approver, clicking Submit sends an approval request for them to review the content. After viewing the work done for the task, the approver can choose to approve or return the task.
Learn more about permissions in Process tasks.
Approve or return a task
Approving a task allows the process to continue, while returning a task sends it back to the assignee for further review. For certification tasks, see Approve or return a letter.
After the assignee marks their task as complete, the approver is sent an approval request. They can open the request from the email notification or view it in the Tasks panel.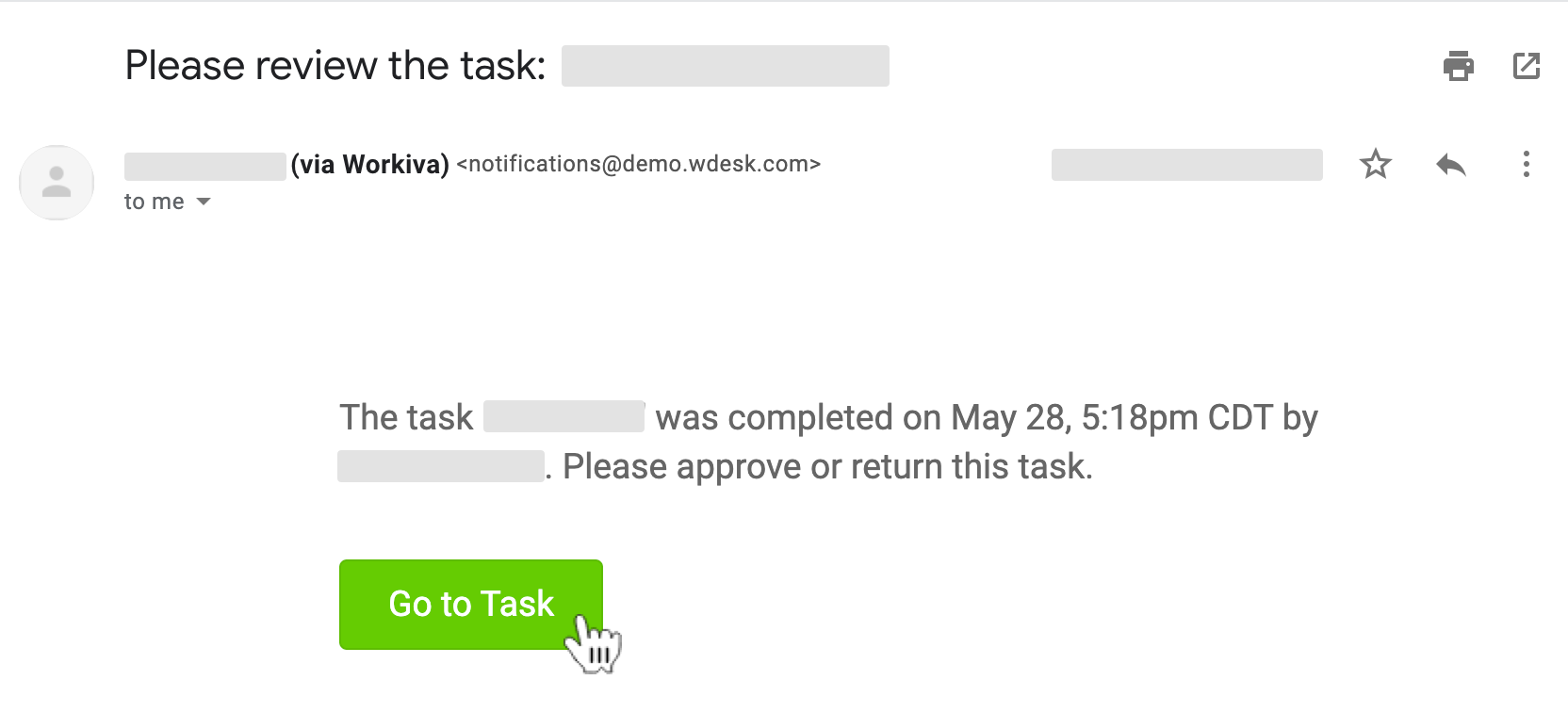 After viewing the assignee's content, the approver can choose to approve or return the task.
Open the Tasks panel.
Click a task to view the details.
Review the assignee's work in the file.
Click Approve or Return.

If the approver returns a task, the assignee gets a notification that the task has been returned. Once the assignee edits their submission and marks the task complete again, the approver receives another notification, allowing them to approve or return the edits.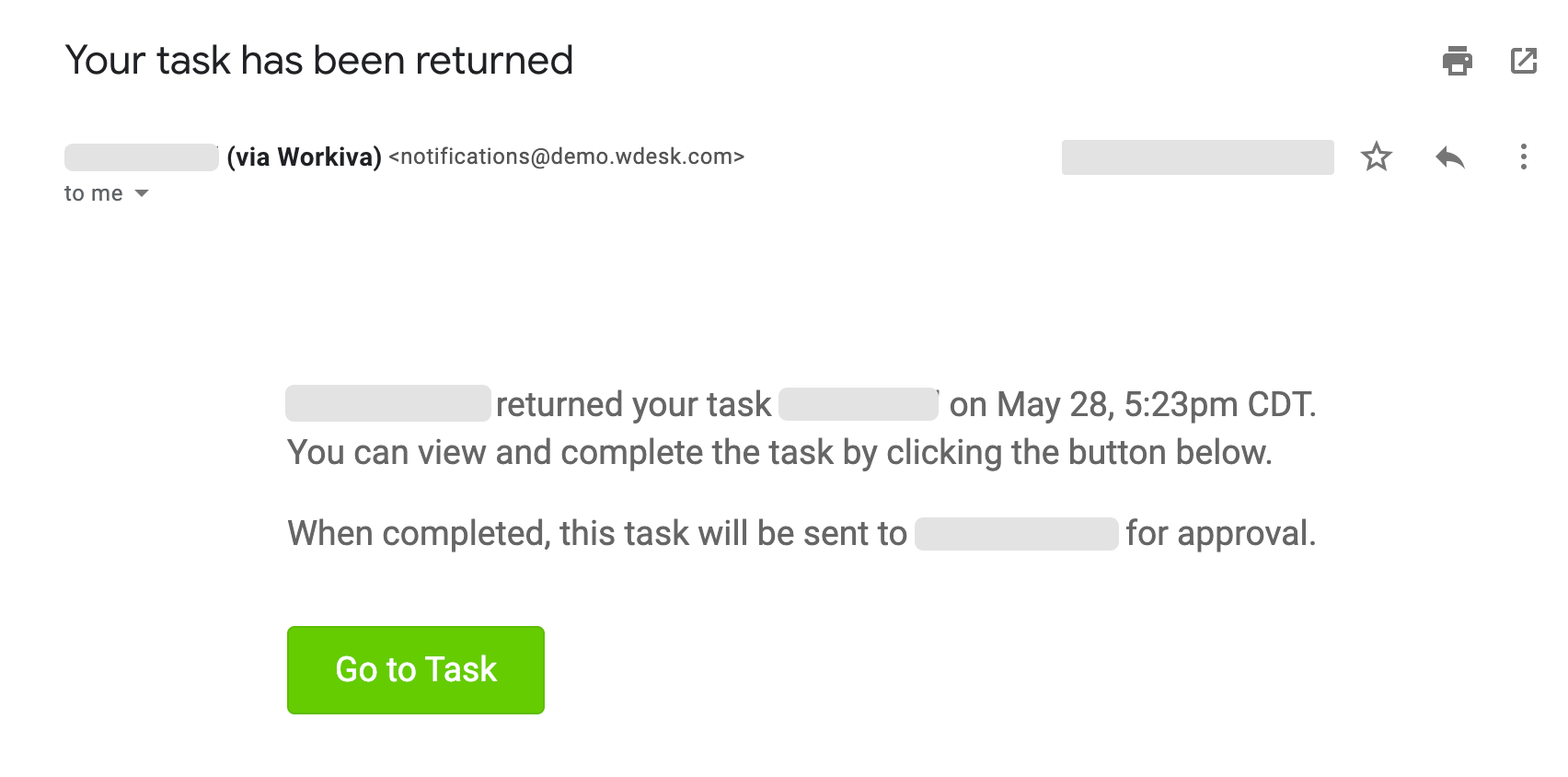 Related articles