You can use comments to leave remarks and collaborate with others in a document.
Add a comment
To add a comment to a document:
1

Select the text or table you want to comment on. To comment on a chart, select text associated with the chart.

Note: If you are working in text and don't make a selection, the comment is attached to the word closest to your cursor.

2

Right-click the text and select Add Comment from the menu.

3

Type your comment in the New Comment field and click Post.

You can mention both individual users and workspace groups to notify them about your comment. Type @ in the text box to view a list of users and existing groups.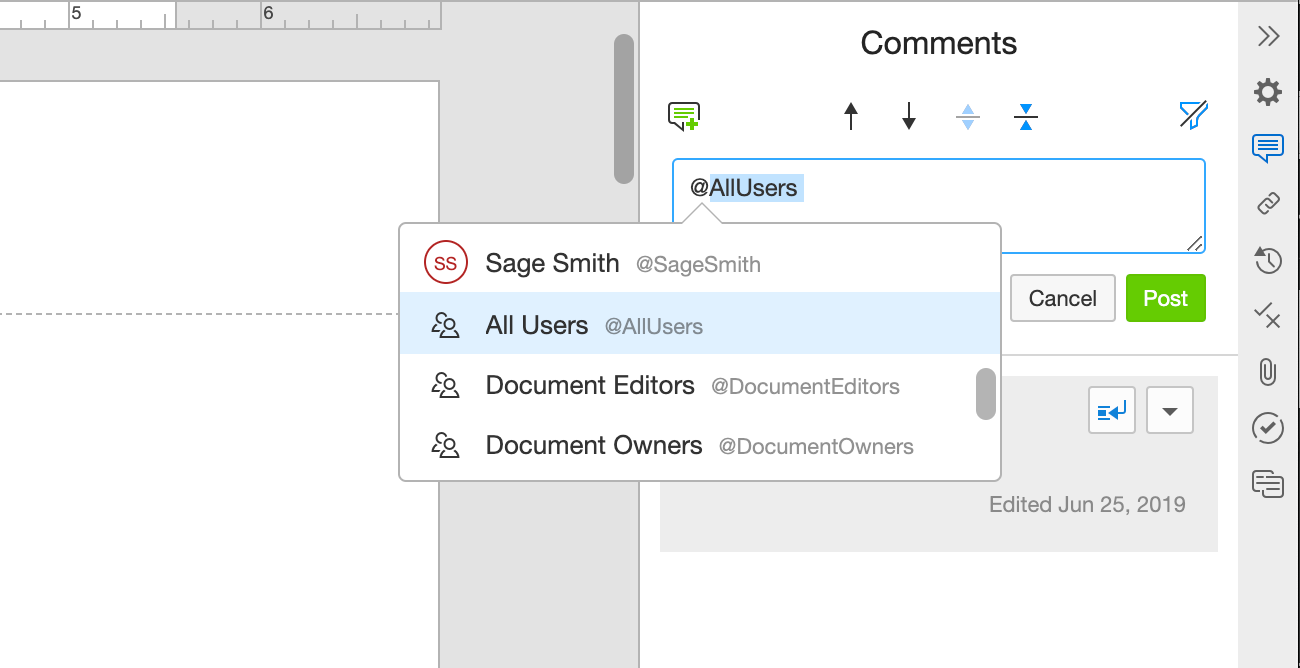 Users filtering by "my @ mentions" in the Comments panel or in Home also see their group mentions included in results.
Note: Posting or replying to a comment with a group mention sends an email notification to all group members. You'll also receive a notification anytime someone responds to a thread you've participated in.
Manage comments
You can use the comment card or the Comments panel to manage your document's comments. If you are a Document Owner, you can create, reply to, resolve, move, and delete comments. If you are an Editor or Viewer, you can perform any of these actions but can only delete your own comments.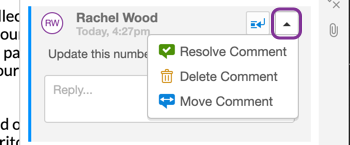 You can edit an existing comment by clicking the pencil icon. To reply to a comment, type your response in the text field.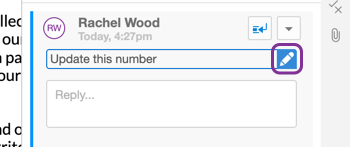 A blue highlight in your document indicates comments associated with that selection. Clicking the highlighted content places a blue indicator next to the associated comment.

Clicking highlighted content while the Comments panel is open automatically expands the corresponding comment. If there are multiple highlights around your cursor, the comment opens for the one closest to your cursor.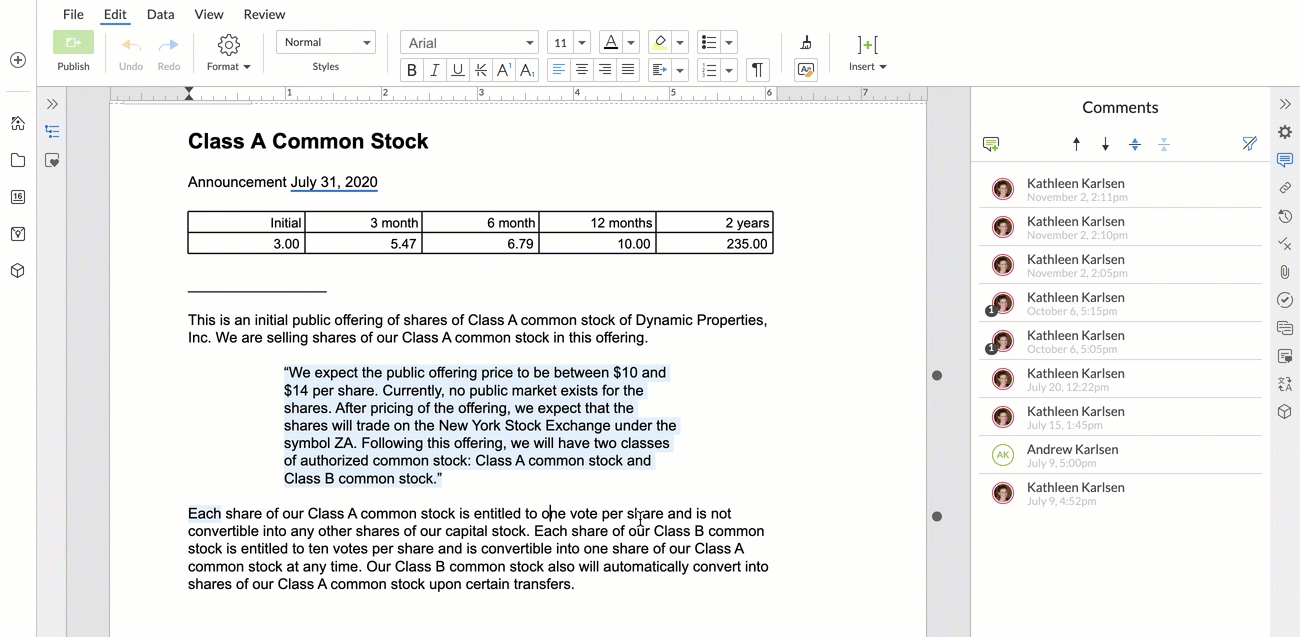 When someone comments on a document, the comment icon appears next to the section in the document outline panel. You can view a comment's exact selection in the document by clicking the Jump to Location icon in the Comments panel.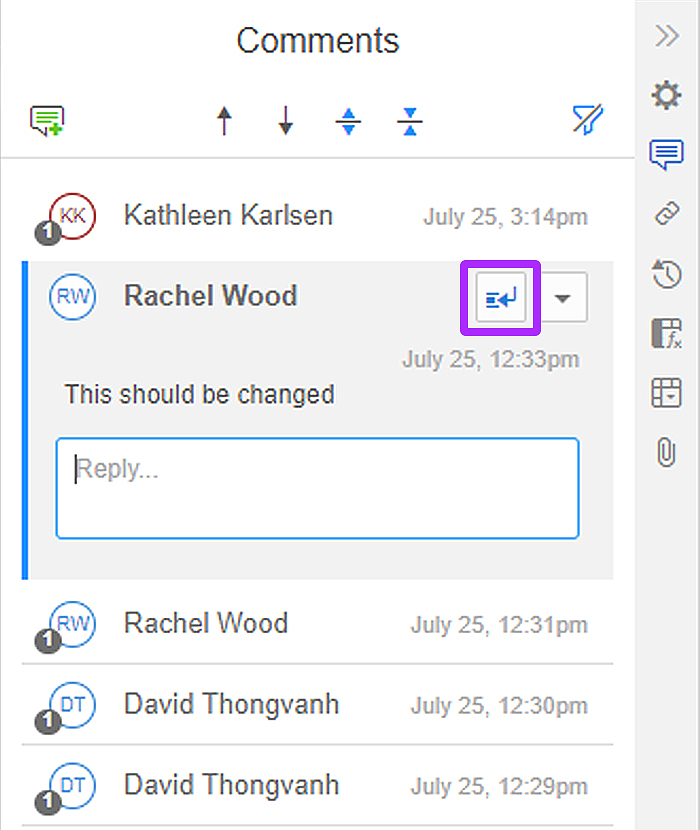 By default, comments and highlights are turned on in your document. You can show or hide comment indicators from the View toolbar.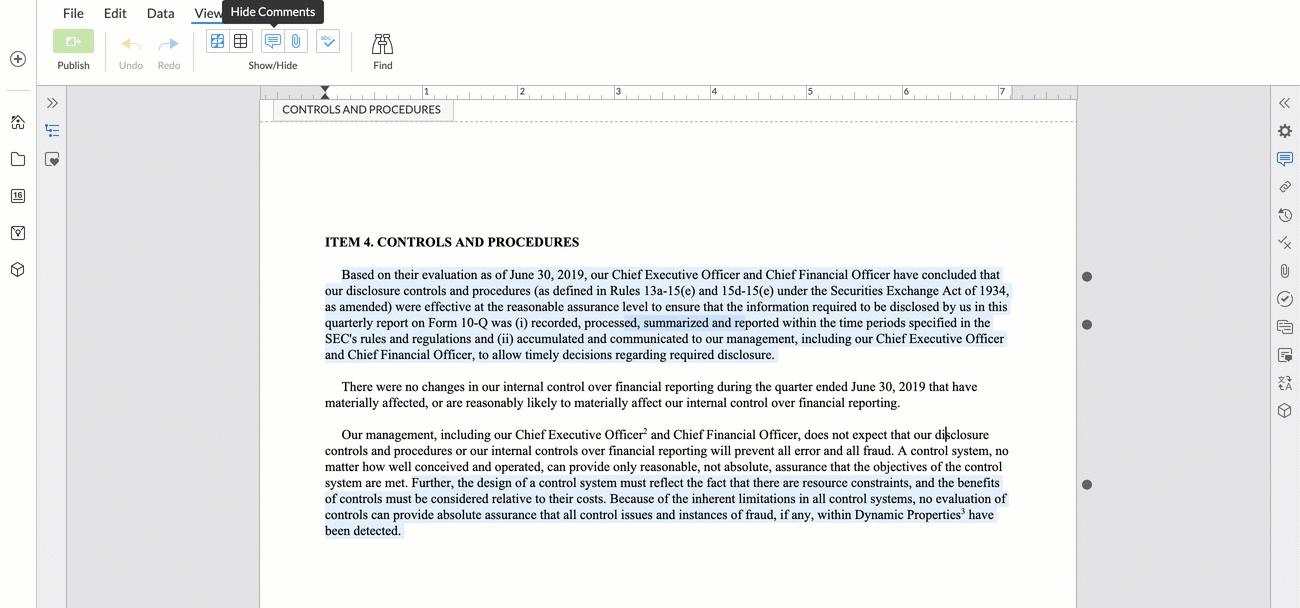 Move a comment
If you need to move one of your comments to another part of your document, you can use the Move Comment option.
To move an existing comment:
1

Select the text or table you want to move the comment to.

2

From the comment card or in the Comments panel, click the arrow.

3

Select Move Comment.
Filter comments
Use the filter options to view specific types of comments, such as unresolved comments or comments containing @ mentions .
To apply a filter:
1

Open the Comments panel.

2

Click the Filter icon.


3

Select how you want to filter your comments.
Show for shows comments for the whole document or just the current section
Status filters comments by open or resolved
Mentions lets you view only comments that @ mention you or a group you are in
Date Updated filters comments made on a certain date, within a range of dates and times, or before/after a certain date
Author shows comments made by a particular user
Content allows you to search for keywords or phrases within comments
Disconnected comments
If the text your comment is connected to is removed from your document, a disconnected icon appears next to the comment. The comment's original selection (up to 400 characters) also appears in the comment card.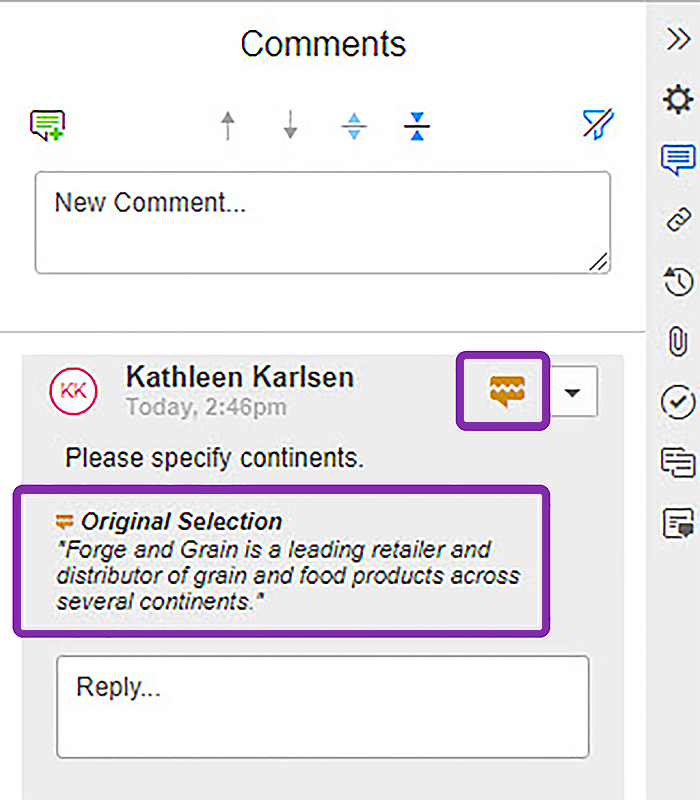 To reconnect your comment, highlight a new selection in your document and select Reconnect Comment from the menu.