Pie and doughnut charts display data in slices rather than in series. Pie and doughnut charts are graphical representations of data points as percentages, showing a comparison of parts to the whole.
For more information on editing charts:
Customize Chart Appearance
Format Chart Text
Chart Legends
View Chart Data
Creating a Doughnut Chart
A doughnut chart displays as a ring with a variable inner radius. To create a doughnut chart, insert a pie chart and use the Doughnut Hole setting to increase or decrease the size of the hole in the center of the chart. If this setting is zero, the chart will display as a pie chart.
Format Chart Slices
Slice colors, borders, and labels are controlled from the Chart Properties panel. To format all slices at once, click on the chart to select. Now you can use the slider to Explode all slices if desired.
Use the Border slider to turn on borders and set the width and color of the slice borders.
TIP: Adding a white border (10 px) to all slices is an alternate to exploding the slices as a way to emphasize each slice.
Use the Show Label slider and the subsequent sliders to show or hide the Name, Value and Percent for each slice. Precision will let you determine how many decimals to show on the slice labels.
There are a number of available options under Separator to set the label name apart from the percentage or value. You also have control of the Distance from the label to the slice and can set the color of the connector line.
Each slice in a pie or doughnut chart can also be formatted individually. Double-click on a slice in the chart or use the drop-down in the Chart Properties panel at the top of the Series section to select an individual slice. All of the formatting settings are available to customize each individual slice.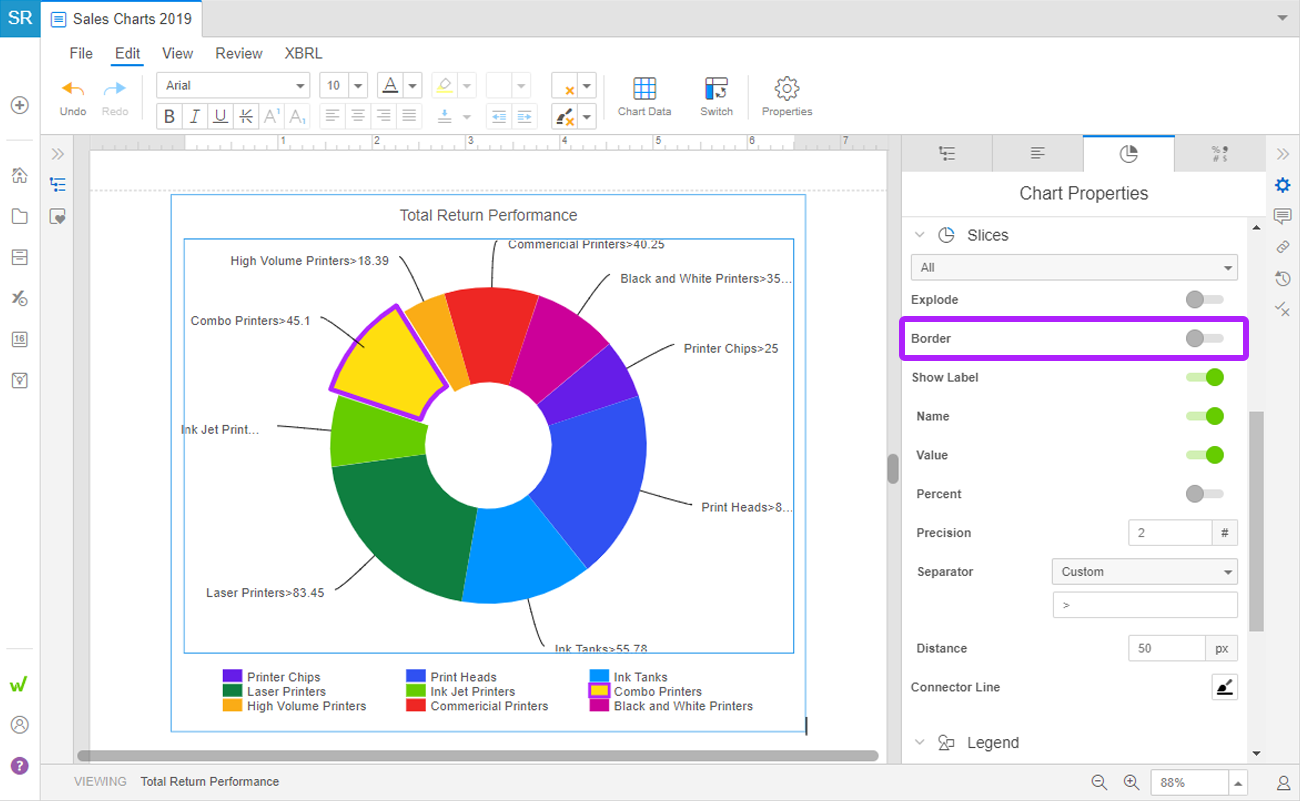 Pie and Doughnut Chart Labels
One of the unique features of pie and doughnut charts is the connecting line between the label and the associated slice. There are a number of setting associated with the connector line and the formatting of the labels. These include Name, Value, Percent, Separator and Distance.
See Chart Label Positions for detailed information and a video on pie and doughnut chart labels.
What's Next
To work with the values in your column, bar, stacked or combo chart, see the following articles and accompanying videos:
View Chart Data
Edit Chart Data
Axis and Series Display for Charts
Chart Label Value Formats