In Documents, several people can work together in the same document — all edits are automatically shared. Use permissions, revisions, and comments to create a seamless collaborative environment. You can also use outline labels to stay up to date with your team.
Assign Permissions
To collaborate in real time, all users must have permission to access the document. If you are an owner, you can check or grant permissions by clicking Permissions on the File tab. You can set permissions for the document as a whole or just the current section.

The Permissions editor shows the current groups and collaborators. Use the search box or scroll down the list to find collaborators. You can click the Filter icon in the upper right corner of the editor to view collaborators by permission level.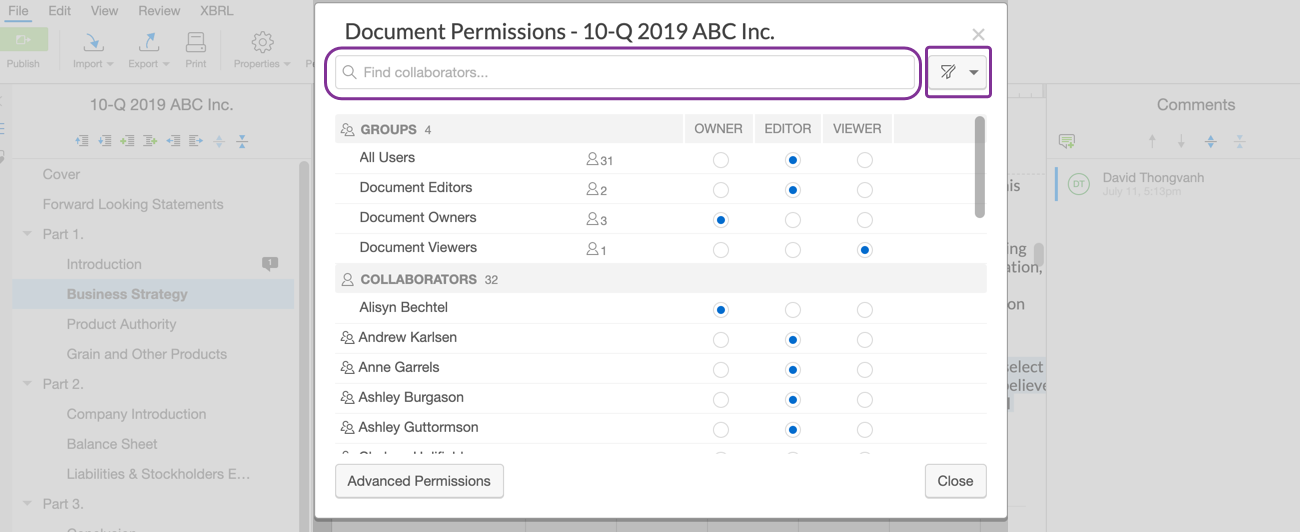 Click the radio button next to a collaborator's name to give them appropriate access. To remove permission, hover over a collaborator's name and click the that appears on the right.
You also have the option of using the Advanced Permissions editor. The Advanced Permissions editor allows you to quickly adjust permissions to multiple sections at the same time. Learn more about Advanced Permissions and user groups in Setting Advanced Permissions.
Use Revisions
Revisions are groups of edits that automatically save every five minutes. From the History panel, you can view revisions to see who made a change and when.
Use the drop-down menu to Open the revision and see the state of the document at the time of the revision. This opens the revision in a separate browser tab or window. The revision is identifiable by the Viewing Revision designation and the date in the upper right-hand corner.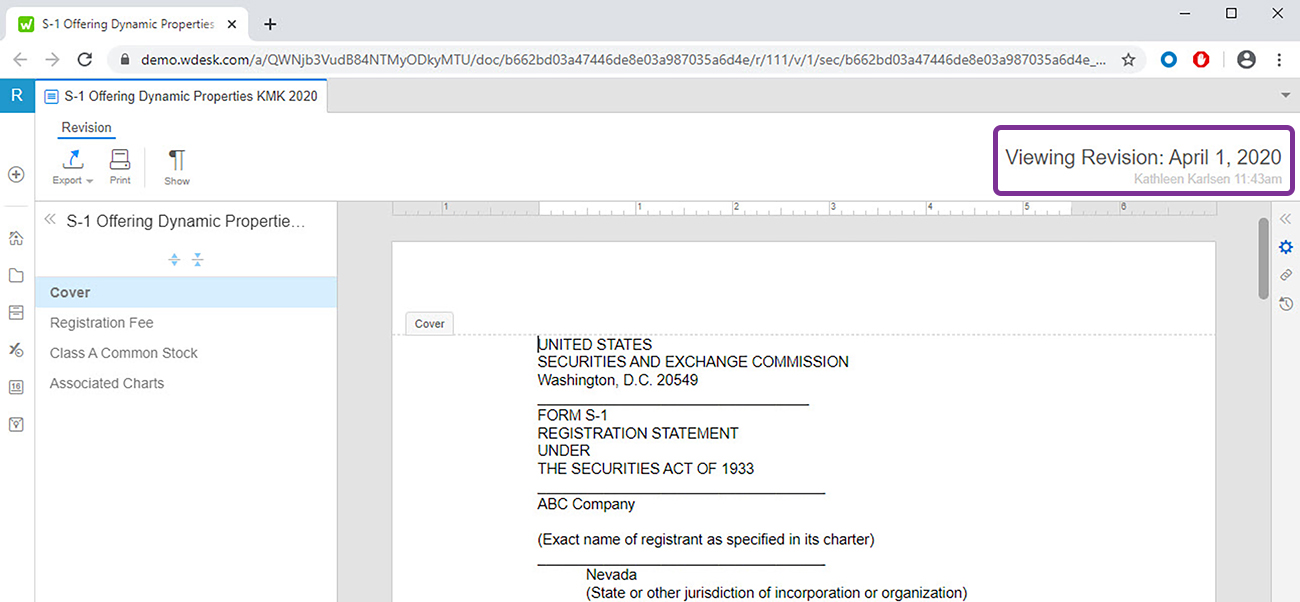 Revisions can't be exported, but you can copy and paste needed information into your current document if needed.
Learn more about viewing revisions and creating milestones in Revisions in History and Documents.
Export Documents
If you need to share a document with someone outside of Workiva, you can export your document in several ways.
To export your document:
1

From the File toolbar, click Export .

2

Choose a file type.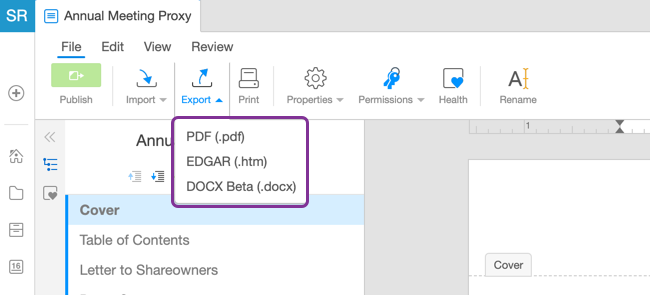 You can select whether you'd like to export the entire document, the current section or selected sections. EDGAR and DOCX exports download directly to your computer. Under the Advanced options, you can choose whether to Include Leader Dots and Show Table Cell Shading.
If you'd like to export your document as a PDF, you'll also have several other options:
Include Hyperlinks
Make ADA Compliant
Use CMYK Colorspace
Include Draft Watermark
Include Comments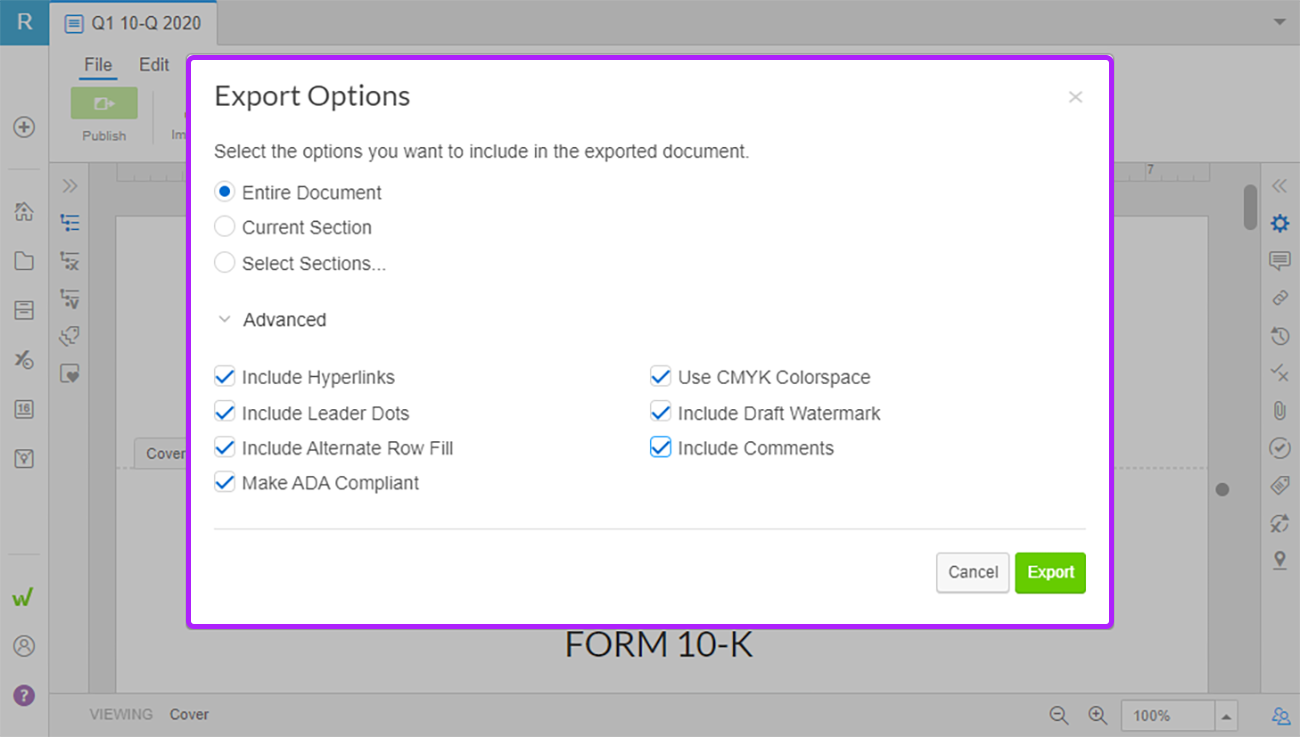 You can also send view-only versions of your document to a collaborator using the Send for Review feature.