Track Changes allows you to see a list of individual changes made to a document. If you or another document owner would like to view changes made to your document, you can enable Track Changes.
Enable track changes
To enable Track Changes:
1

Open to the Review toolbar.

2

Toggle Track Changes on.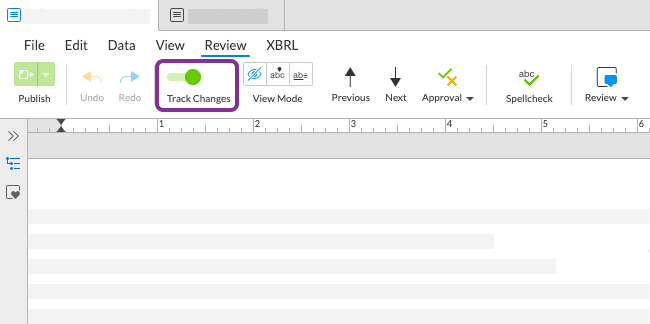 Note: Only Document Owners can enable Track Changes.
View tracked changes
After you enable Track Changes, you'll see changes marked accordingly.
A

Additions are in blue with an underline and a blue pin.

B

Removals are marked with a red pin.

C

Changes (locations where text has been both added and removed) are noted with a purple pin.

To see removed text within your document, you can change your View Mode. From the Review toolbar, select an icon to change your view. Show pins shows deletions as a red pin, while Show all changes shows the removed text.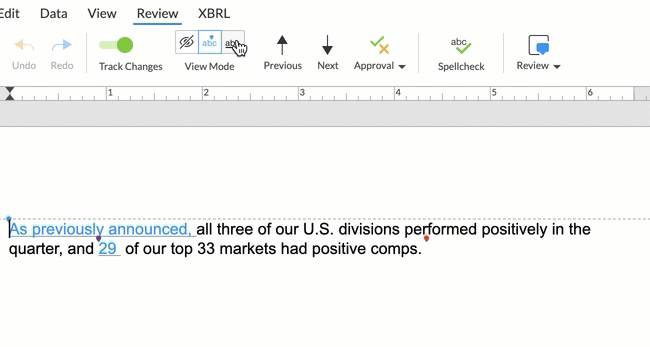 If you'd like to see your document with changes accepted, select the Hide changes mode.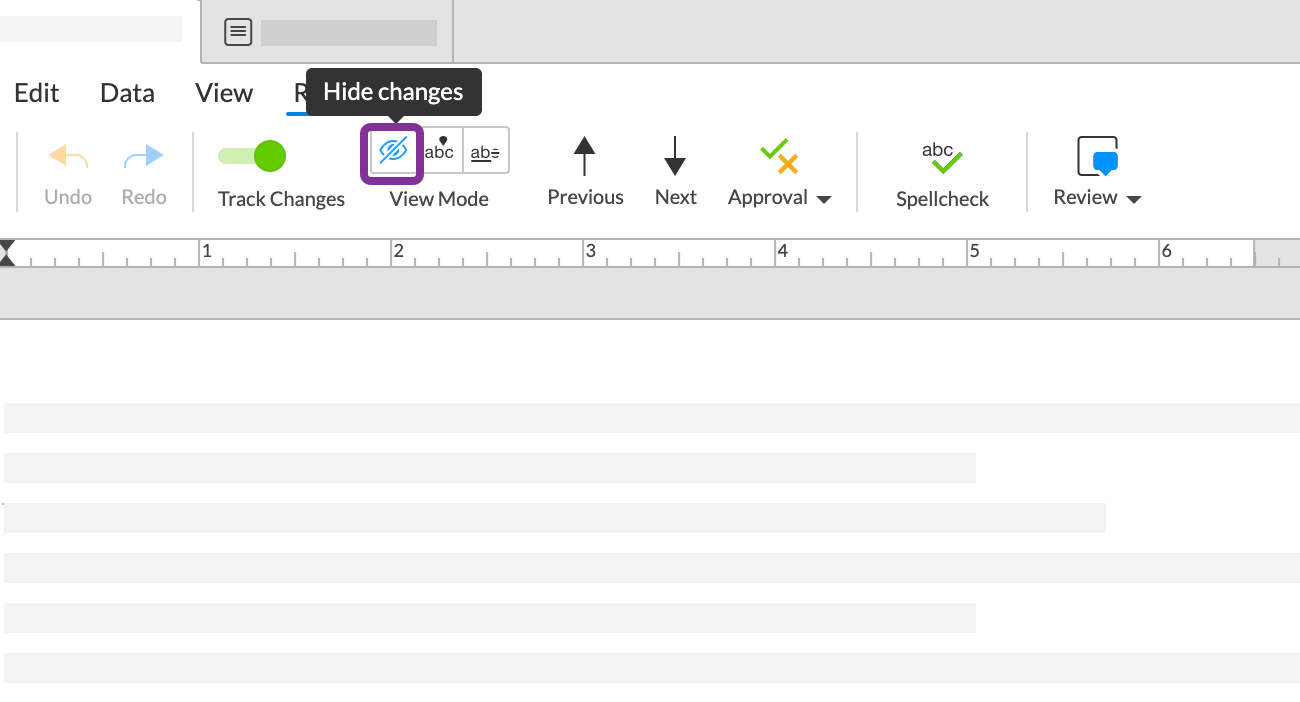 You can also jump between changes by clicking the Previous or Next buttons in the Review toolbar, or by opening the Track Changes panel from the right toolbar. Clicking a change in the panel highlights the change in the document.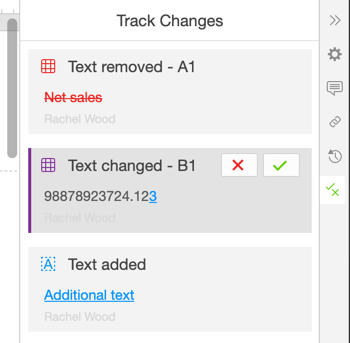 Note: This panel shows changes for the selected section, not the section currently in view.
A blue vertical line to the left of a section in the document outline indicates that section contains tracked changes.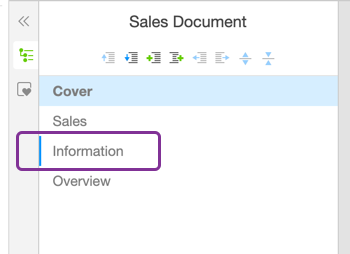 Accept or reject individual changes
Document owners can both accept and reject any tracked changes, while Editors can reject any changes.
To accept or reject an individual change:
1

Open the Track Changes panel.

2

Select a change.

3

Click the Approve or Reject buttons.
You can also accept or reject changes by right-clicking the change in the document and choosing Approve or Reject from the dropdown menu. Once accepted or rejected, the change indicators disappear.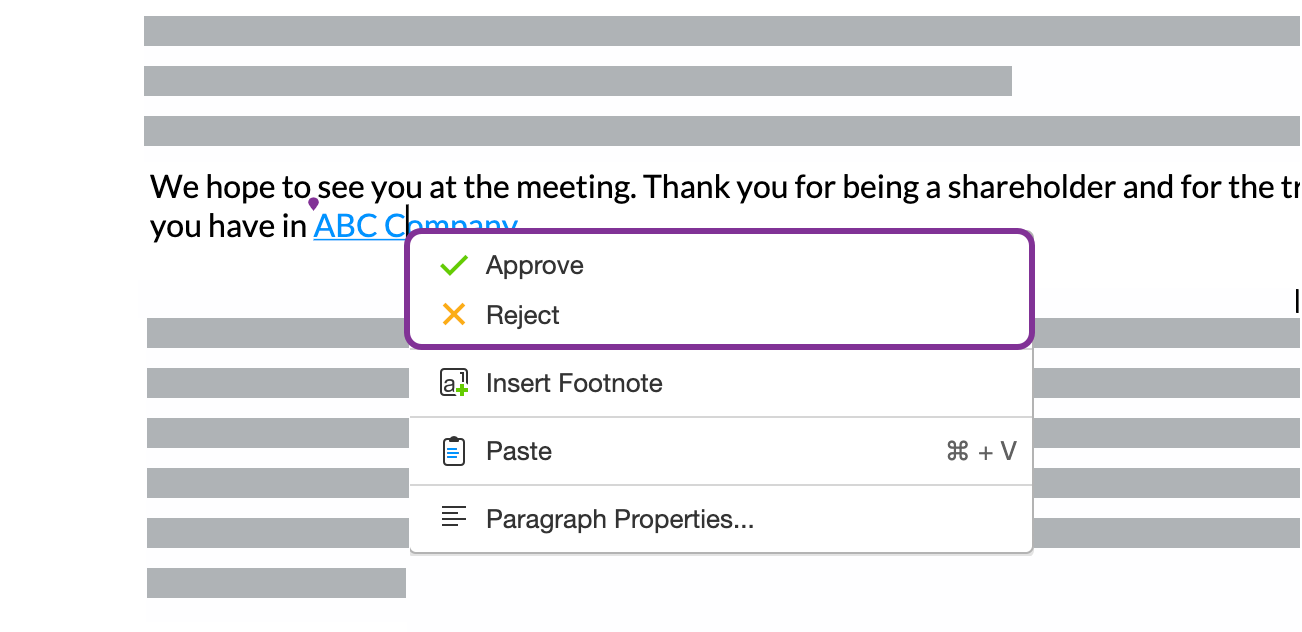 Accept or reject all changes
You can accept or reject changes at the section or document level via the Approval icon in the toolbar. Once you accept or reject all tracked changes, you can't undo this action.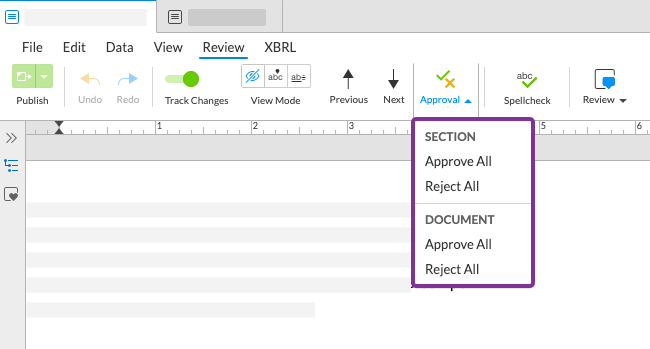 Exporting documents with track changes to PDF or EDGAR display as if all track changes are accepted, but this does not accept all changes in your document.