There are several ways to create and save compelling templates in Presentations. You can also import and utilize pre-approved templates that your company has designed. This saves time and keeps your Presentations up-to-date with your company's branding guidelines.
Create Presentations from Templates
You can create a presentation from any template that you have permission to use. In fact, the only templates that will appear in the drop-down are the ones for which you have permissions. To get started:
1

Click Create from Home.

2

Select Presentation > Presentation from Template.
3

Then choose the template you wish to use from the templates list and click Create.
A presentation created from a template will have a blue template icon in the document tab to differentiate the template tab from a standard presentation .
Note: Any changes you make to the selected template will update the template for anyone who creates a presentation in the future. Existing presentations that were created from this template are not updated.
Create a New Template
To create a template from an existing presentation, open the presentation that you want to save as a template, and follow these steps:
1

Select File from the main menu.

2

Next click Save As > Template.

3

Name your presentation and click Create.
This will create a copy of your presentation as a new template file type, and will be displayed in your list of available templates in Home. To give others the ability to create presentations from a template that you created, make sure to give them permissions to the template file.
Anyone with access to the template will have the ability to create new presentations using that template. Remember to set permissions on your template so that intended access is given.
Convert a PowerPoint™ to a Template
If your company has an existing PowerPoint™ presentation that you want to import, you can also use this as the basis for creating a new Presentations template.
To start this process in Presentations:
1

Go to the File tab and click Import .

2

Choose your PowerPoint file.

3

Select Open.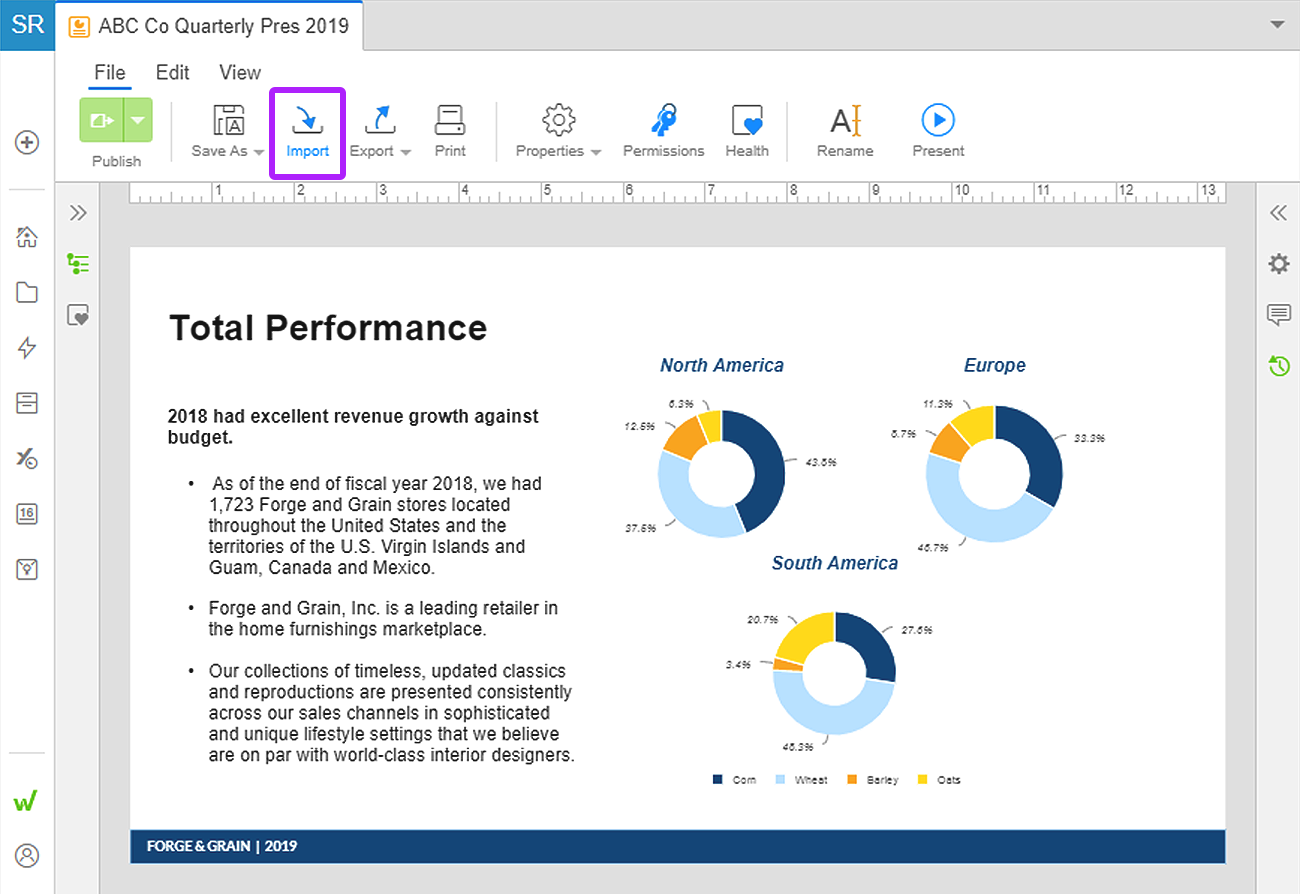 When you first see the imported presentation, the slides will be listed in numeric order without the specific slide titles. As you click through the slides, you'll see that all of the original content is available including layout, graphics, charts, tables, colors and text boxes.
To save this as a temple:
1

Go to the File tab.

2

Click Save As and select Template.

3

Name your template in the dialog box.

4

Click Create.
As noted above, a copy of your presentation as a new template file type will be displayed in the list of available templates in Home.