A recent release to the Workiva Platform included improvements to the following products and features:
Spreadsheets
Filing
Updates made to roles that allow for test filing
Organization management
Activity duplicates in Activity Reports
Workspaces
New workspace module configuration for SuperAdmins
Chains

Spreadsheets
Translate connected sheets
When you create a Wdata query from a Wdata table and add it as an incoming connection to your spreadsheet, you can now use the translation tool to translate the cell content of the connected sheet.
Filing
Updates made to roles that allow for test filing
We've updated existing roles to ensure that all users who may need to test file have the ability to do so. Any user with one of the following roles in one of the following solutions will be able to test file:
Impacted Roles: Editor, SEC Editor, XBRL Manager
Impacted Solutions: Capital Markets, Connected Fund Prospectus, Connected Global Statutory Reporting, Connected Global Statutory Reporting (with Entity Management), Connected Insurance Prospectus, Connected SEC Reporting, Connected Shareholder Reports, Insurance Prospectus (N4/N6), Investment Reporting, Prospectus Fund, SEC Reporting, Shareholder Reports, Transfer Pricing, UK Statutory Reporting, SEDAR Reporting, SEC/SEDAR
Note that this does not impact who has the ability to live file.
Organization management
Activity duplicates in Activity Reports
Workiva is in the process of phasing out some Classic Wdesk activities and introducing new, more standard activities. During this transitional phase, you may see duplicate activities logged in your report. The Classic activities we are phasing out are highlighted in the Action column of the report.
Learn more about activity duplicates in activity reports
Workspaces
New workspace module configuration for SuperAdmins
Those with a SuperAdmin role can now access a new configuration tab within a workspace that will display modules. Modules are sorted into two sections, those which are valid for the existing workspace solution type(s) and those which are not. When a change is made to toggle a module on or off, an activity event will be published for each module that is updated:
Event Type/Action: "Workspace Configuration Updated"
Message/Summary: "[Module Name] has been [enabled/disabled] for the workspace [Workspace Name]".
Chains
We've made a number of changes to Chains that will more closely align the platform with the rest of Workiva. This update retains all of the functionality of the old Chain Builder, but includes a suite of improvements that will make it easer than ever to set up and manage your chains.
These changes are currently available only to standalone OneCloud subscribers, but will be released to all Workiva users in the coming weeks.
Redesigned side menu
We've made several modifications to how you get around the app. Everything from the prior version is still here, but a few features have been renamed or relocated to their own tab.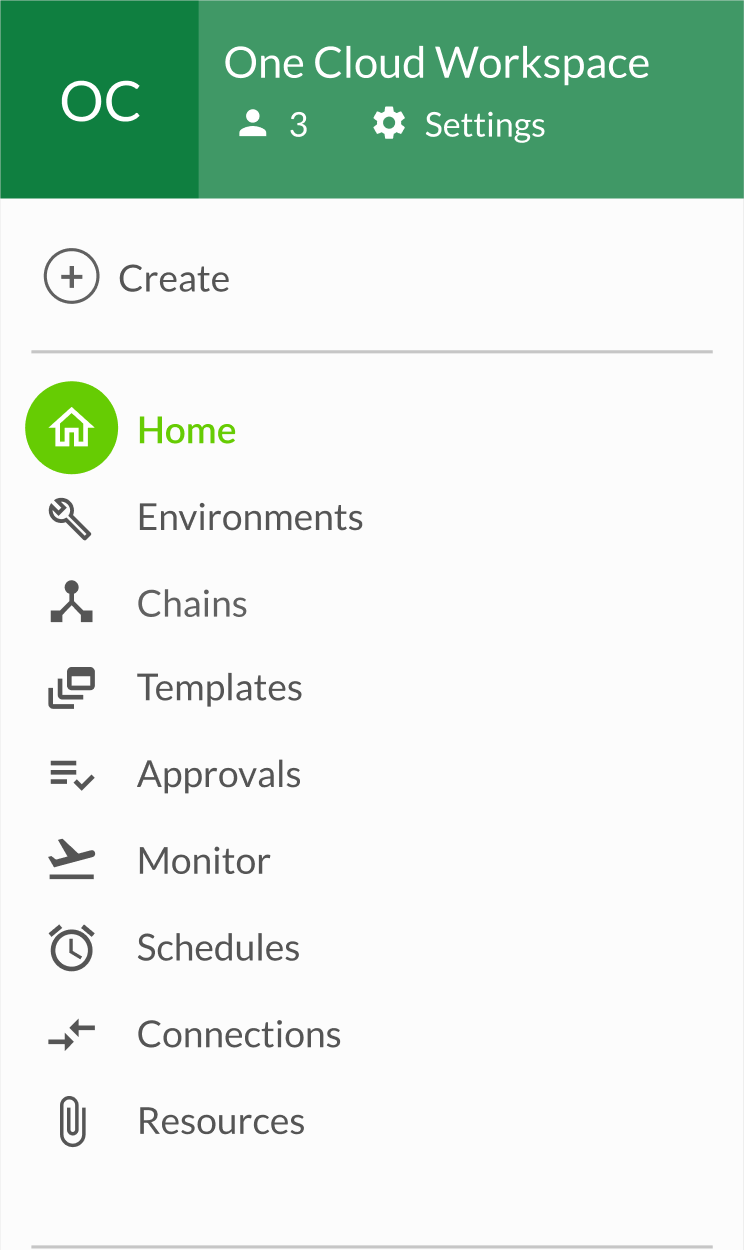 Here's a quick overview of each section:
Environments: The Environments tab is where you'll create and manage workspace environments -- such as those used for testing new chain configurations. It replaces the Workspaces tab in the old layout.
Chains: The Chains tab is where you'll view, edit, copy, and run existing chains. You can also create new chains directly from this screen.
Templates: Go to the Templates tab when you need to create a new chain template from scratch (or edit an existing one). Once created, templates provide a reusable and repeatable framework for your most commonly used chains.
Monitor: The Monitor tab is used for reviewing the details of past chain runs. It's particularly useful when troubleshooting errors or chain failures.
Approvals: If you've built approval events into your chains, both pending and past approvals will appear here. This tab was previously known as Tasks.
Schedules: Chains that are scheduled to run automatically will appear here. This includes both recurring chain runs and those that have been scheduled for a specific day or time.
Connections: Use the Connections tab to set up new connectors in your site or edit the details of an existing one. This includes both GroundRunners and CloudRunners.
Resources: The Resources tab houses all of the configuration files required by your environments and connections.
Switching workspaces
The new workplace switcher lets you quickly jump between workspaces using only the side menu -- just like the rest of Workiva.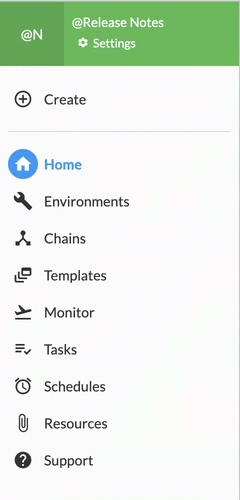 Managing users
Users and their permissions are no longer separately managed through Chain Builder. Instead, organization admins will add users just as they do everywhere else in Workiva. Their permissions will then carry over throughout the whole of the platform.
Learn more about adding users in Workiva
Adding new environments
Environments were formerly created and managed under the Workspaces section of the app. Because workspaces can now be switched on the fly, environments have been given a dedicated page of their own. As part of this redesign, environments are now created directly from the Environments tab.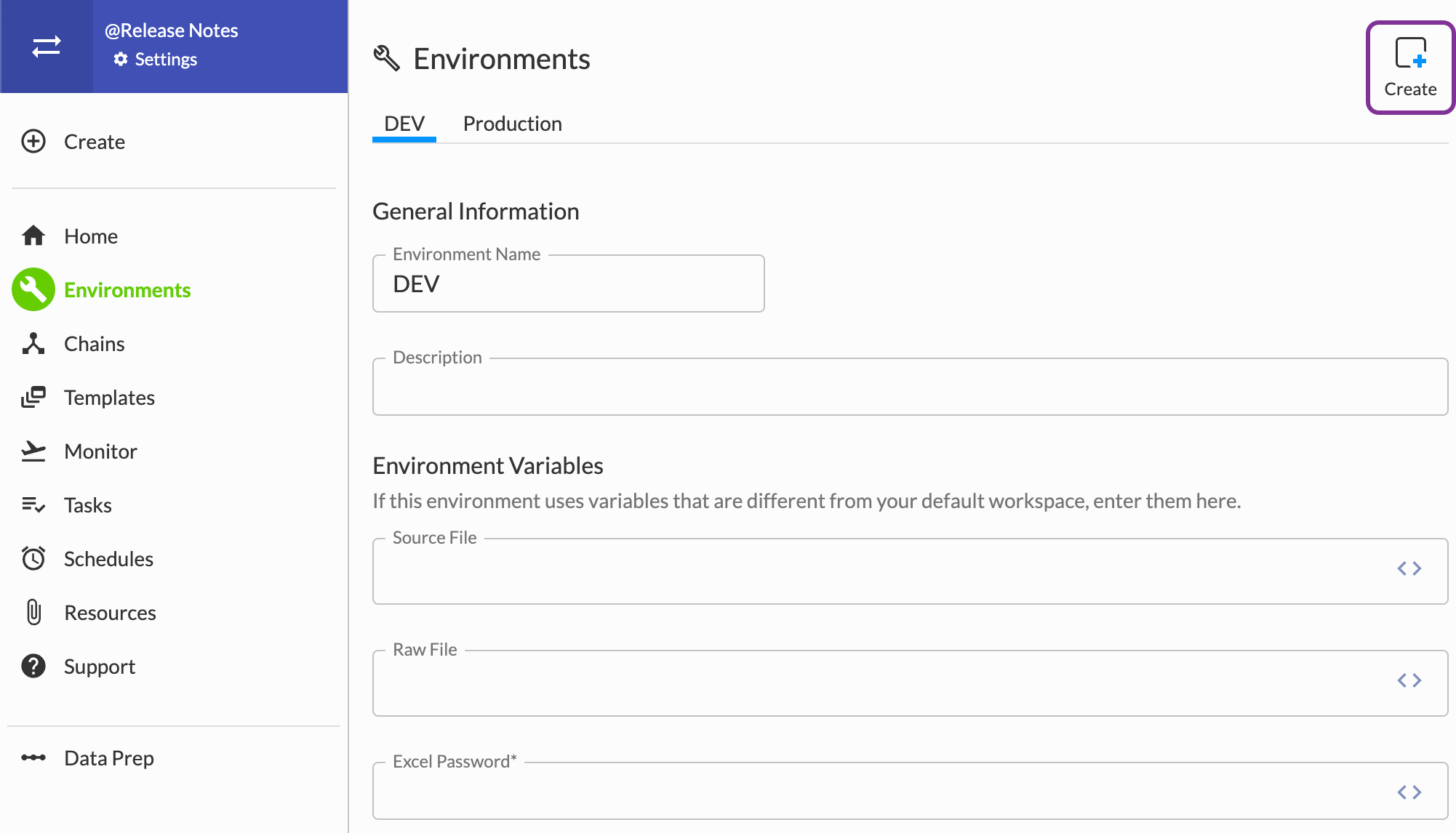 Switching environments
Environments can now be switched on-the-fly from the following screens: Chains, Environments, and Resources. You no longer need to return to the Environments screen!
When on one of these screens, simply select your desired environment at the top of the screen:

Creating chains
Chains are no longer created from the Build page; instead, click the Create button at the top left of the Home screen to create a new chain.
Use the Create button to start a new chain or build one from an existing template. And because the side menu is always accessible, you can now start a chain from anywhere in the app.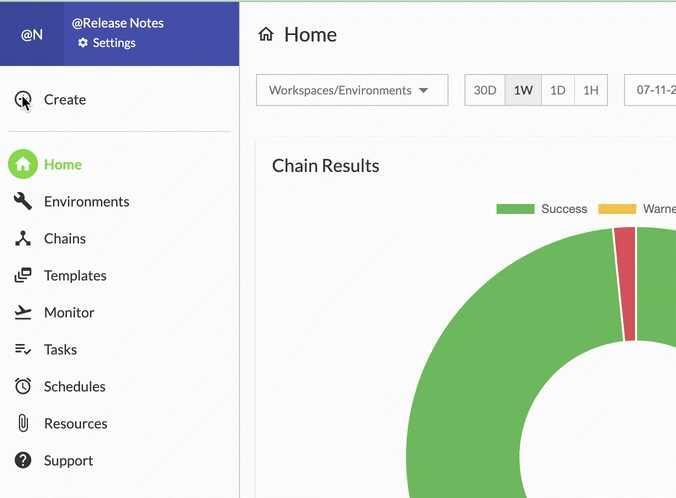 You can also create chains directly from the Chains tab by hovering over the icon next to the search bar at the top right.

Redesigned filters
We've redesigned how chains are sorted by moving the existing filters and sorting functions to the top of the page. Additionally, we've added new filters that allow you to sort by start and end date, status, and time frame.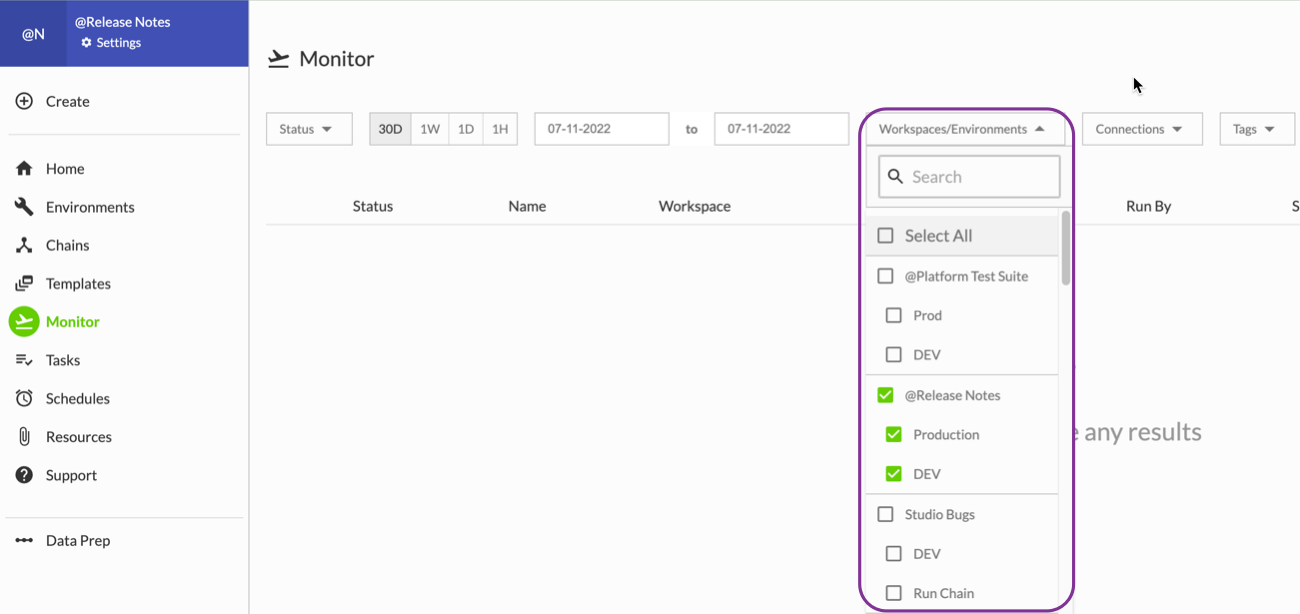 Deep linking
We've streamlined how Chains links work within the Workiva platform, and you can now quickly access specific chains without first launching the full Chain Builder app. This is especially useful when bookmarking individual chains.

Previously, links to chains would only work if you had logged into Workiva, opened Wdata, and launched Chain Builder during your session.