To collaborate in real time, all users must have permission to access your document. Each permission level—owner, editor, or viewer—gives collaborators a certain amount of access to edit or interact with your file.
Note: Having only permissions to a file may not be enough to take action on a file if a specific role isn't given.
Make sure to check your roles.

 To learn more, view Understanding roles.

 
Overview of permissions
If you're a document owner, you can set permissions at both the document and section level. Permissions at the section level override permissions made at the document level, while permissions assigned to individual users override group permissions.

Default permissions
When you create a file, you are automatically assigned as a file owner by default. No other collaborator or group will have access. As the file owner, you can change the level of access these groups have from the Permissions Editor. Learn more about updating file permissions.
Permissions in copied files
When you copy a document, the new document maintains the permissions from the original file. However, manually setting permissions in the new file will override the initial permissions.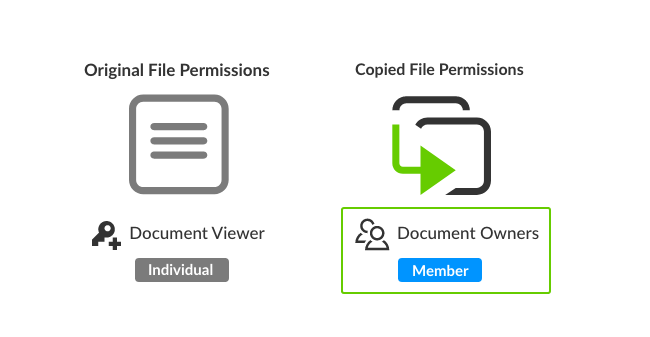 Permissions in groups
If your workspace has groups, you can set permissions for the entire group from the Permissions editor. Once you set permissions for a group, you can add or remove users from the group at any time—their permissions update accordingly. Learn more about using groups.
If a user is a member of a group but has a different permission level set individually, they'll maintain their individually assigned permission level (e.g. a user that is set as an "Editor" but also in a group with "Owner" permissions still receives Editor permissions).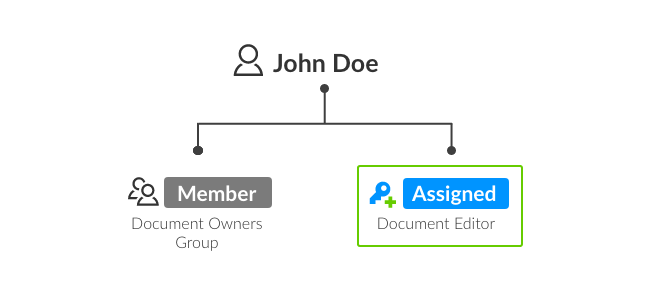 Likewise, if a user is a member of two groups, they'll receive permissions based on the group with the highest permission level.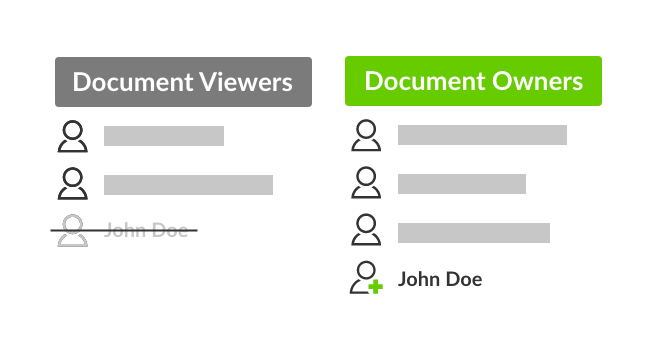 Note: If a user is in a group with explicit permissions but an owner manually removes their permissions, the user will lose access to the document.
You can also set permissions for multiple users and sections at the same time. To learn more about using the advanced permissions editor, see Advanced Permissions.
Read the tables below to find out what users can do at each permission level.
Permission levels
Change Properties
| | | | |
| --- | --- | --- | --- |
|   | Owner | Editor | Viewer |
| Edit header and footer properties |   |   |   |
| Edit document properties |   |   |   |
| Edit advanced permissions |   |   |   |
| Edit style guide |   |   |   |
Edit Documents
| | | | |
| --- | --- | --- | --- |
|   | Owner | Editor | Viewer |
| Add and edit content |   |   |   |
| Format text and tables |   |   |   |
| Apply styles |   |   |   |
| Create links |   |   |   |
| Roll forward files |   |   |   |
| Sort and filter data |   |   |   |
| Publish all links |   |   |   |
Attachments
| | | | |
| --- | --- | --- | --- |
|   | Owner | Editor | Viewer |
| Add an attachment |   |   |   |
| Open an attachment |   |   |   |
| Markup an attachment |   |   |   |
| Download an attachment |   |   |   |
Collaborate
|   | Owner | Editor | Viewer |
| --- | --- | --- | --- |
| Add a comment |   |   |   |
| Reply to a comment |   |   |   |
| Create a blackline |   |   |   |
| Show or hide track changes |   |   |   |
| View history |   |   |   |
| Check document health |   |   |   |
| Export a file |   |   |   |
| Use Presenter Mode (Presentations only) |   |   |   |
| Use outline labels |   |   |   |
| Reject track changes |   |   |   |
| Accept or reject all track changes |   |   |   |
| Enable outline labels |   |   |   |
| Send for review |   |   |   |