If you want to see and adjust permissions in a detailed view, you can use Advanced Permissions. This allows you to see permissions for all users and groups in a matrix, so you can add, remove, and modify user and group permissions.
You can access Advanced Permissions from Home by right-clicking a file and selecting Advanced Permissions. You can also open advanced permissions in a document from the Permissions icon in the File toolbar.
Add or remove users and groups
To add a user or group to the matrix:
1

Click Add in the toolbar.

2

Enter the user or group name into the text box and select them from the list.

3

Click Add to add them to the matrix.
If you need to remove users or groups, right-click their name in the matrix and select Remove from the menu.
Permission levels
Each permission level allows collaborators to interact with the document in different ways:
Owner: Add and remove content or sections and adjust section properties, including permissions.
Editor: Add and remove content or sections and edit section names.
Viewer: View and comment on a section but not modify.
No Access: Can't open or view a section.
To see more details about each permission level, see Understanding Permissions.
Edit permissions
You can click a column or row header to select the entire row or column and assign permissions to the entire selection.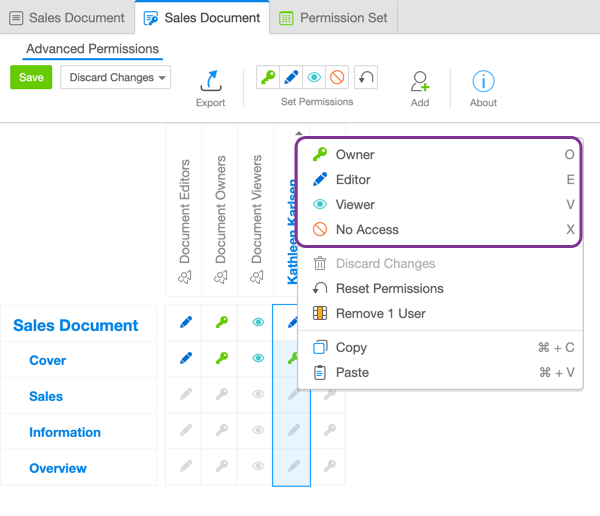 You can adjust individual section permissions for one user by selecting a cell and clicking a permission icon in the toolbar, or right-clicking a cell and selecting a permission level from the menu. You can also double-click a cell to cycle through the four permission levels.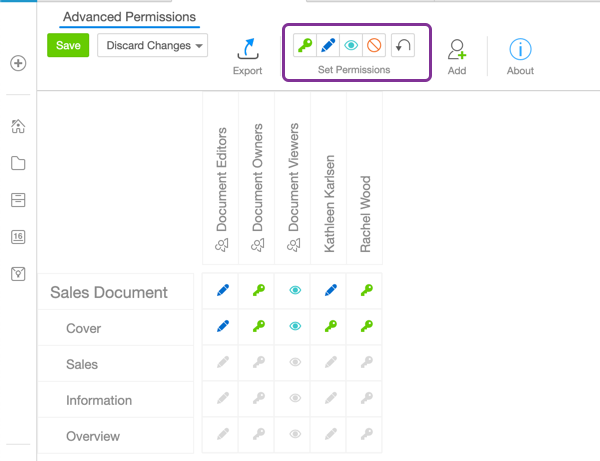 Note: If a user is a member of two groups, the user's permission matches the explicit permission (colored icons) rather than inherited permission (gray icons). If both groups have explicit permission, the user keeps the highest permission level.
If you need to modify a large number of permissions, you can use keyboard shortcuts to quickly adjust permissions. These shortcuts change the permission level for your current selection based on the key pressed.
| Permission Level | Icon | Key |
| --- | --- | --- |
| Owner | | O |
| Editor | | E |
| Viewer | | V |
| No Access | | X |
Once you finish modifying permissions, click Save in the toolbar.
Export and reuse permissions
To use the same permission set between files, you can Export a permission set. Clicking Export in the Advanced Permissions toolbar creates a .csv version of your permission matrix.
To copy the permission set to the same collaborators in another document, copy the row in the .csv file using
Ctrl + C
and paste it into the appropriate row in the Advanced Permissions matrix using
Ctrl + V
.