Sending documents for review lets users in your workspace view and comment on a particular version of a document, whether it be a first take or a final review before filing. When you request a review, your reviewer receives a read-only version of your document, allowing them to add comments without altering your original file.
Note: Only Document owners can send documents for review.
Send a Document for Review
To send a document for review:
From the Review toolbar, click Review and select Send for Review from the menu. You can also send a previous revision for review by clicking the next to the revision in the History panel and selecting Send for Review .
Select whether or not to include existing comments.
Select to send the entire document or just selected sections. If you want to send particular sections, select them from the list. Use the Expand and Collapse buttons [ ] to open and close sections.
Under Details, add a title for the review. This title appears in the Reviews panel after you send your request to help you keep track of the review process.
Add users from your workspace to send the document to.
Add content for an email notification, including a subject and content. This content can be used to ask reviewers for specific feedback or set a review deadline.
Click Send to send your request. Your reviewer receives an email with a link to your document.
The Review Panel
Once you request a review, information about the request appears in the Reviews panel. To access the panel, click the icon in the right panel. When you select a review, you can see when the request was sent and who it was sent to.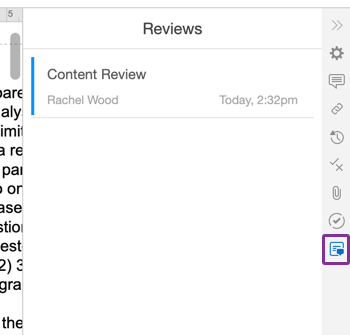 Clicking the Open Review icon opens the view-only document in a new tab. If your reviewer has left comments, you can view them here. The comment icon in the outline panel shows the number of comments in each section. Click the icon to the right of your document to view a comment.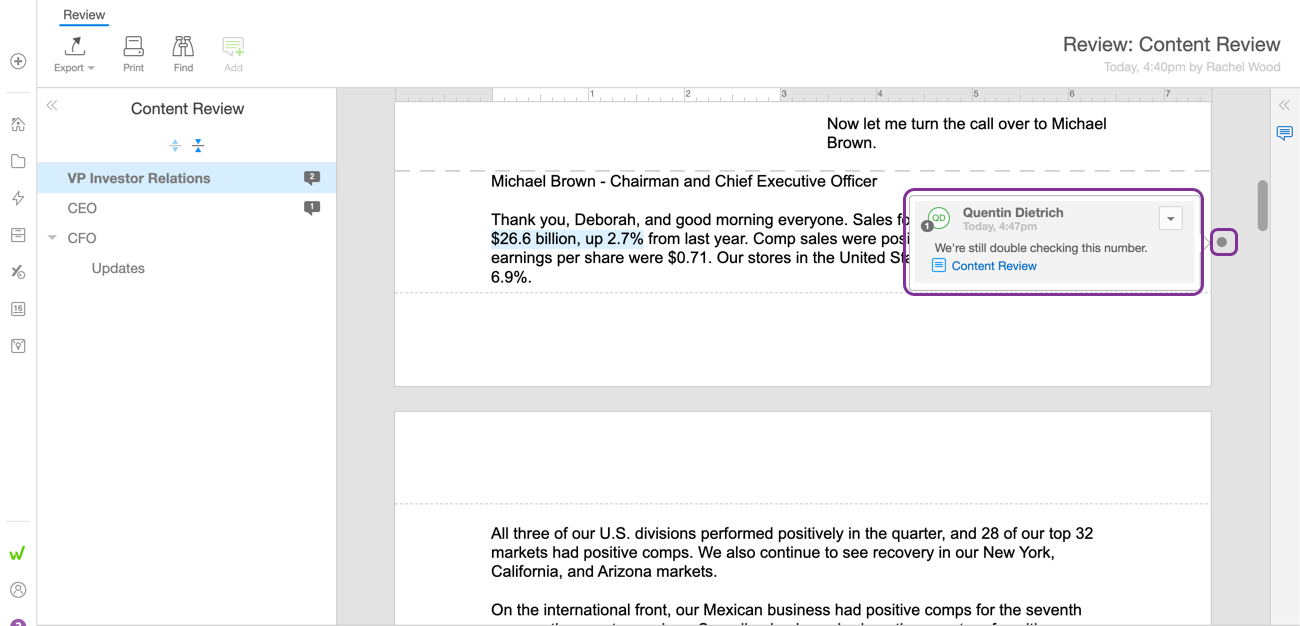 You can also edit or delete a review using the next to a review's title in the Reviews panel. To add more reviewers or change the name of a review, click Edit from the menu.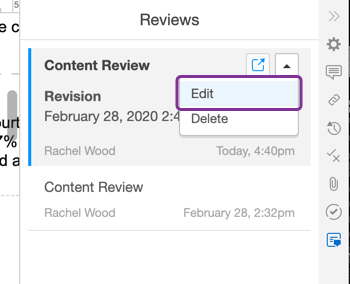 To delete a request, select Delete from the menu. Deleting a review automatically deletes the read-only document.