Use XBRL Blacklines to compare changes between two generations of XBRL documents.
Create an XBRL Blackline
Compare one XBRL generation with another by creating an XBRL blackline. XBRL blacklines are created in a separate file that downloads to your computer. They are not stored in Wdesk.
First, you need to have at least two XBRL generations for your document to create a blackline. The XBRL Generation History panel lists the XBRL generations that you can use in an XBRL blackline.
To create an XBRL blackline:
1

Open the XBRL Generation History panel on the right.

2

Select the generation you want to compare with another.

3

Click the drop-down menu and select Create XBRL Blackline.

4

Select the older generation and click Add to Blackline from it's drop-down menu or upload a file you want to use for comparison.

5

Select the options you want to include:

Include fact values to see the text or number a fact is applied to.
Only show changes to see only those facts that had details changed. Otherwise, the blackline will list all facts for your document.
6

Click Create XBRL Blackline. Wdesk generates the blackline and downloads the file.
View XBRL Blacklines
After the blackline is generated and the file is downloaded, you can view the file by:
Clicking the file to open it in your browser.
Extract the contents of the .zip file to a new, non-zipped folder and open blackline-report.html to view it.
Understand Blackline Changes
XBRL blacklines are color-coded, like tracked changes, to help you quickly identify what is added, removed, or updated.
The blacklines report gives you the following information:
Concept shows the taxonomy ID of the concept.
Date is when the change happened.
Dimensions show dimensions applied to the fact.
Unit are units the fact uses.
Decimals are the number of decimal places for the fact.
Reversed tells you if the fact value is reversed.
XBRL Value is in the report if the Include fact values option is selected when creating the blackline.
Status tells you what the change is — Added, Removed, or Updated.
Note: Blacklines changes do not include who made the changes.
This XBRL blacklines example includes fact values and only shows changes.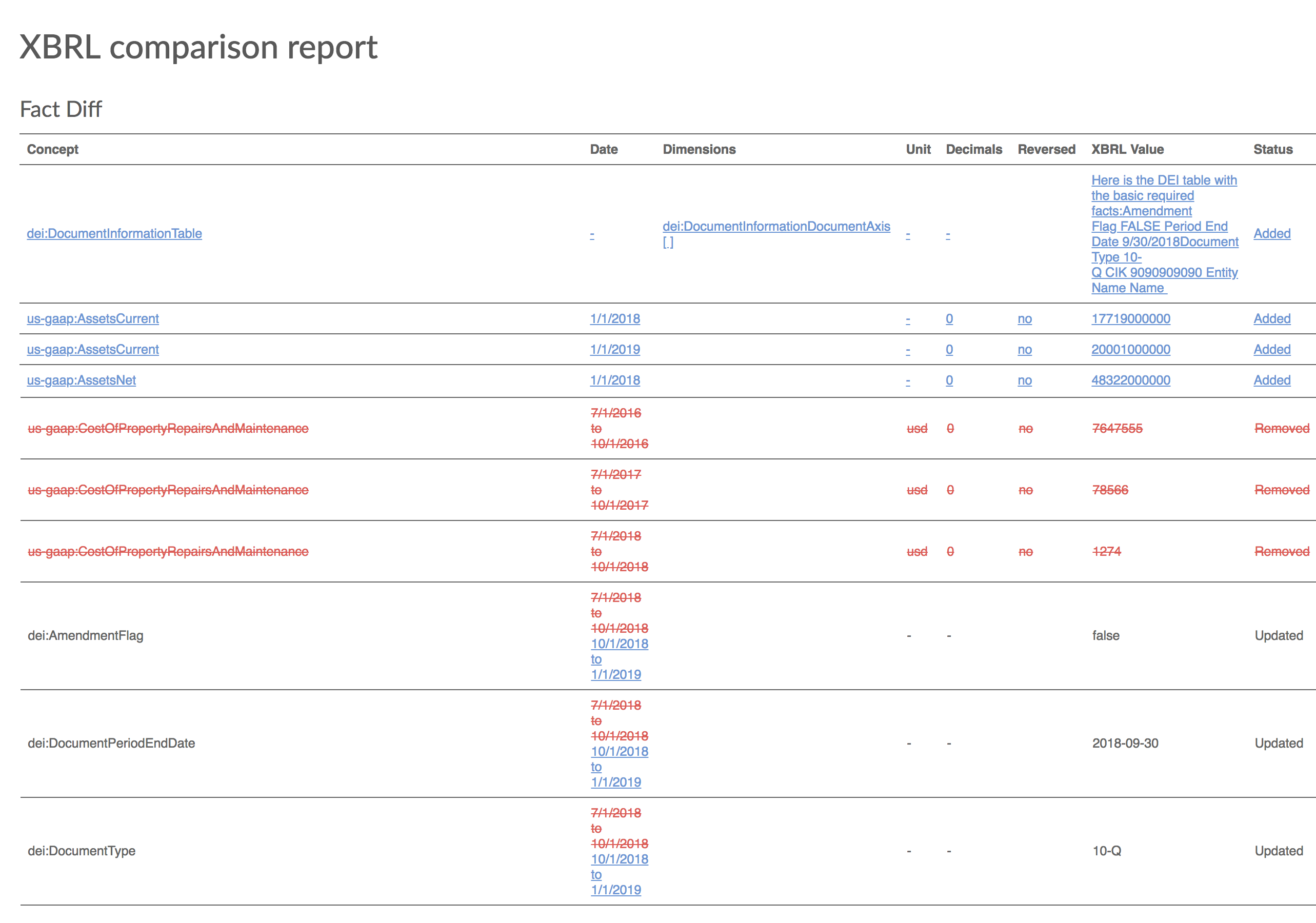 Locate Changes from a Blackline in the Document
Easily locate added or updated facts from the blackline in your document.
1

Copy the Concept name (taxonomy ID) you want to find.

2

Go to your XBRL document and click the Locate tab on the right.

3

Paste the concept into the search field and press Enter.

4

Take a look at the Locating Concepts, Dates, and Units article for more information about locating XBRL in a document.