After creating or importing a document, you may want to change the Document Properties. Document properties apply to your entire document, while section properties override document settings for just a specific section. 
View Document Properties
To access the document properties window:
Select the File toolbar.
From the Properties icon, select Document.
The Document Properties window has three sections: General, Page Formats, and Table Formats.
Change general settings
The General tab lets you make document-wide changes.
Use this section to:
Change your document's Name and set the Type (see Supported Form and Document Types)
Adjust Preferences for line formatting for the entire document
Set whether or not all editors can publish links
Adjust image resolution (PPI)
Use smart quotes in newly added text, which curves quotation marks and apostrophes inward toward your text. Enabling smart quotes only creates curly punctuation on newly added content and does not change the formatting of existing text.
Set Permissions for who can send the document for review and approve track changes
Change Language and Formats including text, number and date formatting based on your document's language (with spellcheck for Supported Languages)
Format a document
The Page Formats tab controls the overall document layout.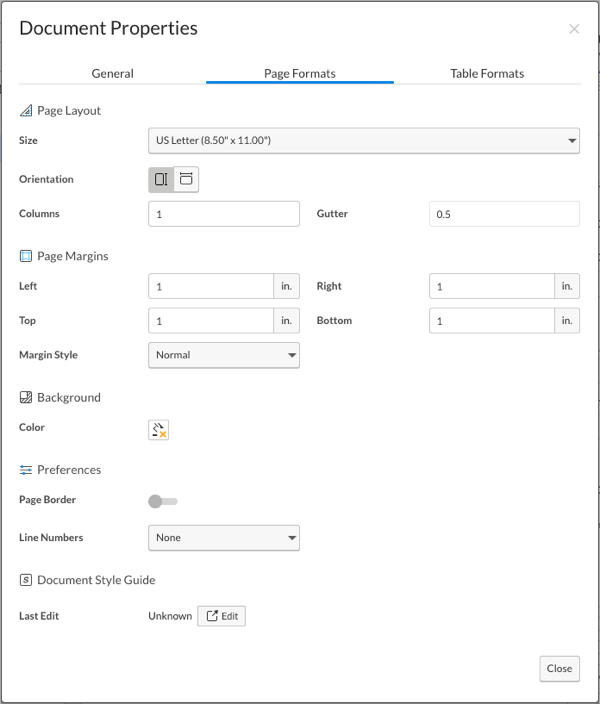 In the Page Formats tab you can:
Adjust your Page Layout including the document's size, orientation, and number of columns
Change the Page Margins and Margin Style for your entire document
Modify the Background color of your document
Enable Preferences including line numbers and document-wide page borders
Access your Document Style Guide (learn more about using style guides)
If you enable Page Borders, you can select your border's width and color.

Mirrored Margins establish alternating margins which are used for printed documents.
When enabled, margin labels will change from Left and Right to Inside and Outside. Odd-numbered pages have an inside margin on the left side, while even numbered pages have an inside margin on the right side.
Format a table
The Table Formats tab contains the default text and formatting styles specifically for tables, as well as an advanced option to resize rows to fit cell contents. 

View Section Properties
You can change the properties for an individual section by adjusting Section Properties. These settings override document-wide settings for a particular section. 
You can view section properties from the Properties menu in the File toolbar or by clicking the Properties icon in the right panel. Changing a section's settings may force a page break if the page includes multiple sections.
From the bottom of the Section Properties panel, you can toggle on Page Border or Line Numbers for the selected section. If Page Border is toggled on for a section that spans multiple pages, the border is added to all pages that include any part of that section.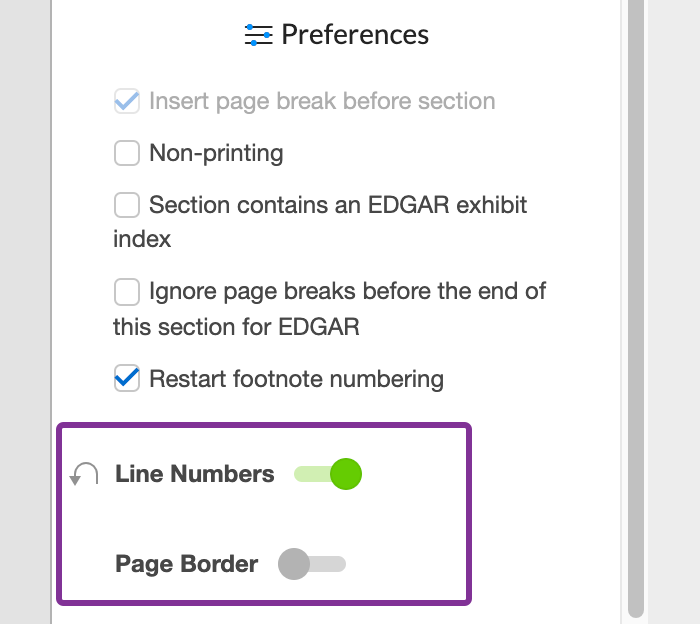 Selecting Non-printing for a section will not generate the section's content in the iXBRL documents, but tagged facts in the section will appear in the iXBRL as hidden facts. 
Selecting Section contains an EDGAR exhibit index will automatically add required HTML around web addresses in your filing document.
Selecting Ignore page breaks before the end of this section for EDGAR will make the filing appear as one continuous page in EDGAR.
Related articles