In Home and Files, you can manage permissions for all of your documents, presentations, and spreadsheets. You can also set permissions on folders. To learn more, see Set Folder Permissions.
Permission levels
Permissions determine the level of editing available to collaborators and groups. Owners can set and update permissions for collaborators and groups. Typically, you'll set permissions early in the process, but you can change them at any time.
There are three permission levels that you can assign:
Owners have full rights to the document and can manage permissions.

Editors can make changes to the document.

Viewers can view a document but cannot make any changes.
To see more details about each permission level, see Understanding Permissions.
Set permissions in Home
To update file permissions in Home:
1

Find the file you'd like to update.

2

Right-click and select Permissions.


3

Find a collaborator or group by entering their name in the search field or scrolling.

4

Select the permission level for a collaborator or group.


5

Click Apply Changes.
You can also access permissions by clicking the drop-down arrow to the right of a file and then select Permissions.
Remove a collaborator or group
To remove permissions for a collaborator or group, hover over the collaborator or group and click the X to the right.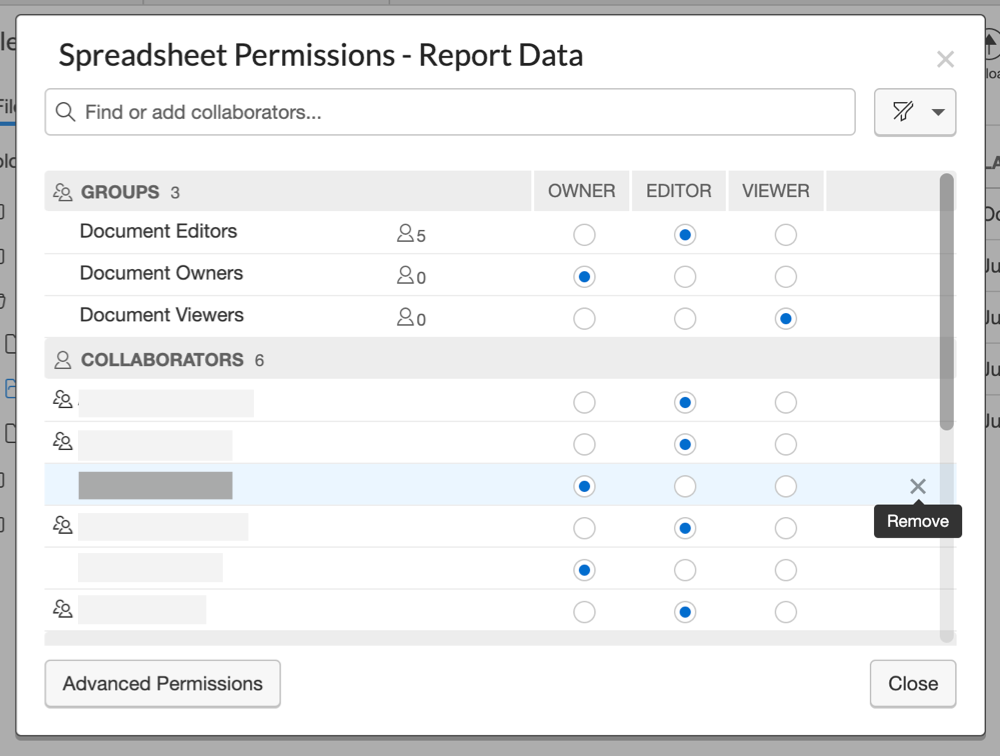 Change default file permissions
Note: Classic Account Admin is still used to manage permission defaults through permission sets.
If you are a workspace owner, you can change the default permissions for new documents. After you update the default permission set, any new files created will use the new permissions set.
To update the default permissions for new files:
1

Click your name in the lower left and click Classic Wdesk and then select Classic Account Admin.


2

Click Permissions and then select Permissions Sets.


3

Click the "Default Document Permissions" permission set to view and edit it.

4

To change the permission set for a group or member, click Edit. Click Add member or Add group to add a new members or groups to the permission set.

5

Select desired permission level for the group.


6

Click Save changes.