After you submit a successful test filing, you are ready to live file through Workiva. Only users with a specific role can live file with the SEC. Contact your company's Workspace Owner account if you do not have the the role needed for filing.
You can submit EDGAR filings between 6:00 AM and 10:00 PM Eastern Time, Monday through Friday (except federal holidays). However, a filing submitted after 5:30 PM Eastern Time will be filed with the SEC on the following business day. For additional information, see the SEC Filing Deadline and Holiday Calendar.
NOTE: T+3 filings (pursuant to Rule 426(b)) and Section 16 filings will get the date of the actual filing even if filed after 5:30 PM Eastern Time.
Submit a live filing
Click Live File on the progress bar if you are not already on this step.
Under Live File, select how you want to submit the test filing:

File with my credentials to use your SEC credentials.
File with Workiva credentials submits the filing on your behalf with Workiva as the filing agent. To request Workiva filing credentials, contact Workiva Support.


NOTE: We recommend using your SEC credentials for test filing.

Click Live File to submit the filing.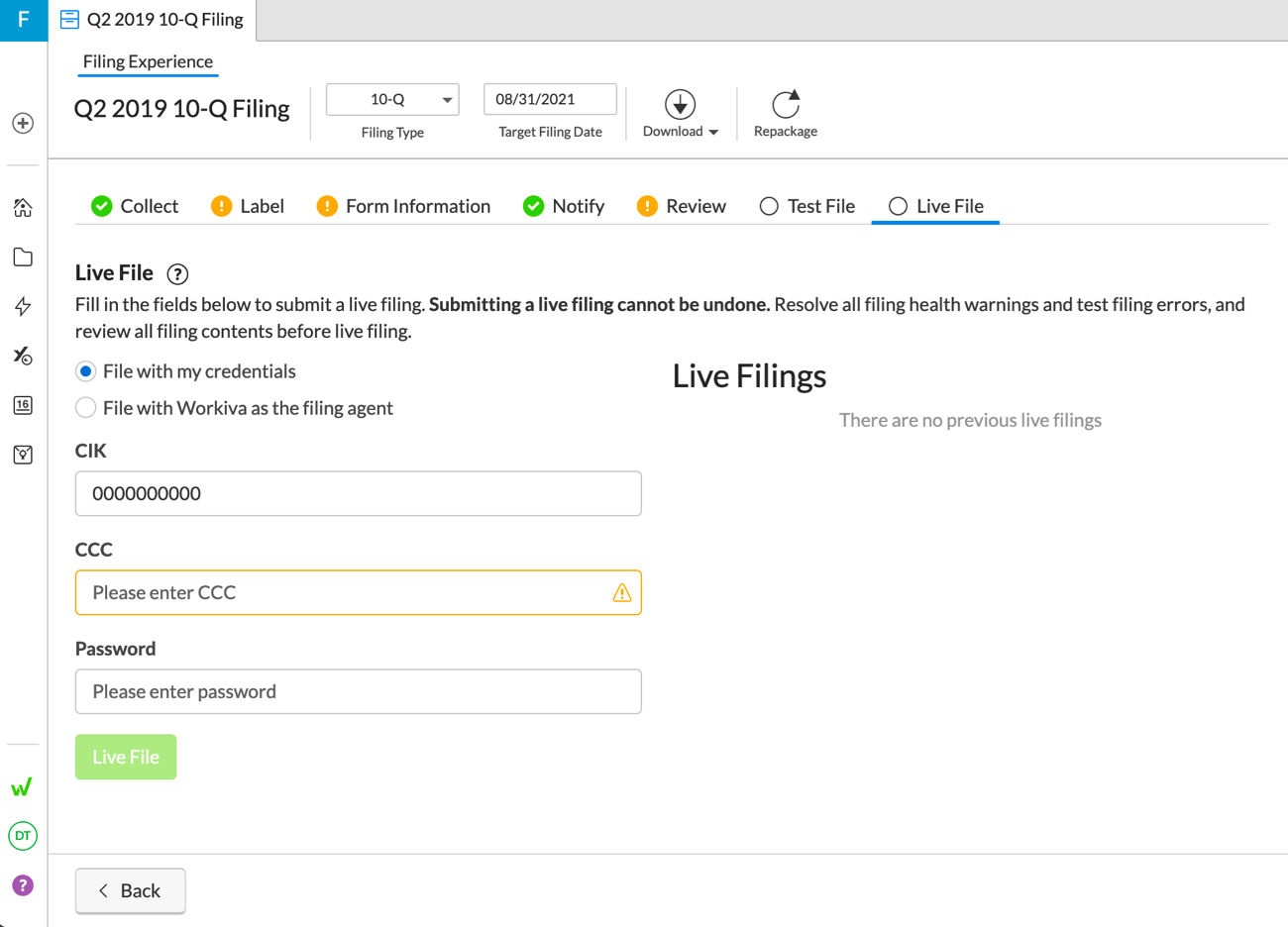 Verify the live filing
After you submit the filing, an alert notifies you of the filing status. Every email listed in the Notify step will receive a status email from the SEC. Anyone registered to receive notifications on www.edgarfilings.sec.gov for your company will also receive the SEC email.
The email will indicate the SEC's assessment:
An ACCEPTED - XXX message appears if the live file is successful.
A SUSPENDED - XXX message appears if the SEC finds errors with the submission. The message includes a list of all errors or warnings.
NOTE: During busy filing periods, the status message from the SEC may be delayed by 15 minutes or more.
All live filing results are stored for future review under Live Filings on this step.
To see details about previous live filings, open the filing and click View Live Filing.