You can access historical revisions for a presentation in the History panel. You can copy and paste from a prior revision to reuse historical content. Revisions can be marked as milestones, opened or exported as needed. Starred revisions are another way to mark a revision or a milestone as significant.
View Presentations history
To open the History panel, select the History icon in the far right menu. In the open History panel you will see a list of revisions for your presentation.
Creating a presentation automatically creates the first revision. You can copy content from a previous revision and paste into any current presentation. This allows you to re-use historical content.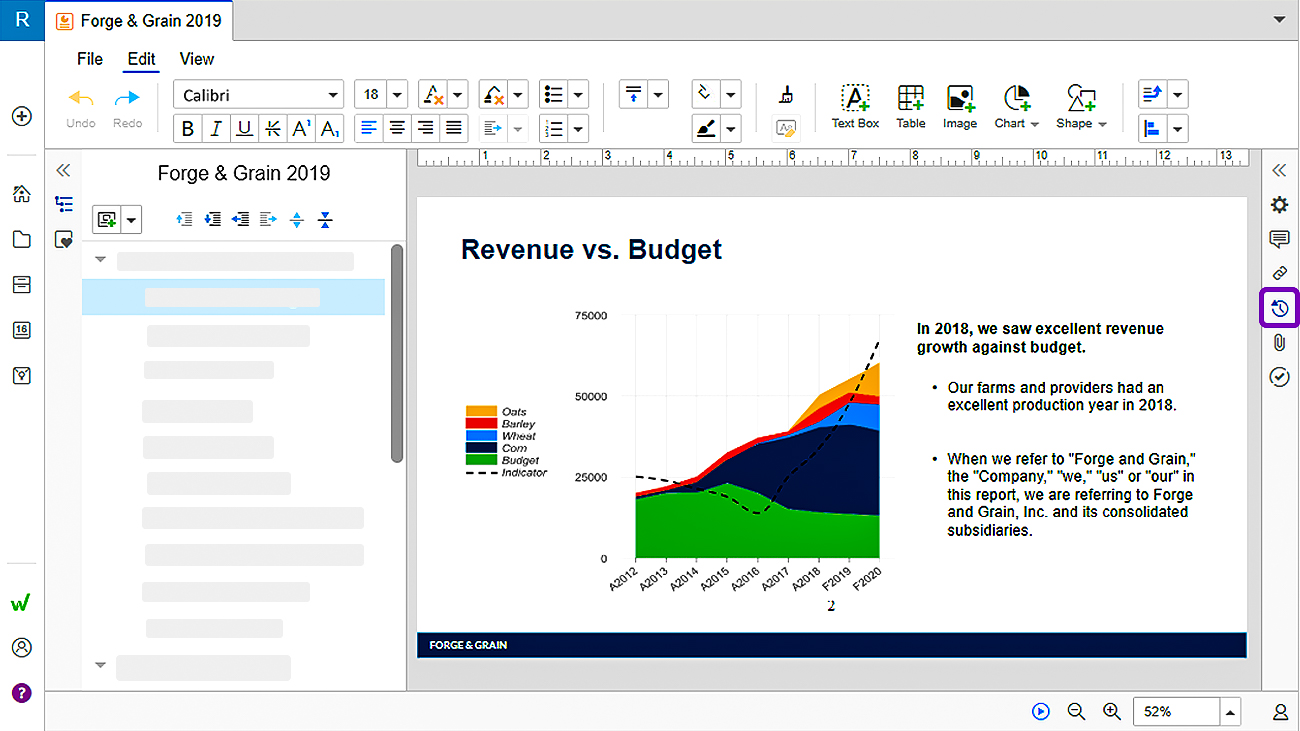 The name of the author is visible on the revision card, as well as a small swatch with an assigned color for the author. Additional versions are visible when the card is expanded.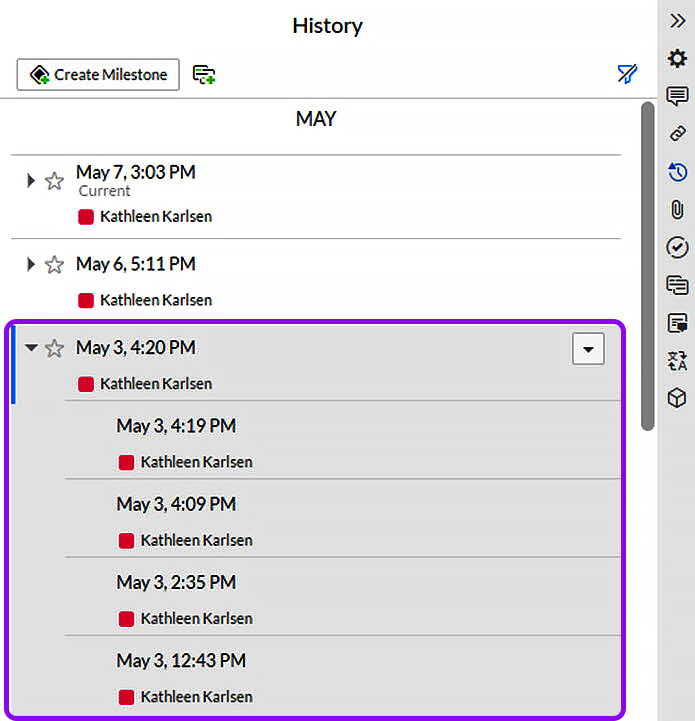 Use the history panel
When you hover over a revision, the entry is highlighted. Click the arrow on the right for a menu of actions.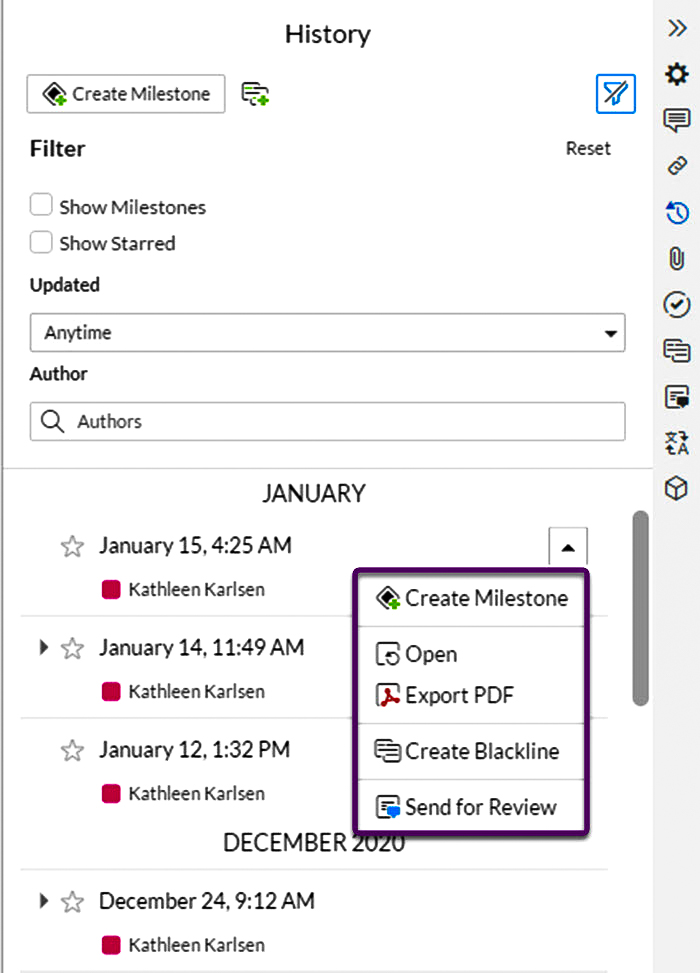 The menu includes the following options:
Create Milestone allows you to enter a name for the milestone and add remarks. Milestones are used to mark a notable revision for quick reference in the future.


Open opens the revision in a new tab.
Export PDF exports that revision of the entire presentation. This allows you to review the revision or send historical versions to stakeholders or auditors.


Send for Review allows you to send the revision to collaborators. This will be a view-only version of the presentation.
Milestones and starred revisions
To star a revision or milestone:
1

To open the History panel, select the History icon in the far right menu.

2

Click on the empty star in the upper left-hand corner of the revision card.

Click the Create Milestone button at the top of the History Panel to designate your latest revision as a milestone. To edit remarks that have been added to milestones, double click on the text.
Filter revisions
You can filter revisions in the History panel to find important revisions of your presentation. To filter your revisions:
1

Click on the Show Filters icon in the top right corner of the History panel.

2

To filter by milestones, check the box to Show Milestones or Show Starred. You can check both boxes to show only starred milestones.

3

Or use the Updated dropdown to filter by time period.

4

Or enter the name of an author to filter by Author.
Multiple filters can be used to find exactly the revision you need.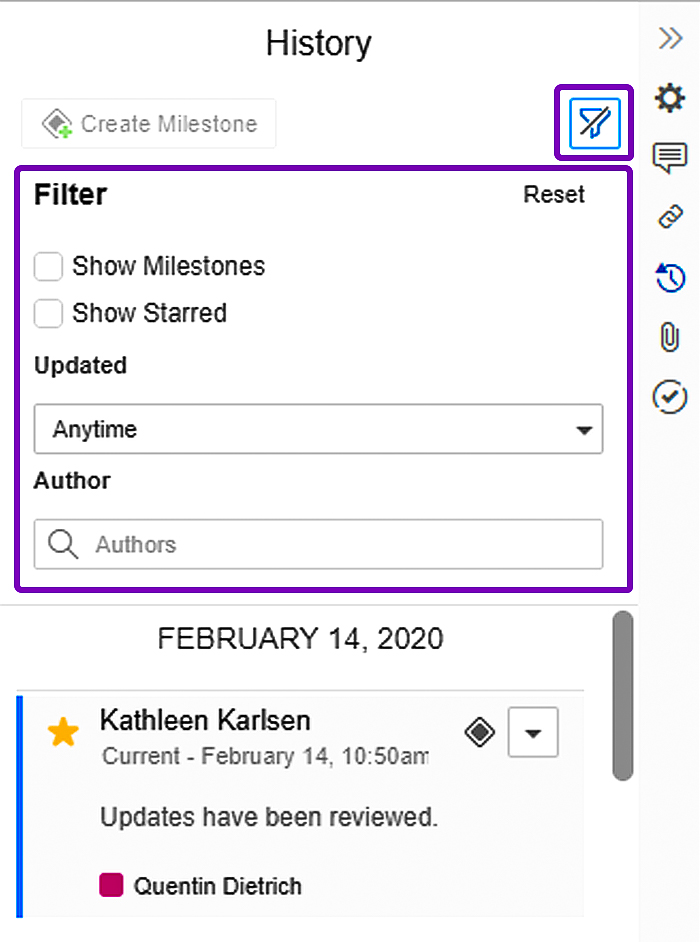 To remove filters, choose the Reset link in the upper right-hand corner. Then click the Filter icon again to close the filter portion of the History panel.
What's next