Workiva uses machine translation to translate text in documents, spreadsheets, and presentations. You can improve translation accuracy by uploading a glossary of product names, acronyms, and key terms unique to your business.
Requirements
Only workspace owners can upload a glossary file
Supported file formats: CSV (recommended) or TMX
Your glossary file must use a supported language
Building a glossary file
Before uploading your translation glossary, you'll need to build the glossary file using spreadsheets or a third-party program such as Excel. If you partner with a translation service, they can usually provide a CSV or TMX file for you.
It's important to closely check your source file for proper spelling, punctuation, and capitalization before uploading it to Workiva. Because the glossary is case sensitive, terms will only be replaced when there is a direct match.
CSV formatting
CSV files are formatted with the source language in column A and the target language in column B. The first row contains your language codes; each row below that contains a set of definitions. This forms a language pairing: (A1 + B1), (A2 + B2), (A3 + B3), etc.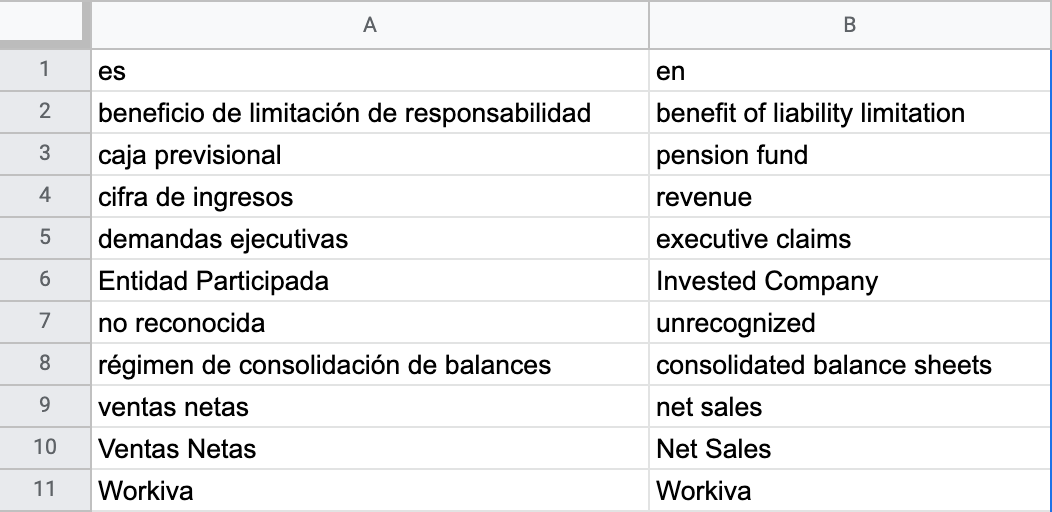 You can download this sample CSV file to see how it looks in your chosen spreadsheet program: Spanish:English_glossary.csv (4kb)
Note: TMX files are typically provided by a translation service in the appropriate format.
Uploading a glossary file
After building or attaining your glossary file, it can be uploaded to Workiva through the Translation screen. This action can only be completed by workspace owners.
Click Settings at the top-left of the screen.


Alternatively, click [Your Name] > Workspace Settings at the bottom left.

On the Workspace Settings screen, select the Translation tab.
Click Browse to launch the file viewer.
Find and open your glossary file.

Supported file types: CSV; TMX
Upload limit: 10 glossary uploads per workspace

Click the Target Language dropdown menu to select a language.



Workiva will detect all compatible languages in your uploaded file.

The source language is chosen automatically and cannot be changed.
Your file can contain multiple target languages, but only one can be selected.

Click Upload to finish.
Managing glossary files
Once uploaded, glossary files can be downloaded or deleted using the Actions menu on the right side of the screen. Up to 10 files can be uploaded at a time.

Updating glossary files
Outdated or incorrect glossary files must be modified using spreadsheets or a third-party program such as Excel.
When the updated file is ready, you should delete the old file and upload the new one in its place. There is no option to overwrite a file at this time.
Frequently asked questions
Why should I use a translation glossary?
Translation glossaries streamline the translation process by reducing repetitive edits and creating consistency across documents. The glossary acts as a source of truth that only workspace owners can add or remove; changes are implemented automatically across documents, spreadsheets, and presentations.
How does the translation glossary work?
When you initiate a translation in Workiva, the software will reference the glossary file for any matching words or phrases. If an exact match is found, your custom translation will be inserted in the file.
In effect, it's simply replacing machine-translated definitions with the definition of your choosing.
What should I include in my glossary file?
A glossary often covers technical terms and industry lingo, but it can encompass almost any phrase that isn't well handled by the default translation service. As you identify poorly-translated terms, you should add them to your glossary along with a preferred translation. This allows you to refine the translation service over time.
How reliable is machine translation?
Reliability can vary significantly by language, business type, the service used, and your business's individual level of comfort with automated solutions. The translation glossary feature allows you to improve the baseline performance by identifying and replacing problematic terms as they arise. Translations will improve over time as additional words are added to your glossary.
With that said, most businesses use machine translation for drafting internal documents and to assist human translators. We don't recommend finalizing or submitting documents using machine translation alone.
What if I use a computer-aided translation (CAT) service?
If your business partners with a translation service, they can usually provide a CSV or TMX file for you to upload in Workiva.
Where are translations used?
Workiva offers machine translation in documents, spreadsheets, and presentations.
Please note that you won't be able to identify glossary terms in the translated document–your custom terms are not highlighted or set apart in any way.
Supported languages
The following languages are supported for translation. The language codes (shown in parentheses) each follow the ISO 639-1 standard.
Bulgarian (bg)
Catalan (ca)
Chinese, Simplified (zh-CN or zh)
Chinese, Traditional (zh-TW)
Croatian (hr)
Czech (cs)
Danish (da)
Dutch (nl)
English (en)
Estonian (et)
Finnish (fi)
French (fr)
German (de)
Greek (el)
Hungarian (hu)
Icelandic (is)
Irish (ga)
Indonesian (id)
Italian (it)
Japanese (ja)
Korean (ko)
Latvian (lv)
Lithuanian (lt)
Maltese (mt)
Norwegian (no)
Polish (pl)
Portuguese (pt)
Romanian (ro)
Russian (ru)
Serbian (sr)
Slovak (sk)
Slovene (sl)
Spanish (es)
Swedish (sv)
Thai (th)
Turkish (tr)
Ukrainian (uk)
Vietnamese (vi)