Using attachments allows you to reference files outside of the Workiva platform in your Presentation. Attach files to text in shapes and in text boxes. Or create a placeholder to indicate where attachments will be uploaded in the future. A single file can be referenced in multiple places in a single Presentation. Attachments are indicated by labels.
Attach a file
You can attach files to any text on a slide. To attach a file to your slide:
Select the appropriate text.
In the Attachments panel, click the Upload File icon.
Choose a file. Click Open.

Light orange highlights in the text indicate an attachment. This highlight doesn't appear while presenting your slide. Double-click on the highlight to open the associated card in the Attachments panel.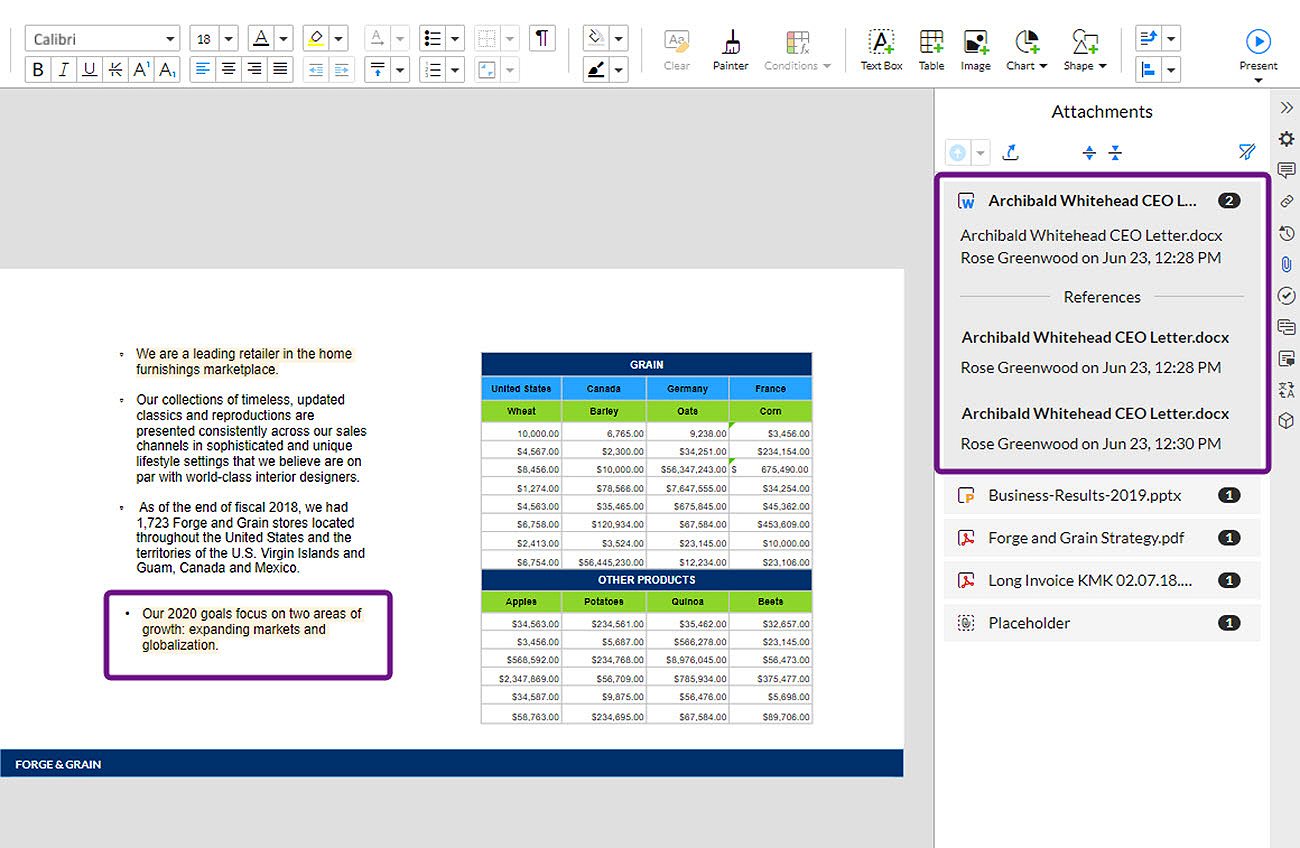 Add a reference to an attachment
After you've uploaded an attachment, you can reference it in other places on your slide. To add a reference:
Select text on your slide.
Find the desired file in the Attachments panel and click the arrow .
Choose Add Reference from the menu.

The number in the black oval to the right of the attachment's file name indicates the number of times that attachment is referenced.
Create placeholders
You can save a place for future attachments in your presentation by using placeholders. Placeholders and their references appear in the Attachments panel, making it easier for you to upload a file at a later date.
To add a placeholder:
Select the text you want to attach a placeholder to.
In the Attachments panel, click the arrow next to the Upload icon.
Select Create Placeholder from the menu.

Placeholders work just like normal attachments. You can rename or add additional references by clicking the arrow next to the placeholder's name. When you are ready to upload the file, select Upload File .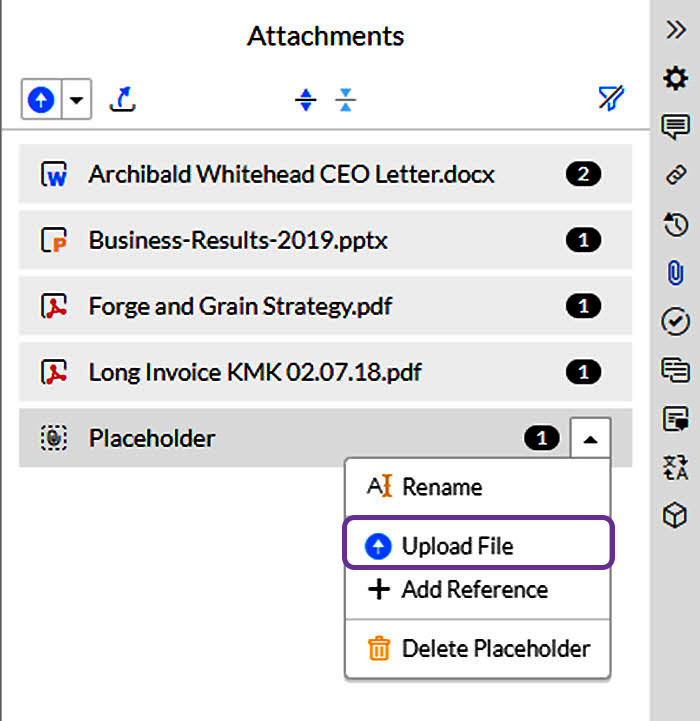 Modify and download attachments
Use the menu in the Attachments panel to rename, replace, or delete existing attachments.
Note: Editors and owners have access to all attachment options. Viewers only have access to Open and Download attachments.
To keep attachments organized, you can use the Expand and Collapse icons or the Filter icon to view references to all attachments or just one attachment.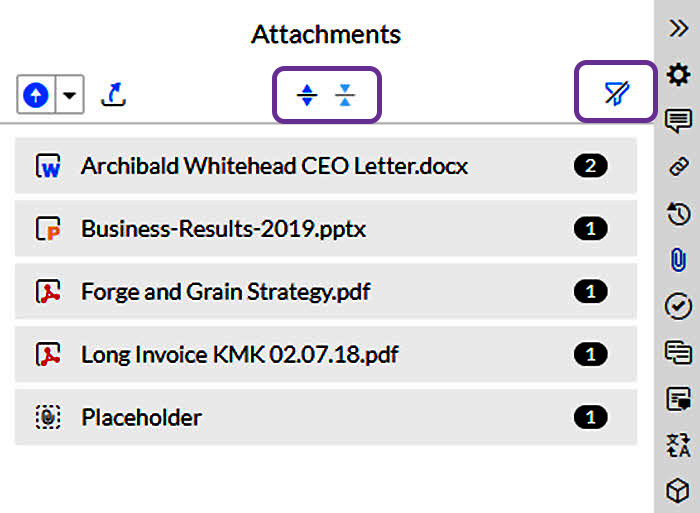 You can download attachments individually or as a packaged .ZIP file from this menu. To download an individual attachment, select the file in the Attachments panel and select Download File from the drop-down menu. You can choose to download the Original, As PDF with Markup or a Zip (original, PDF).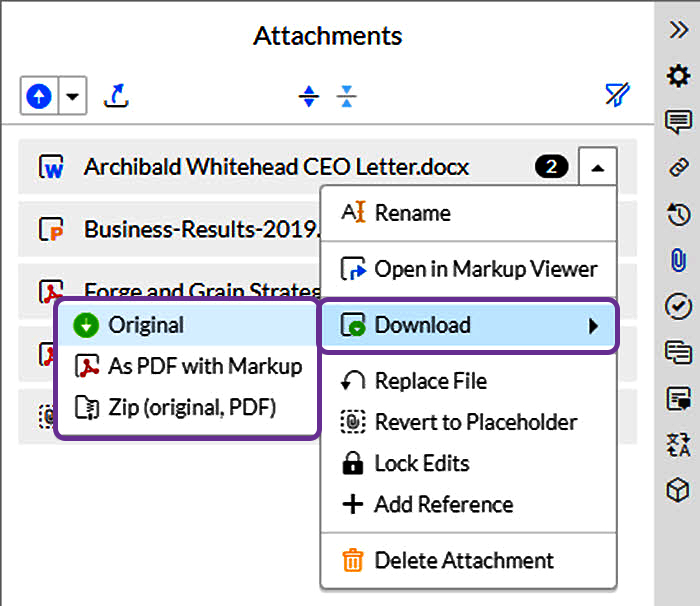 To download all of the attachments in your current slide, select Download Section Attachments at the top of the panel. This creates a .ZIP folder containing all of your attached files.
Markup attachments
You can markup attachments during the review process as part of collaborating with other team members. In the Attachments panel, click the drop-down arrow and select Open in Markup Viewer .
Detailed information about using the Markup Viewer can be found in the Markup attachments article.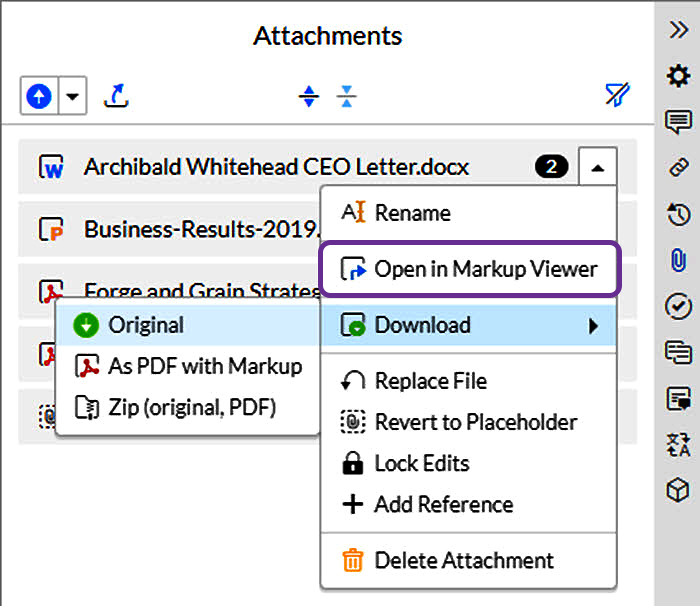 What's next