Revisions and history allow you to see where changes have been made in your spreadsheet. You can copy content from a previous revision and paste into any current spreadsheet, allowing you to re-use historical content.
View spreadsheet history
To open the History panel, select the History icon from the right toolbar. You'll see a list of revisions for your spreadsheet grouped by date, as well as any revisions you have marked as a milestone.
Creating a spreadsheet automatically creates the first revision, listed with the author's name. Click a revision to see the state of the spreadsheet at the time of the revision.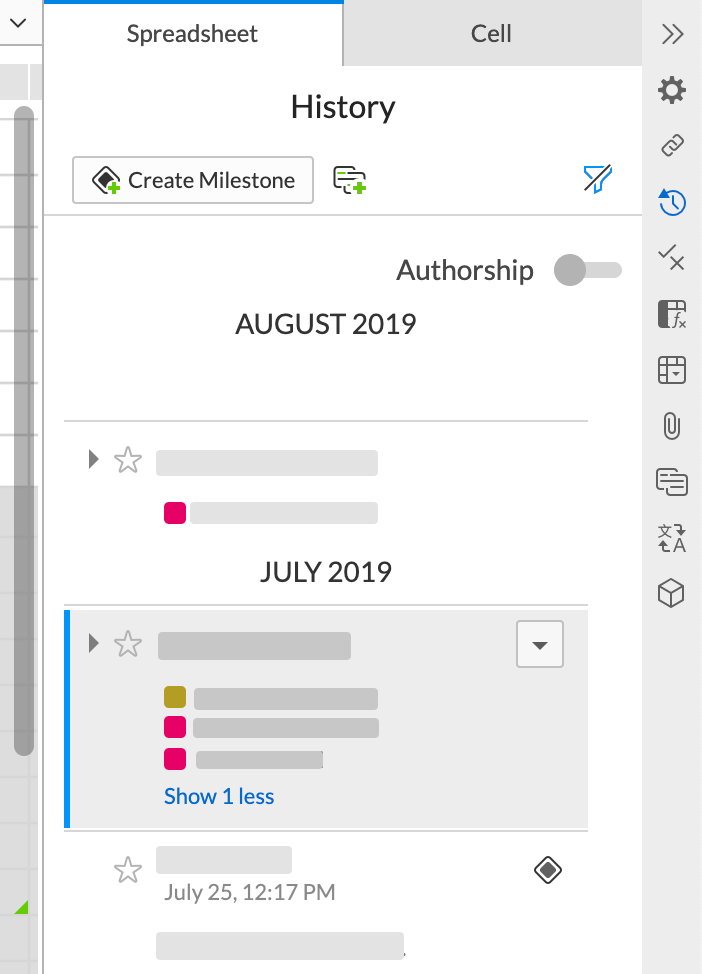 Click the arrow to the left of a group of revisions to see more details, like who made the edits and when.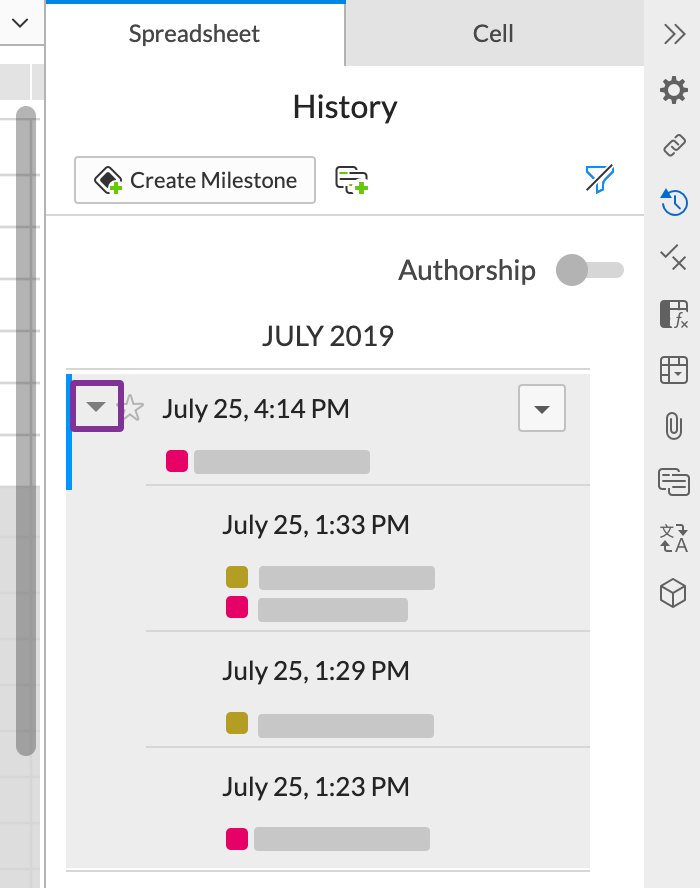 Revision types
The History panel notes all inline content revisions, including comments and updated links. Updates in the panel are labeled with the type of change.
| | |
| --- | --- |
| Revision Type | History Panel Display |
| Inline changes to spreadsheet | |
| Posted a comment | |
| Updated a source link from another document | |
Note: Users that don't have editor access to your spreadsheet can still appear in the History panel if they've left a comment or published a source link.
When you hover over a revision, you can click the arrow to access a menu of actions, including Create Milestone and Create Blackline.
Create and star milestones
If you need to mark a revision as important, you can create a milestone . Milestones automatically appear in the list of revisions when you open the History panel, even if it was originally grouped with other revisions from that date.
To create a milestone:
Hover over a revision and click the arrow.
Select Create Milestone from the menu.

Enter a name for your milestone and add remarks.
Click Create.
When you create a milestone, an empty star appears next to that revision in the History panel. You can click the star to mark that milestone as important.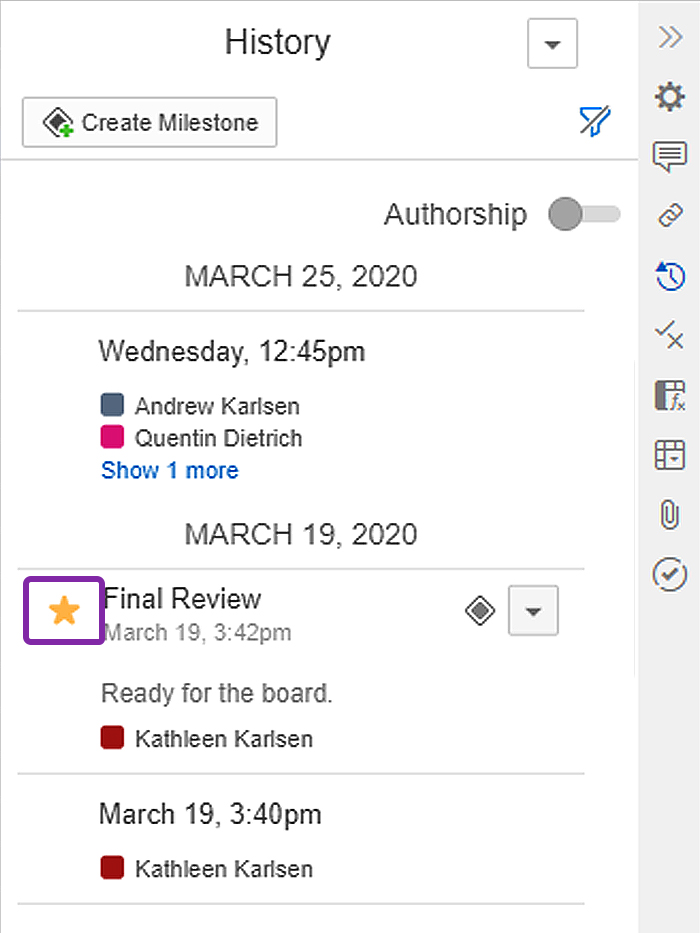 Filter revisions
You can filter revisions in the History panel by milestones, starred revisions, time period, and author to quickly find important revisions of your spreadsheet.
To filter your revisions, click the Show Filters icon in the top right corner of the History panel.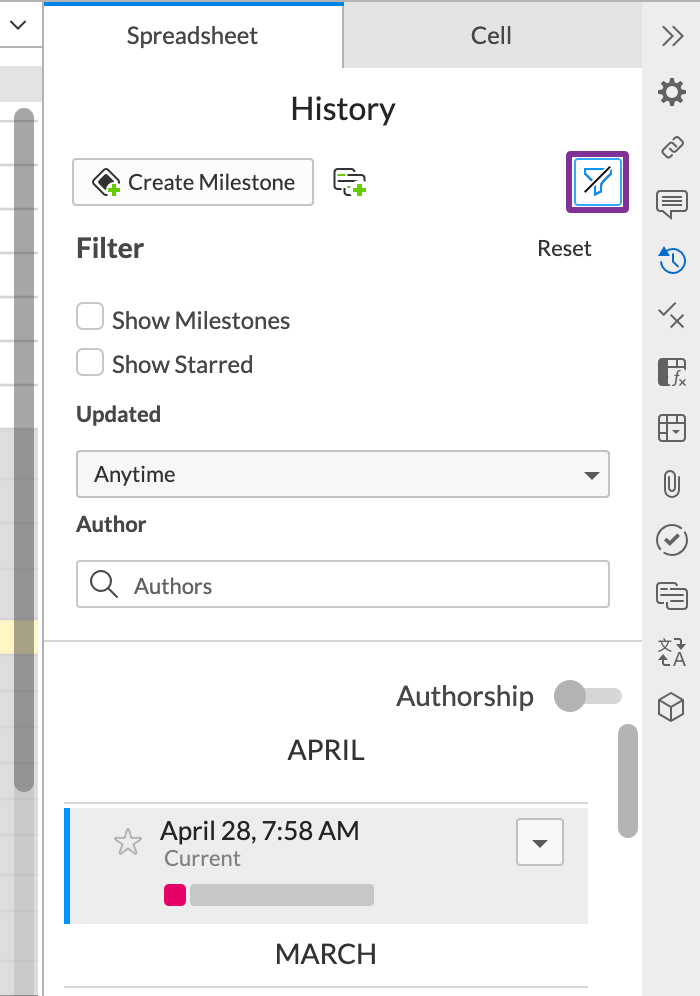 To filter by milestones, check the box to Show Milestones or Show Starred. You can check both boxes to show only starred milestones. Use the Updated dropdown to filter by time period, or enter the name of an author to filter by Author.
To remove filters, click Reset in the upper right corner. Click the Filter icon again to close the filter portion of the History panel.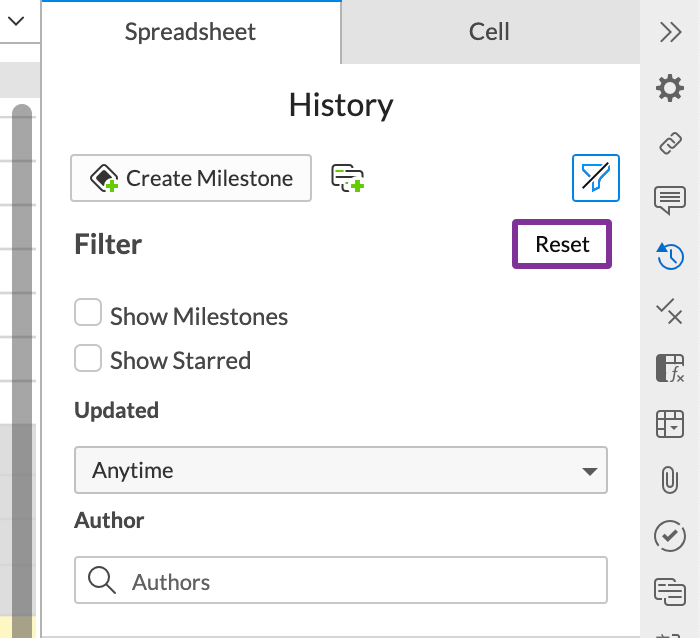 Cell history and authorship
To view a cell's history in the History panel, select the Cell tab at the top of the panel. Click a cell in your spreadsheet to view its revision history.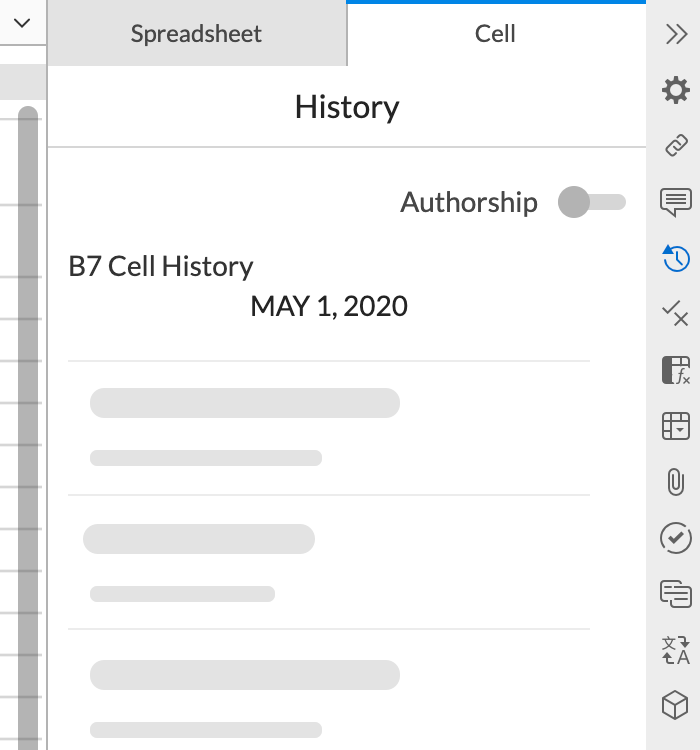 When the Authorship overlay is on, you can hover over a cell in the table to see who made the last change.