Understand blacklines
Each time you or a collaborator edits a document, a revision appears in the History panel that you can blackline. Revisions are shown when a change of content is made in the document that would affect the reader's ability to understand. By creating a blackline with two revisions, you can view and compare two different versions of your document.
The table below lists what's shown and not shown in a blackline.
What is shown

What is not shown

Text (in sections, shapes, and cells)
Links (both source and destination)
Images
Charts and chart data
Tables (including table rows and columns)

Text formatting changes
Chart formatting changes
Table formatting changes
Making sections non-printing/printing
Changes to headers/footers
Moving sections in the outline
Create a blackline
To create a blackline in Documents:
1

Hover over a revision in the History panel and click the arrow to open the menu.

2

Select Create Blackline . This automatically places the selected revision in the first box.

3

Click and drag the revision you want to compare into the second box. To include only the sections that include changes, check Only include sections with changes.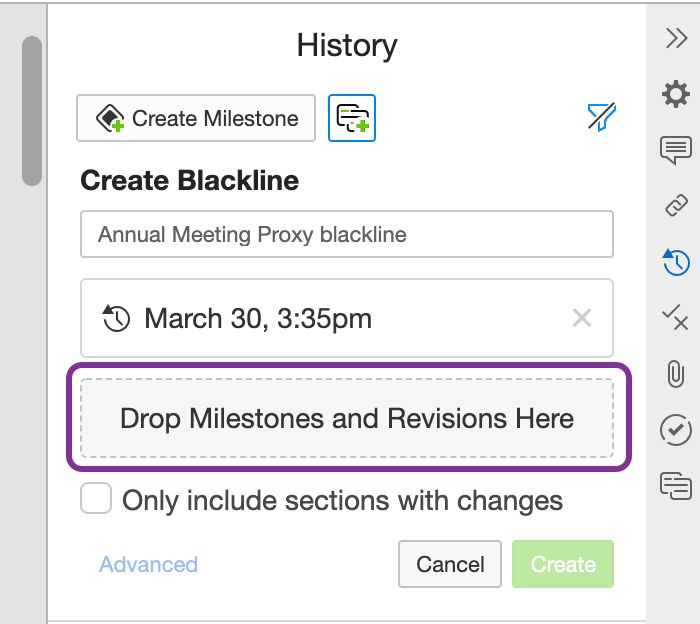 4

Click the Advanced options link and choose whether to blackline the entire document, the current section only, or selected sections.

5

Name your blackline and click Create.
You can filter revisions to view only Milestones or only starred milestones by clicking the Filter icon and then checking the Show Milestones or Show Starred boxes.
Use the Blacklines panel
Each time you create a blackline, a named copy appears in the Blacklines panel. To open the panel, click the Blacklines icon in the right panel.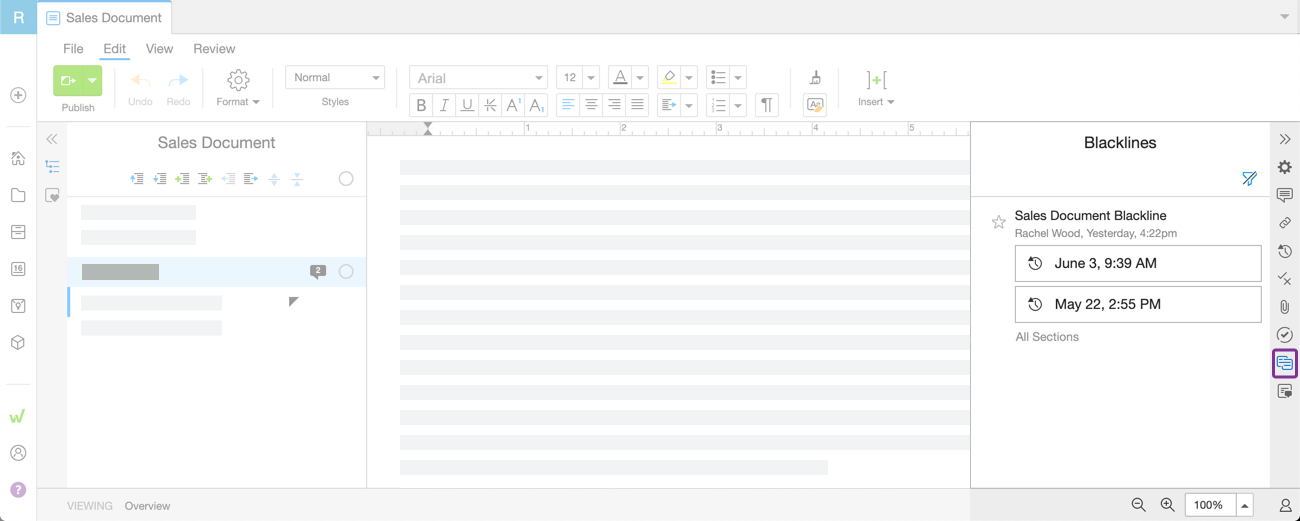 The panel includes a detailed overview of each blackline, including when it was generated and which two revisions are compared. You can add a remark by clicking the arrow next to a blackline's title and selecting Add Remark .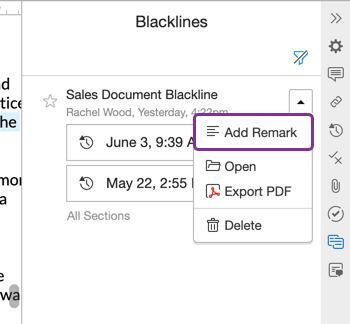 If you need to share a blackline outside of Workiva, you can export it as a PDF by clicking Export PDF.
View a blackline
You can open blacklines directly in Workiva to view changes and navigate between them.
To open a blackline:
1

Open the Blacklines panel.

2

Click the arrow next to the title and select Open . 
If you generated a blackline for your entire document, purple lines in the document outline panel let you know which sections include changes.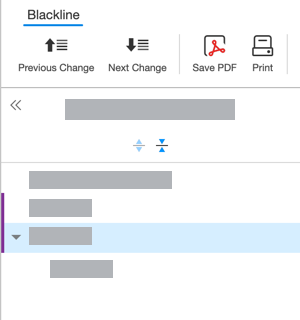 You can move between changes by using the Previous Change and Next Change icons in the toolbar.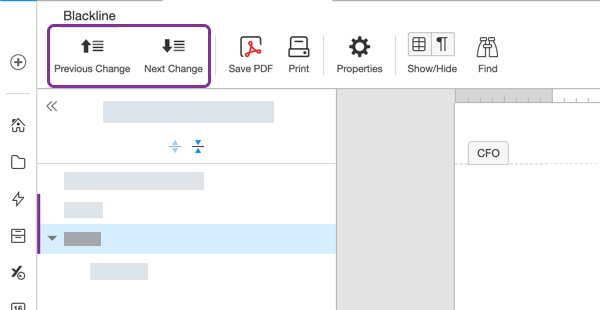 To simplify your view, use the Show/Hide function to show or hide Gridlines or Non-printing characters .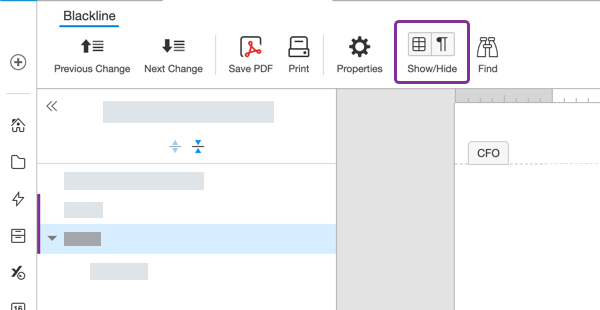 You can export a blackline as a PDF from this view by selecting Save PDF in the toolbar. Use the Export Options window to customize your PDF, including exporting only pages with changes.
To return to the original document, click Properties to open the Blackline Properties panel and click the open icon to open the source document.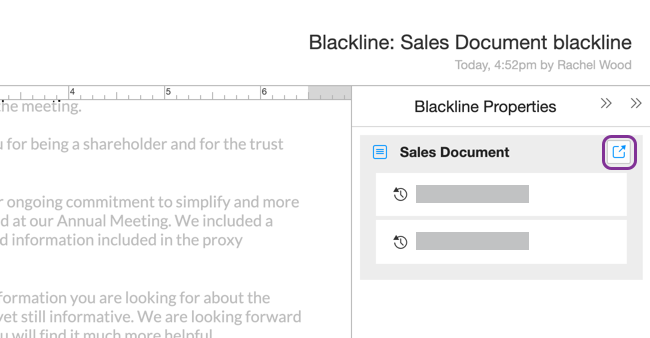 Blackline changes
On a blackline, specific indicators show where changes have been made:
A

Additions are in blue, underlined text.

B

Removals are in red text with a strike-through.

C

Blue vertical lines in the left margin let you know where there are changes in your document.

These indicators appear in both Workiva and blackline PDFs. 
Send a blackline for review
Sending blacklines for review lets users in your workspace view and comment on an existing blackline. When you request a review, your reviewer can open the blackline in Workiva and add comments that will appear on the source file.
Note: You can only send content that you own for review or have the permissions to send the document for review.
From the Blacklines panel, click the arrow next to the blackline you want to send and select Send for Review .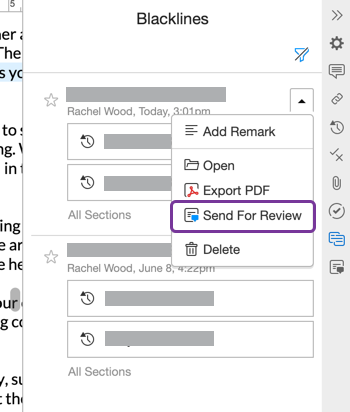 Blackline reviews work just like normal document reviews. To learn more about sending and reviewing files, see Send for Review.