Each time you or a collaborator edits a document, a revision appears in the History panel. By creating a blackline, you can view and compare two different versions of your document.
Create a Blackline
To create a blackline in Documents:
1

Select a revision in the History panel.

2

Hover over your chosen revision and click to open the drop-down menu and select Create Blackline . This automatically places the selected revision in the first box.

3

Click and drag the revision you want to compare into the second box. To include only the pages that include changes, check Only include pages with changes.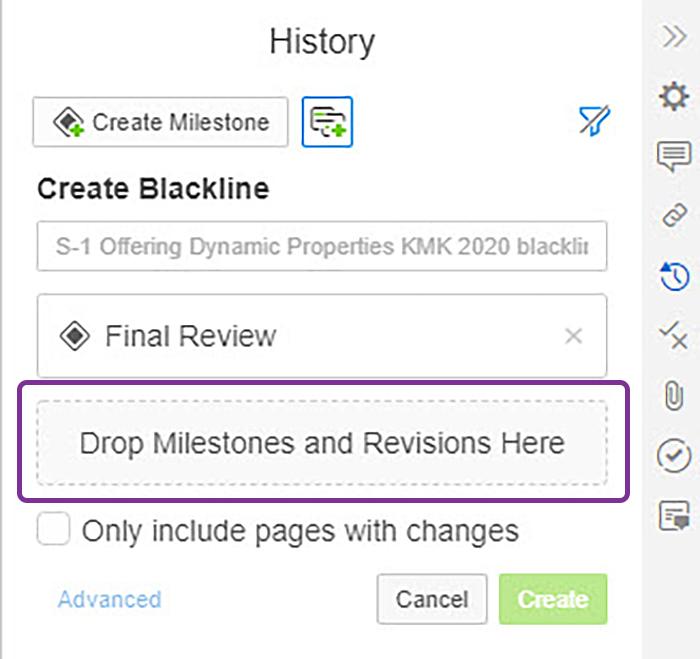 4

Click the link for Advanced options link and choose whether to blackline the entire document, the current section only or selected sections.

5

Name your blackline and click Create to download the blackline PDF.
You can filter revisions to view only Milestones or only starred milestones by clicking the Filter icon and then checking the Show Milestones or Show Starred boxes.
You can also generate a PDF blackline between a revision and the revision immediately prior to it. To generate a blackline of two adjacent revisions:
1

Select a revision in the History panel.

2

Click to open the dropdown menu and select Blackline Previous to automatically generate and download the blackline PDF.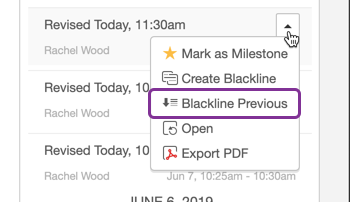 Note: This revision only incorporates changes from linked data into the blackline and does not make any changes in your document.
Blackline Changes
On the blackline PDF, there are specific indicators where changes have been made:
A

Additions are in blue, underlined text.

B

Removals are in red text with a strike-through.

C

Blue vertical lines in the left margin let you know where there are changes in your document.