When you build a chain, you can use the results—or outputs—from a command with properties of subsequent commands. For example, to perform multiple transformations on a command's comma-separated values (CSV) output as part of a chain, add a subsequent Tabular Transformation command that uses the earlier command's output as as property.
Note: Commands can only use outputs from commands earlier in the chain, including those linked with a Success condition or within a group. To extract a value from a command's output, create a dynamic output.
Output types
Connection commands produce several types of outputs:
| | |
| --- | --- |
| Output type | Example |
| Text | Selected records from a listing file output |
| Integer | The number of records in a query |
| File | Downloaded response from a web service HTTP request |
| Float | The results of a floating point calculation |
| Date | The system timestamp |
| JSON | REST API web services response |
| List | The list of files in a directory |
| Map | A list of pairs and values |
Use a command output as a property of a later command
Note: To convert the format or structure of a command's output for use as another command's property, you can apply a variable transformation.
In the chain, select the command with the property to use the output, and click Edit

.

Under Command Properties, click Variable

for the property.
Under Select a variable, expand the earlier command, and select which of its outputs to input as the property.

To transform the output's format or structure for use with the property, such as to extract a value from JSON, click on it in the property's field, and apply a variable transformation.
Click Save.
Command details output
Each command automatically generates a Command Details output. With this output, you can use details about its command as a variable input with a command later in the chain.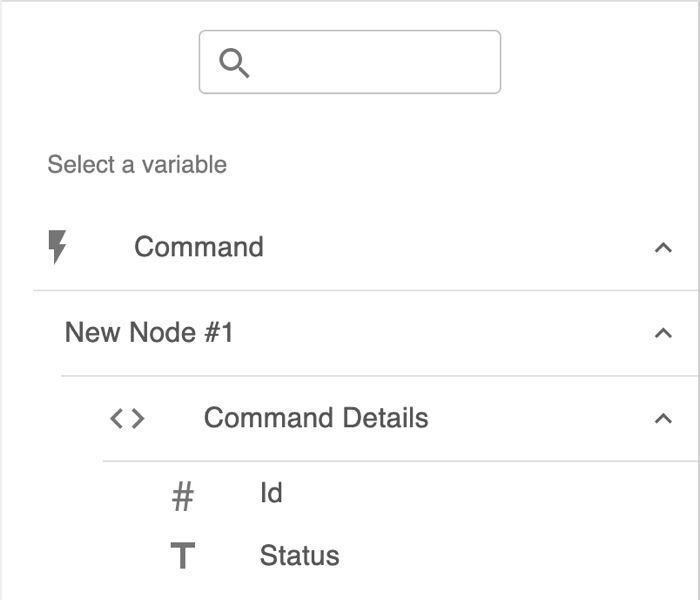 | | |
| --- | --- |
| Output variable | Detail |
| Id | The command's numeric ID |
| Status | The command's status—succeeded or errored |