When you are ready to show your slides to others, you can present or export your slides for viewing. Slides can be presented from the beginning of a Presentation or from an active slide. A Presentation can be exported as a PDF or as a PowerPoint™ file. Presentations can also be printed.
Present your slides
Click the Present icon in the File, Data, View or Review toolbar to begin your presentation from your currently active slide.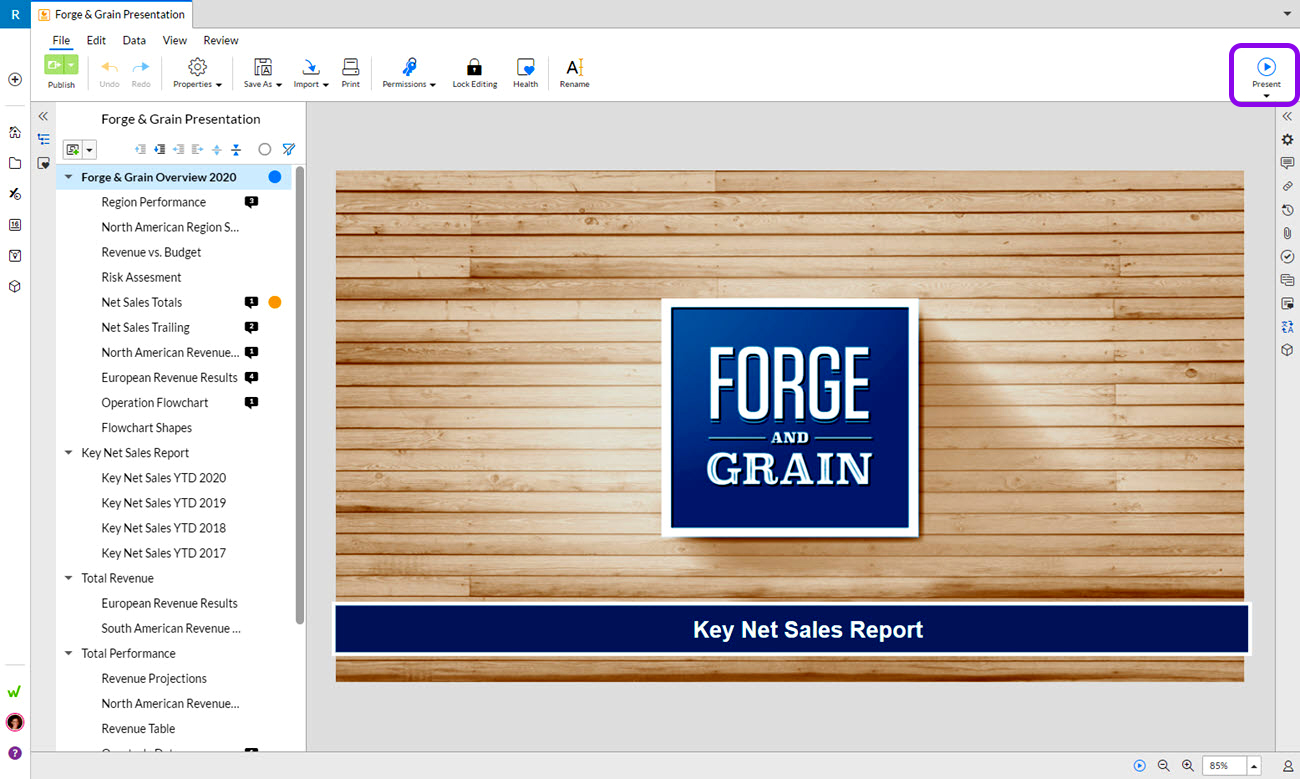 If you'd like to present from the first slide in your presentation, click the arrow just below the Present icon and choose Present from beginning slide.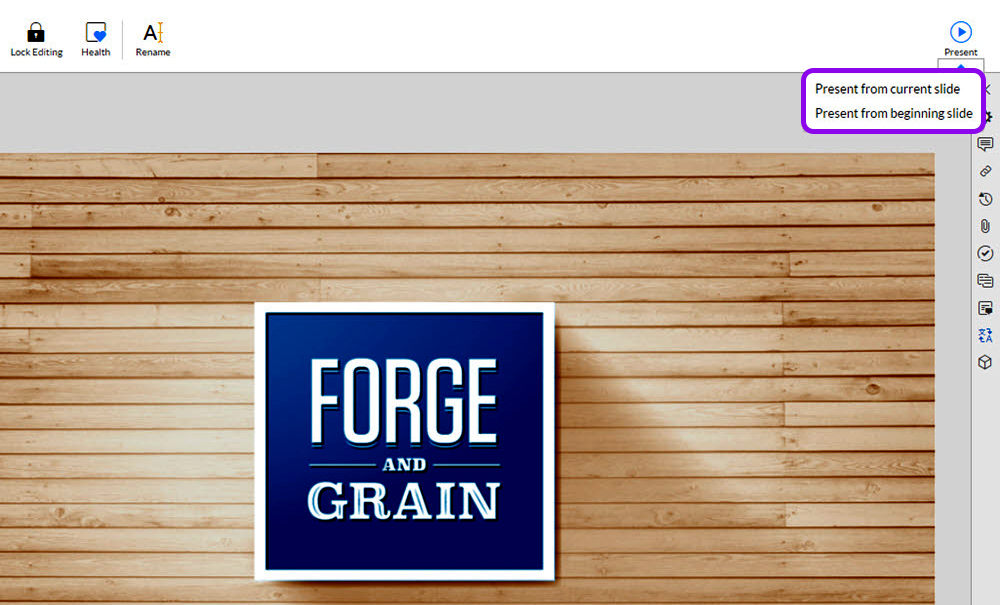 Any changes made by another author during a Presentation will automatically flow through while you present. This can be useful for last-minute updates. However you can also present a static Presentation. To do this, present from a revision in the History panel.
To navigate your slides, use the arrow keys on your keyboard to advance through your slides, or click on the displayed slide. Press the Esc button on your keyboard to exit the presentation.
Export your slides as a PDF
To export a presentation as a PDF:
1

Click Save As on the File tab and choose PDF.

2

In the window that appears, choose to export the Entire Document, Current Section or Select Sections.

3

Under Advanced, choose any desired options.

4

Click Export.

Export your slides as PowerPoint
To output a Presentation as a PowerPoint File (.pptx) click Save As on the File tab and choose PPTX from the drop-down menu. You can include all layouts, even those that were not used in that Presentation. You can also choose to embed fonts and reduce the image resolution under the Advanced options. The file will download to your computer when exported.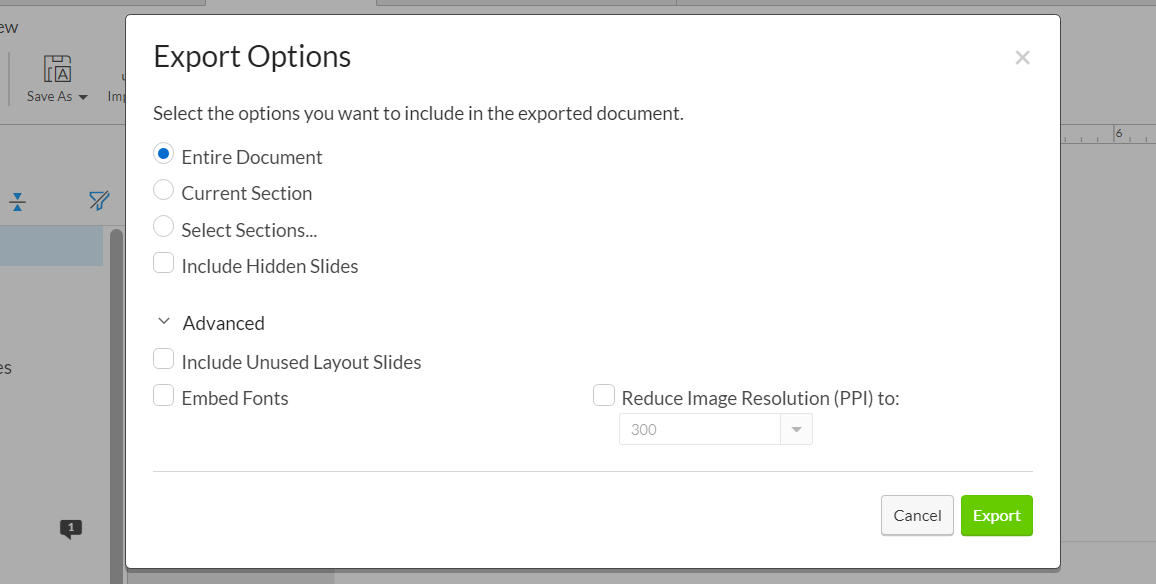 Print your presentation
To print any section or all of your Presentation, go to the File tab and choose Print . Select the sections that you want to print, choose any appropriate Advanced options, and then click Print.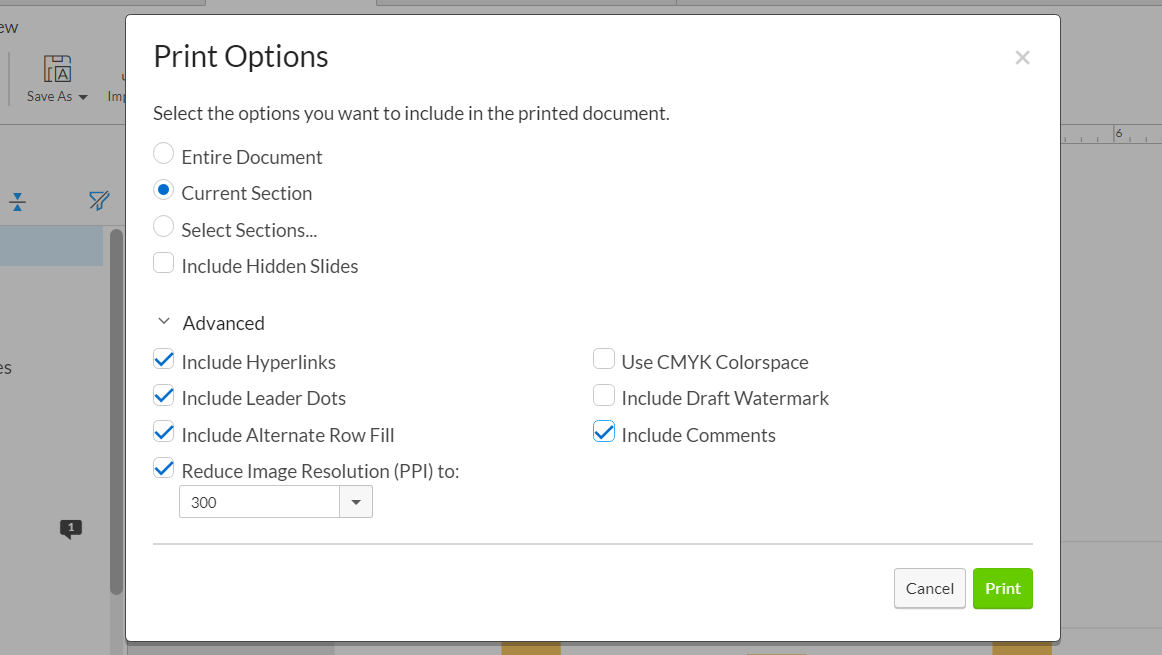 This will open Print Options, allowing you to make final print setting changes and choose Advanced options.
What's next