A recent release to the Workiva Platform included improvements to the following products and features:

Chains
Chain commands are now accessible via search
We're pleased to announce that the search bar on the Chains tab now includes both connectors and individual commands. When building chains from the Chain Builder canvas, simply enter the name of a specific command to see all matching results from your subscribed connectors.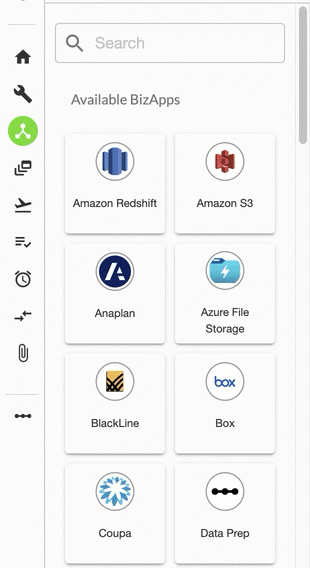 Documents
See X/Y position while moving floating objects in Documents
While moving floating object in Documents by using drag-n-drop, you can now see the X/Y position of the object in real-time via the new tool-tip. Previously, you could only see X/Y position if the Object Properties Panel was open.
This feature will assure you that your content is consistently aligned across pages, creating a clean composition.
Note:
This feature is only available in Workspaces that have access to Designed Reporting capabilities.
Cut/Copy/Paste now available for document markup
You can now use keyboard shortcuts to cut/copy/paste markup in Workiva Documents.
Duplicating markup will remain available by selecting CTRL/CMD+D within a section.
ESG
Connect metrics to merged spreadsheet cells
To enable more connected sources for metrics, you can now use merged cells within a spreadsheet as the source for an ESG Program metric value.
Presentations
Convert tables to images for PPTX
When exporting in Powerpoint, there is now an option in the export dialog to export all tables in a presentation as images, instead of tables.
This method produces an pptx export with tables that matches the same visual resolution in the app, but as an image rather than an interactive table.
Anchors for tracked changes
When tracked changes are deleted, you can now drag that content's anchor.
Improvements to viewing and reviewing document blacklines
We've made some updates to improve the user experience for blackline reviewers.
Blackline viewer:
You can choose how changes are displayed when reviewing a blackline. You have three options:
View all changes (Default)
Pin view (Hides deletions)
None (Gives a final view of the file)
You can see individual change cards in the new Blackline changes right-hand panel for your selected section.
Send blackline for review:
You can now specify which view mode you want reviewers to see when they open the blackline.
You can also lock down the reviewer's ability to toggle view modes if you want to control how the blackline is reviewed.
Reviewers can see a list of changes in the new Blackline changes right-hand panel.
These updates give reviewers the flexibility to choose how they want to review blackline changes. They can also see a clean version of the file by selecting the None view option (an option previously unavailable without sending a separate clean revision for review).
SOX and Audit
Multiple assignees on a request
You can now assign one or more assignees to your requests. Each assignee on a request can upload evidence files, which expedites the process of evidence collection. Once the request is submitted by one assignee, Workiva will automatically close the task for the remaining assignees, and every assignee will be notified of who submitted the request. The request will move through the workflow statuses as expected - In Progress, In Review, Complete, etc. Assignees can check the History panel in the Request Portal to see who uploaded certain files and who submitted the request.
Workiva Platform
Navigate ESG Explorer content outlines from Frameworks panel
To ease navigation of ESG Explorer content, you can now browse its outline from the Frameworks panel. Previously, you could browse either the outline or a high-level navigator view.

New and Classic OAuth grants and public API interface
We've begun migrating accounts to the new interface for OAuth 2 Grants and Public APIs. Through June 2, you may see both the previous and new interfaces for these features.
Set OAuth 2 grants in Org Security Admin
The option to create a new OAuth 2 grant is no longer available within classic admin. In order to create and manage grants, any user in an organization with an Org Security Admin role can do so from the Organization Admin security settings.
Workspaces
Updated to Integrated Risk management roles
Users with Workspace Viewer role and Integrated Risk roles such as External Audit, Process/Control Owner, Manager, Reviewer or Preparer, now have the ability to edit Documents, Spread Sheets, and Presentations.