Sending binders for review allows you to distribute binder content within the platform, keeping everything in one place with an effective audit trail. Binder Owners can distribute multiple files in a binder as a review, and reviewers are able to comment, view markup, and save down the files as needed.
Send for review
After a binder is created, an Owner of the binder can send it to other users to review. 
To send a binder for review: 
Select File within the binder. 
Choose Review, and select Create a review. 
Choose to include attachments or comments from past reviews.

Note: Binder review comment flow behavior doesn't intersect with digital review.

Binder review comments won't flow into the live version of the file.
New binder reviews can't inherit comments from the live version of the file.
New binder reviews can't inherit comments from previous binder reviews.

Enter the details of your binder review, including a title, reviewers, and email subject. You can also add an email message and choose to send an email notification. 
Select Create. 
Download attachments
Within your binder, you can download any non-Workiva attachments in their original form.
To download:
Select a non-Workiva attachment.
Open the attachment's properties in the right hand panel.
In Selected file, click on the drop down.
Select Download original file.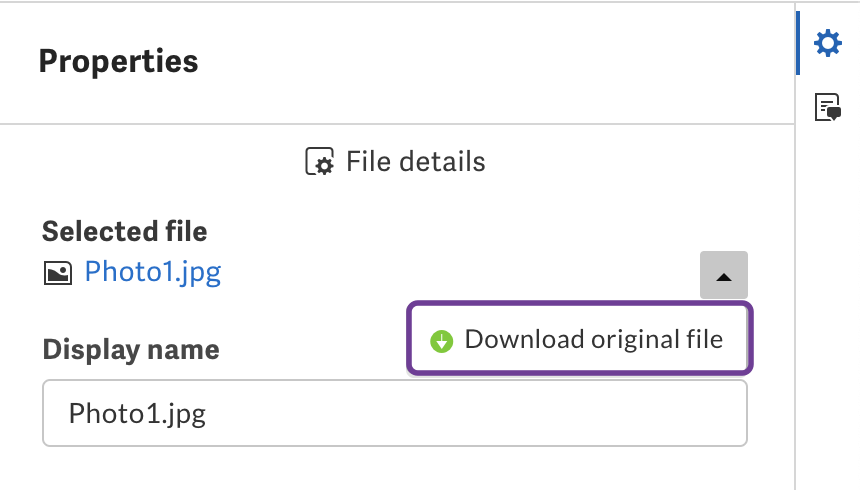 Manage reviews
Binder Owners can manage reviews within the binder, using the Reviews tab in the right-hand panel.
Binder Owners can do these actions:
See all reviews
Edit or delete reviews
View who sent the review and its date and time
Open the review 
Complete a review
Users who receive a binder review can access this through the email notification. The email will include the binder review title, the list of files, and an optional message.
To use the binder viewer to complete your review: 
Select Go to binder review in your email to see the review.
Right-click or select the dropdown next to the file(s) to select Create PDF or Open. If multiple files are selected and opened, they will each open in a separate tab.

Note: Only 5 files can be opened at once. if multiple files are selected and exported as a PDF, they'll export as a single PDF file.

If opened, you'll be led to the review page of the file.
You can leave comments, markup, open/collapse properties, use language translation, custom fields, and attachments.
To head back to the binder review, click on the Files icon on the left hand panel.
Related articles: