A recent release to the Workiva Platform included improvements to the following products and features:
Spreadsheets, Documents, & Presentations
Documents & Presentations
Internal Audit & SOX/Controls Management

Spreadsheets, Documents, & Presentations
Drag to move rows and columns in Spreadsheets or embedded tables
You can now drag to move rows & columns in spreadsheets and embedded tables. Simply select the rows and columns you want to move, and then click and drag them to the desired location within your sheet or table.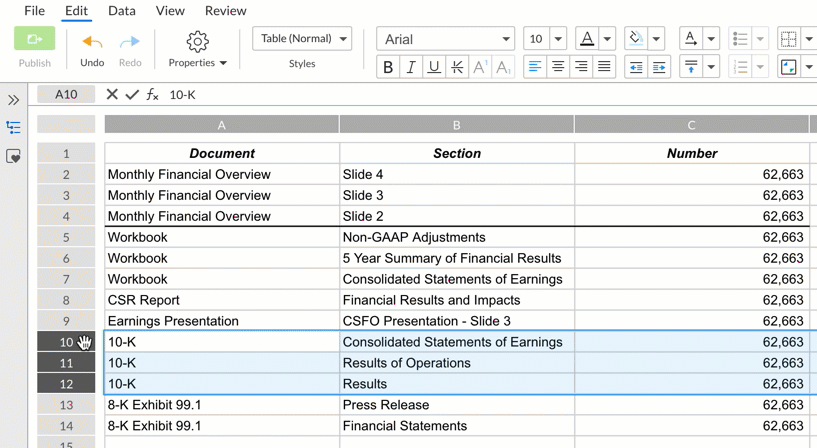 Learn more about how to drag and drop rows or columns
Documents & Presentations
Option to round pie chart percent labels to 100%
We understand data accuracy is very important, however, there are rare situations where mathematically accurate data does not look intuitively accurate. For example, a pie chart with 3 equally sized slices will display the following percent labels: 33.3% + 33.3% + 33.3% = 99.9%. While 99.9% is accurate, audiences intuitively expect the three slices to add up to 100%. We're introducing a new option to round chart percent labels. When used in these rare cases, percent labels will always add up to 100%. This is done by force rounding the percent label that results in the least amount of statistical error. This ensures percent labels are accurate as possible when this feature is in use. This option is turned off by default, but it can be used at anytime with pie charts in Documents and Presentations when percent labels are used.
Learn more about rounding labels to 100%
Internal Audit & SOX/Controls Management
Link to Request from the SOX Attachment Panel
When an attachment is on a request, you will now be able to navigate directly to that request from the attachment's context menu.
Enhancements made to Requests in SOX and Audit Forms
The Request section of SOX Test Phases and Audit Procedures Forms has been enhanced with both visual and functional improvements. The Request section List Items have an improved look and feel, ensuring users quickly access the most relevant information. Updates to the Requests section consistently reflect the formatting and capabilities of the Request List View. All Requests will be displayed by Due Date in ascending order.
Each Request List Item supports an overflow menu allowing users to Edit, Remind and Delete the Request. The Remind selection will distribute an email reminder directly to the Assignee without having to access the Request List view. The Edit experience has been enhanced for any request that has already been sent triggering a pop-up modal, helping users to avoid unnecessary navigation to an alternative tab.