Note: This article should only be used by standalone OneCloud subscribers.
In the coming weeks, you'll see a number of changes to OneCloud and Chains that will more closely align the platform with the rest of Workiva. Based on feedback from users just like you, we set out to create a more focused and familiar Chain Builder that highlights the part of the app you use most.
This includes:
A redesigned side menu
A new workspace and environment switcher
Additional filters and sorting options
And more!
Stay tuned to this page and our weekly Release Notes for exact release dates.
Redesigned side menu
We've made several modifications to how you get around the app. Everything from the prior version is still here, but a few features have been renamed or relocated to their own tab.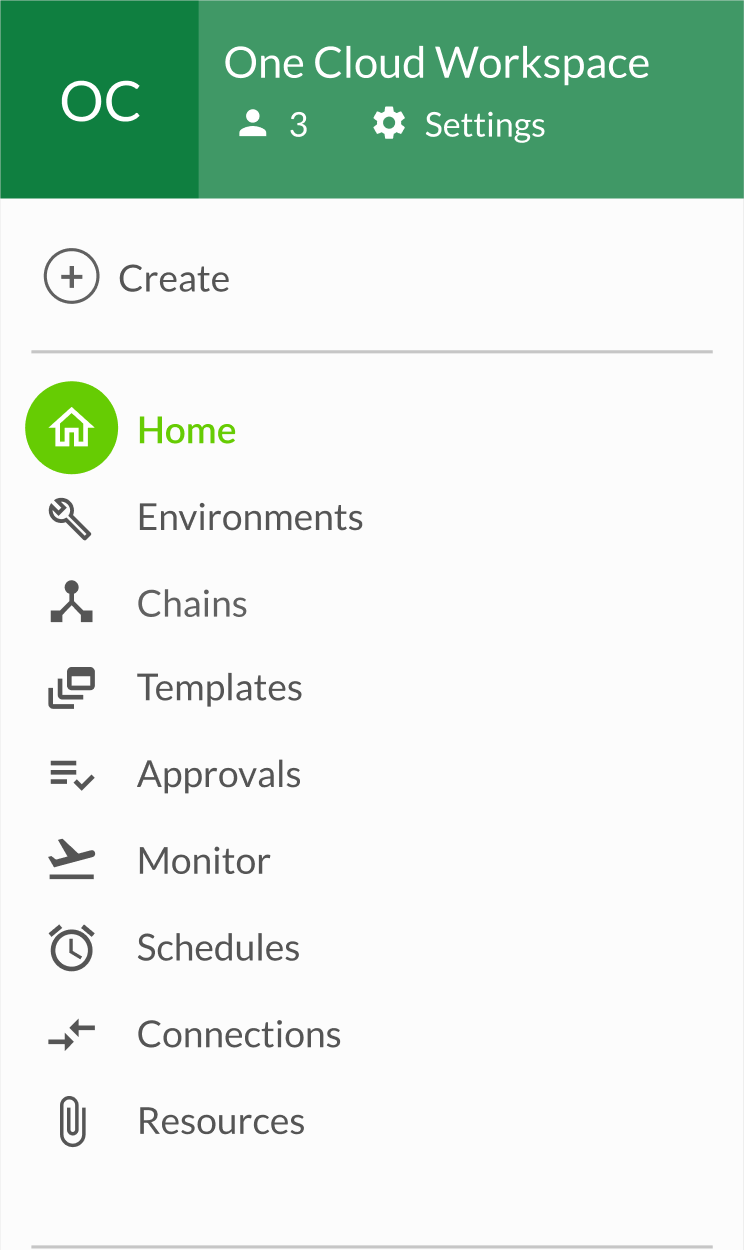 Here's a quick overview of each section:
Environments: The Environments tab is where you'll create and manage workspace environments -- such as those used for testing new chain configurations. It replaces the Workspaces tab in the old layout.
Chains: The Chains tab is where you'll view, edit, copy, and run existing chains. You can also create new chains directly from this screen.
Templates: Go to the Templates tab when you need to create a new chain template from scratch (or edit an existing one). Once created, templates provide a reusable and repeatable framework for your most commonly used chains.
Monitor: The Monitor tab is used for reviewing the details of past chain runs. It's particularly useful when troubleshooting errors or chain failures.
Approvals: If you've built approval events into your chains, both pending and past approvals will appear here. This tab was previously known as Tasks.
Schedules: Chains that are scheduled to run automatically will appear here. This includes both recurring chain runs and those that have been scheduled for a specific day or time.
Connections: Use the Connections tab to set up new connectors in your site or edit the details of an existing one. This includes both GroundRunners and CloudRunners.
Resources: The Resources tab houses all of the configuration files required by your environments and connections.
Switching workspaces
The new workplace switcher lets you quickly jump between workspaces using only the side menu. If you've used Workiva in the past, this experience is identical to the rest of the software.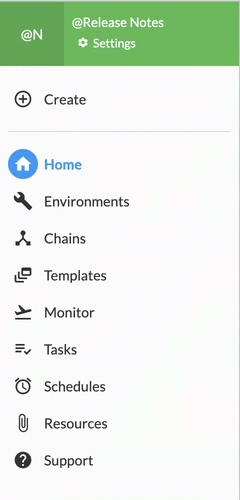 To switch between workspaces:
Go to the Workspace Switcher.
Click on the switch icon by hovering on the workspace initials.
Browse or search for the workspace you'd like to go to.
Click on the workspace name and it will open in a new browser.
Learn more about switching workspaces
Adding users
As a standalone OneCloud subscriber, you can manage users, user groups, and their levels of access from the Organization Admin screen.
Here's how to access it:
Select your name at the bottom left of the sidebar, and then click Organization Admin.



Note:If you're not an organization admin, you won't see this option.

Select Users & Groups along the top of the screen.
Using environments
Adding new environments
Environments were created and managed under the Workspaces section of the app. Because workspaces can now be switched on the fly, environments have been given a dedicated page of their own. As part of this redesign, we've updated how environments are created and accessed within Chain Builder.
To add an environment:
Select the Environments tab.

Click Create at the top right.

Switching environments
Environments can now be switched on-the-fly from the following screens: Chains, Environments, and Resources. You no longer need to return to the Environments screen!
When on one of these screens, simply select your desired environment at the top of the screen:

Creating chains
Chains are no longer created from the Build page; instead, click the Create button at the top left of the Home screen to create a new chain.
Use the Create button to start a new chain or build one from an existing template. And because the side menu is always accessible, you can now start a chain from anywhere in the app.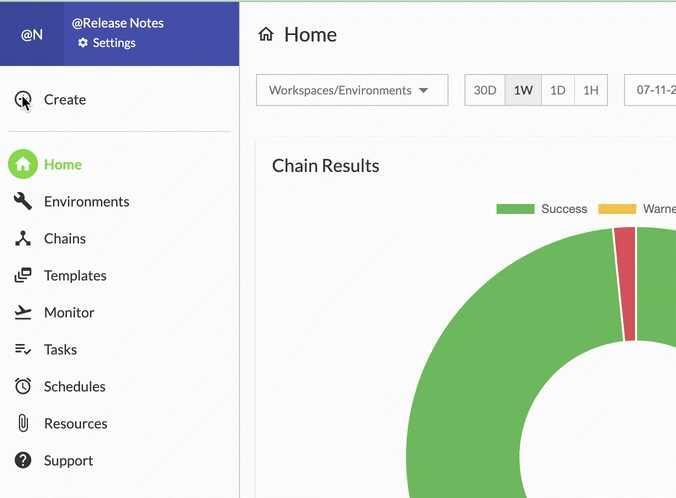 You can also create chains directly from the Chains tab by hovering over the icon next to the search bar at the top right.

Redesigned filters
We've redesigned how chains are sorted by moving the existing filters and sorting functions to the top of the page. Additionally, we've added new filters that allow you to sort by start and end date, status, and time frame.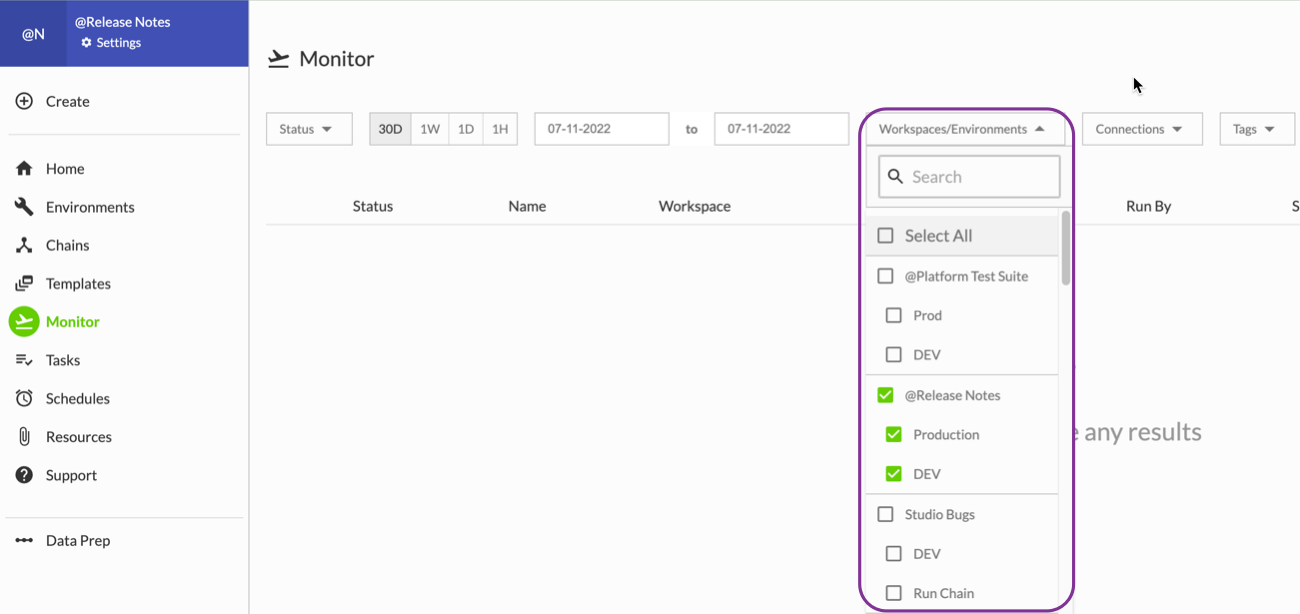 Frequently asked questions
Does this affect how my chains work?
No. These are cosmetic changes that will make Chains simpler and more intuitive to use, but it doesn't affect the function of the chains themselves.
Is there anything I need to do?
No, your workspace will be automatically updated in the coming weeks. We expect to release the update for standalone OneCloud customers first, and then to the rest of Workiva soon after.