A recent release to the Workiva Platform included improvements to the following products and features:
Documents and Spreadsheets
Integrated Risk & SOX Management
SOX Test Form Attachment Panel: New toolbar actions
SOX Test Form: Breadcrumb navigation
Processes
Wdata
Learn more about Wdata API rate limits

Documents and Spreadsheets
Section Track Changes
Section Owners can now enable Track Changes on one (or more) individual sections in Documents and Spreadsheets!
To get started:
Open a document or spreadsheet
Navigate to the Review tab
Click Track Changes

This will open a menu where you can enable track changes for individual sections or the entire document.
Previously, Track Changes could only be enabled for an entire file. This created a bind between section Owners whose section was for Track Changes and those whose sections were not. Now, you have the flexibility to finalize content section by section, a convenience which will simplify complex creation processes.
Learn more about Section Track Changes
Integrated Risk & SOX Management
SOX Test Form Attachments Panel: New toolbar actions
We have added a few new toolbar actions within the Attachments Panel on SOX Test Forms. The toolbar now includes:
An obvious Download icon for you to export all files with or without markup
Expand and Collapse section options to toggle view settings of the Population, Additional, and Matrix Sample file sections within the panel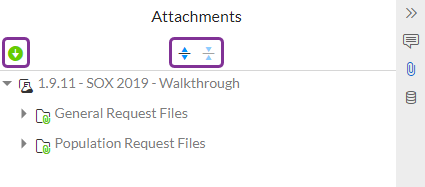 SOX Test Form: Breadcrumb navigation
A breadcrumb-style navigation pattern has been added to the SOX Test Form Overview and Phase tabs. This will allow you to easily identify where you are in the application and quickly jump to other locations.
The breadcrumb pattern goes from Test Form List to Audit Program to Control ID to Phase. The first iteration includes navigating to the Test Form List by selecting Test Forms and an option to toggle between phases by using the Phase drop-down selector.
Processes
View all processes from Home
The Processes list in Home provides a useful way to monitor the status of multiple processes at once. The Processes list shows you all of the processes where you have at least Viewer permissions. Only processes that have already started are displayed.


Learn more about viewing Processes from Home
Wdata
API rate limit changes
We've updated a few API rate limits for Wdata:
Run query: 400 (previously 92)
Get query result: 1200 (previously 576)
Export query result to spreadsheets: 400 (previously 20)
List Tables: 220 (previously undocumented)