To help personalize dashboards in Home, you can set up the data and content—or widgets—they display.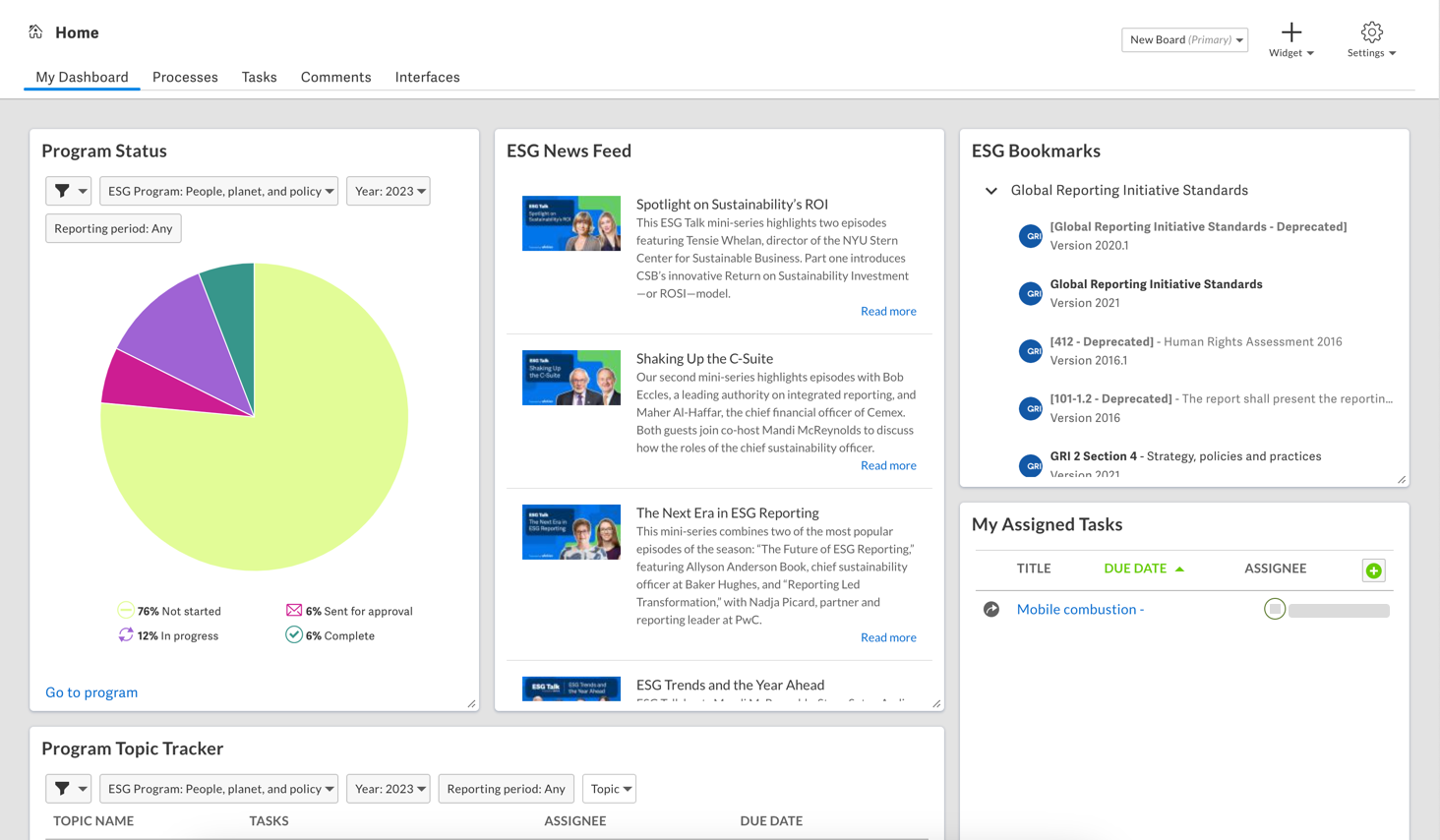 Tip: Each member of your workspace can personalize their own dashboards and widgets. To share your dashboard's widgets and layout with members of your workspace, publish it as a template.
ESG Reporting widgets
Your dashboards can include widgets to help manage your Environmental, Social, and Governance (ESG) reporting.
With the ESG news feed widget, stay up-to-date with the latest industry news and updates about ESG reporting, direct from our experts at Workiva and elsewhere. From the widget, click Read more to open its article in 3BL Media on a new browser tab.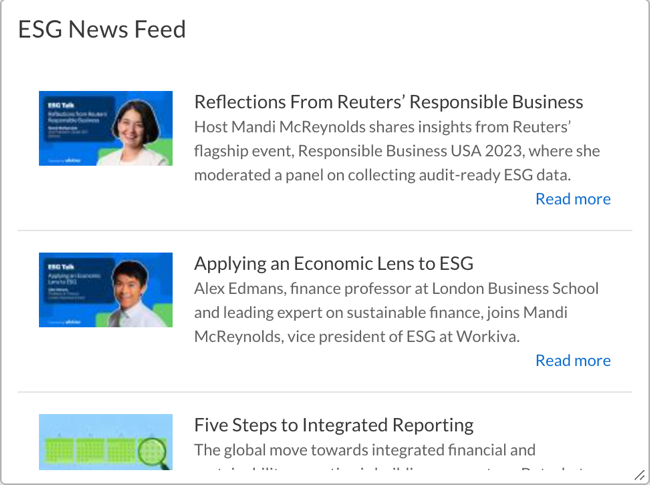 Tip: 3BL Media curates and shares communications about ESG reporting from organizations around the world. By default, the widget provides updates and ESG insight from only Workiva.
The ESG bookmarks widget displays the framework disclosures and metrics bookmarked for your company's ESG reporting. You can click a bookmark to open its disclosure or metric in ESG Explorer.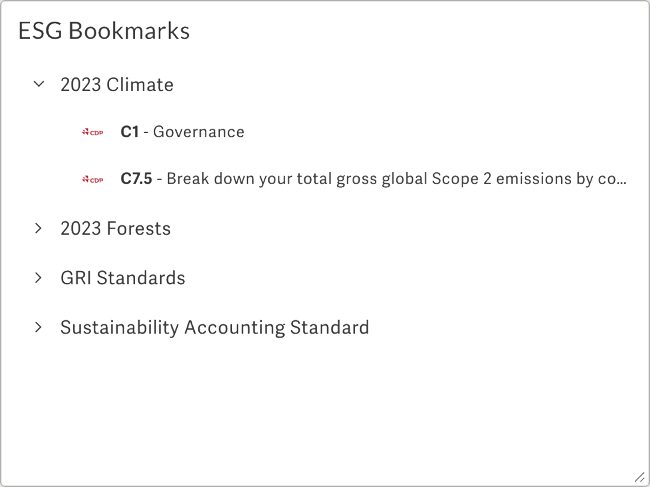 From the Import CDP questionnaire widget, you can import a questionnaire downloaded as an Microsoft Excel® file from the CDP Online Response System (ORS) to create a spreadsheet to curate responses for CDP (formerly Carbon Disclosure Project).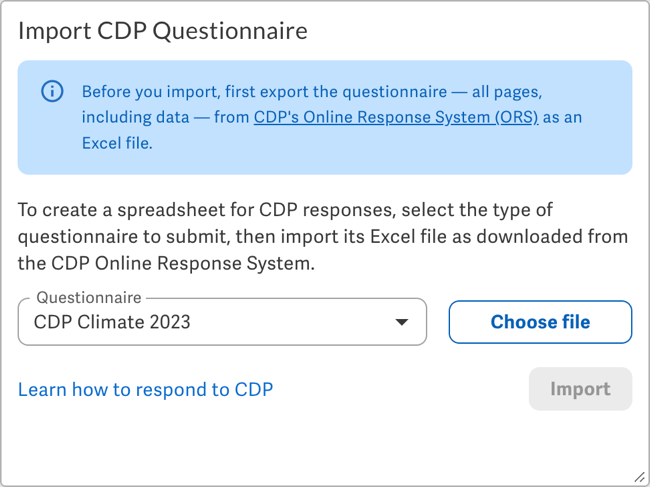 To help craft responses, spreadsheets created through this widget include a CDP Questionnaire panel, where you can refer to:
Guidance from CDP about a selected question
To track the data collection of ESG Program metric values, use the Program status or Program topic tracker widget:
Program status summarizes the status of an ESG Program's data collection as a pie chart.

Program topic tracker enables more granular task details about each topic within an ESG Program, including the values' assignees and due dates.

By default, you can select the ESG Program, reporting year, and collection period of the tasks to include in these widgets. To further narrow a widget's focus, click Filter , and apply additional filters:
Assignee, to include only values assigned to specific workspace members
Dimension, to include only values related to custom dimensions — such as location or demographic — set up for your metrics
Due date, to include only tasks based on when they're due — such as Today, before or after a specific date, or within a date range
Related ESG content, to include only metrics that align with specific frameworks in ESG Explorer
Tags, to include only metrics related to custom tags — or metadata — set up for the ESG Program
Task status, to include only tasks with specific statuses
Topic, to include only metrics that support specific topics within the ESG Program
Add widgets
From Home, you can add widgets to a dashboard, such as to quickly access their files or data from a central location. From the dashboard's toolbar, click Widgets, and select the widget to add.

Edit a widget's settings
Each widget has unique settings and functionality, which you can tailor to best meet your personal needs.
From the widget's menu, select Edit.

Rename or configure the widget as you'd like.

Tip: When you edit a widget, it saves the changes automatically. If necessary, reposition the Edit modal on the screen to view the updates as you make them.

Click Done.
Organize widgets
To personalize a dashboard, organize its widgets in a layout that makes sense to you.
Note: We recommend you prioritize your more important widgets across the top of the dashboard, above your less frequently-used widgets.
To move a widget, hover over its name, and then drag it to where you want it on the dashboard.

To resize a widget, hover over its lower right corner, and then stretch it to the desired width or height.

Remove a widget
If you no longer use a widget, select Remove from its menu so it no longer appears on the dashboard.
Tip: If you remove a widget but then want to view it again, you can add it back to the dashboard.