Overriding your document with an XHTML file allows you to generate XBRL with the designed XHTML file brought in via IDML Import, with XBRL. This can be continuously updated throughout your process.
To override your document with a designed XHTML file and to include XBRL:
Note: Import IDML to XHTML prior to following these steps. Be sure to check the discrepancy report to ensure no key XHTML or XBRL items will be impacted when overriding.
1

In XBRL Profile, select the Documents tab.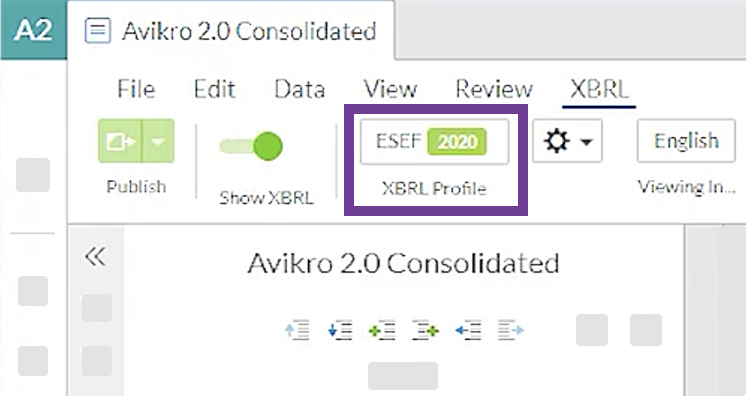 2

At the Documents tab, you may add all documents that should be included and combined by clicking on the add file icon .
Note: Any added documents must match 1:1 with a Workiva document. If additional documents included are not being designed outside of Workiva, no XHTML overrides are needed.
3

Under the selected file, select the dropdown to click on Override XHTML.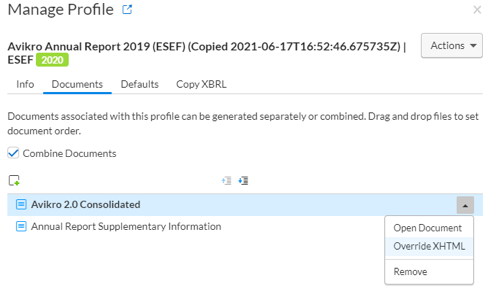 Once you have set up your XBRL Profile with all submission documents and XHTML overrides, you can review the full package.
4

Back on the document's page, click on the XBRL generation icon on the right-hand side.
5

Optional: When reviewing and updating the XHTML, replace the current XHTML file by selecting Remove Override on the associated document and select a new file to override.
Note: Naming the IDML or XHTML files with indication of updates will help you identify which file to select.
The XBRL Document Generations is the place for you to view the final XHTML review. The iXBRL Viewer will let you view your final design along with the XBRL. Downloading Filing Documents produces a ZIP file which will include the final XHTML and XBRL. Previewing the Filing Documents will show the full XHTML package.