This article is for:
Workspace Owners, Content Managers
Note: This feature is still in beta testing. It'll be fully released in the future.
Permission Reports allow you to see what level of access selected groups and users have to the files and folders in your workspace. You can customize which users and groups are included in the report.
Create a Permission Report
Note: Permission Reports record the state of permissions at the moment you create the report, so we recommend creating a report when other users aren't actively modifying permissions.
To create a Permission Report:
Open Workspace Settings and click the Permissions tab.
Select to include All users and groups or Selected users and groups in your report.
If you choose to include only Selected users and groups, type a user or group name and select it from the dropdown. You can add multiple groups and users to your selection.
You can choose to Include section level permissions in your report by checking the box. By default, section level permissions will not be included.
Click Create Report to finish. You'll receive an email once the report is complete.
Use the Permission Report
Once you've created a Permission Report, you'll receive an email with a link to download the report. This link will expire in 7 days. To view the report, click Download report.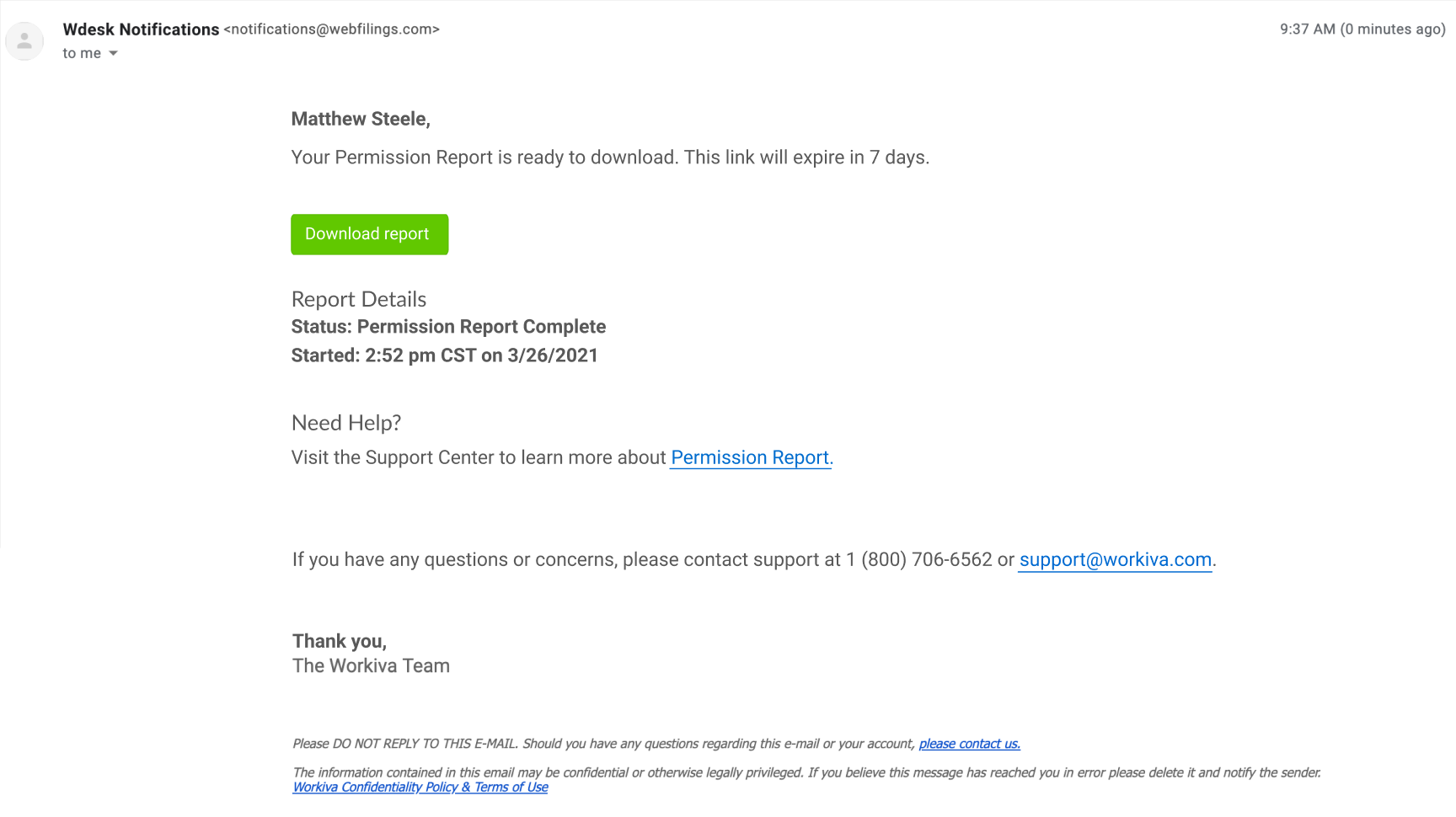 The Permission Report is a .zip file that may need to be unzipped or extracted. Double-click the downloaded .zip file to open it and access the two .csv file types that make up the report.
The Group Members .csv file breaks down the individual members of each group at the time the report was created. The Permission Report .csv covers the permissions for all the content in your workspace.
Depending on the amount of data, the Permission Report might be split into multiple .csv files. The files are numbered and the data continues across the files.
The Permission Report .csv includes the following information:
Type: The content type (folder, image, document, sheet, etc.)
File: The name of the file.
File/Section Name: The name of the specific section or sheet in the file. If the file type is not a section or sheet, this will be the same as the file name.
The level of access for each group and user in your report:
o - Owner: Has full rights to the file and can manage permissions.
e - Editor: Can make changes to the file.
v - Viewer: Can view the file but cannot make any changes.
x - No Access: Cannot open or view the file.