Find and Replace allows you to search for and replace multiple instances of a word, value, or phrase in a document.
Find Text
Use the Find feature to locate all instances of a word or phrase in a single section or the entire document.
To use Find:
From the View toolbar, click Find .

Type the word or phrase in the search bar and click search or press enter on your keyboard.
To navigate through the results, use the arrows or continue pressing Enter on your keyboard. A yellow highlight indicates search results, while an orange highlight shows the currently selected word.
You can view additional search options and navigate through results by clicking Advanced Options to open the Find and Replace panel.

From here, you can make your search case sensitive by checking the Match case box. To search only the current section of your document, select This Section from the Find In... section.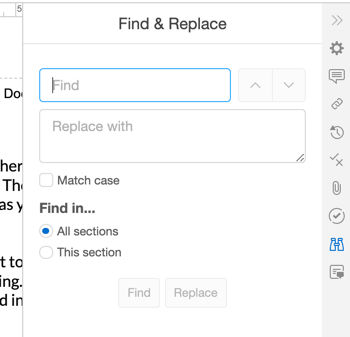 Replace Text
After you find content in your document, you can replace each instance with a different word or phrase.
To replace a word or phrase:
Use the Find function to search for a word or phrase.
Click Advanced Options to open the Find & Replace panel.
In the Replace with box, type the word or phrase you want to add to your document.
Click Replace to replace the currently selected word.
Continue clicking Replace until you make all the needed changes.
Note: You cannot replace content in a destination link, hidden cell, or locked cell. Click Skip to continue replacing words in your search.