Org Workspace Admins can manage all workspaces in an organization. They can add existing users to workspaces, apply roles at the workspace level, manage workspace settings, and create new workspaces. If you need to add a new user to the organization or change a role at the organization level, contact an Org User Admin.
Note: If you are a Workspace Owner, see Workspace Settings.
Manage workspaces
As an Org Workspace Admin, you can view and manage all workspaces from Organization Admin. This includes managing existing workspaces and creating new workspaces.
View workspaces
To view and manage all workspaces:
Click your name in the bottom left, then select Organization Admin.

In the left menu, click Workspaces .

Search for a workspace or click on the workspace name to open workspace settings.

You'll see all the same settings here that a Workspace Owner can access from Workspace Settings.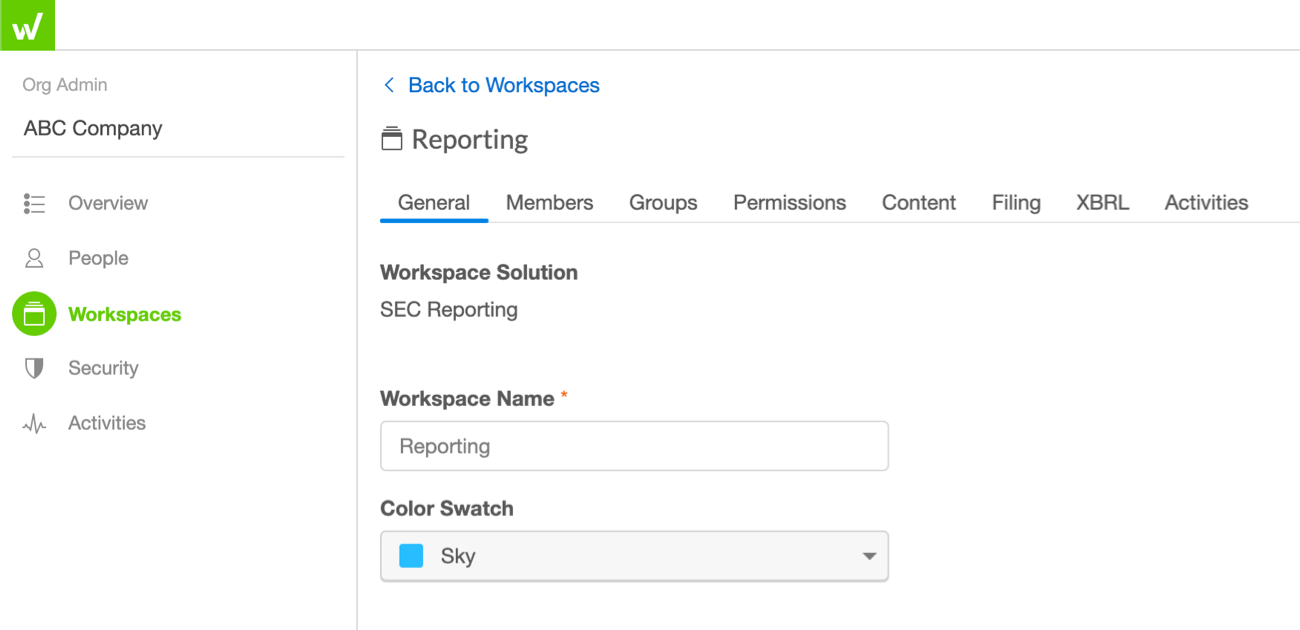 For more details on updating different workspace settings see:
Create a new workspace
From the Workspaces area in Organization Admin, you can create a new workspace. By default, when you create a new workspace from Organization Admin, you are not added to the workspace. You'll need to assign a Workspace Owner and then add members.
To create a new workspace:
From Organization Admin, click Workspaces .
Click Create Workspace.
Select one or more Workspace Solutions. Then, enter a Workspace Name and select a Color.
Select a Workspace Owner for the workspace. Please note, you cannot add yourself as the workspace owner. Optionally, add any needed Workspace Support Users.
Click Create Workspace to finish.
Add users to a workspace
To add an existing user to a workspace:
From Workspace Settings, click Members.
On the Members tab, click Add and then select Add organization users.

Find the users you'd like to add by searching or scrolling through the list. You can select to hide existing workspace members to help with searching and filtering.
Check the box next to the user's name. Optionally, you can choose to notify them they've been added to the workspace or send a welcome email.

Note: If you uncheck send welcome email to new users, only Org User Admins can resend it.

Click Add users.
Manage workspace roles
To update a user's role in a workspace:
From Workspace Settings, click Members.
Find the person you'd like to update by searching or scrolling through the member list.
Double-click the role or click the edit icon .

Select a role and press enter or click the check icon.
Click Apply Changes to finish.

You can update multiple users at the same time by checking the box next to them and then selecting Edit Roles in the toolbar. It's best to select members that you want to have the same role.
When updating multiple member roles at the same time, a dash in a checkbox indicates that some of the selected members already have this role. Roles that are grayed out cannot be assigned.
Remove users from a workspace
You can remove members that no longer need to be in a workspace. To remove a member from a workspace:
From Workspace Settings, click Members.
Find the members you'd like to remove.
Check the box next to their name.

Click Remove .
Click Remove in the prompt that appears to finish.