The Wdata Developer Application Programming Interface (API) enables custom integration to connect your data with the Workiva platform. To help ensure consistent performance, the API enforces a number of constraints.
Rate Limits
The API may rate limit your requests based on current system load or excessive frequency.
| | |
| --- | --- |
| Request | Limit |
| Upload File | 20/minute |
| Import File | 20/minute |
| Run Query | 60/minute |
Note: Other requests are currently unlimited. However, Workiva reserves the right to impose additional limits as necessary to ensure effective performance.
If you exceed these limits, you'll receive an error response with a status code of 429 Too Many Requests.
Request Timeouts
The API limits the length of any request to 10 minutes.
Storage and Querying Limits
The API currently limits the size of lifetime storage and annual querying, depending on your subscription level.
| | | |
| --- | --- | --- |
| Subscription | Lifetime Storage | Annual Querying |
| Solution | 100GB | 120TB |
| Enterprise | 500GB | 3,000TB |
Note: To purchase additional lifetime storage, contact your Customer Success manager.
For example, 1GB storage over five years contains 8M records, including:
Monthly actuals cut by 10 dimensions
Monthly rolling 12-month forecasts
Budget data
The 3,000TB annual querying limit enables an Enterprise subscription to query its data 3M times a year.
Tracking Storage and Querying Usage
To verify your organization is within these limits, workspace admins can track query usage and data storage over a period of time. From Configuration , select the Usage tab, and review the stats.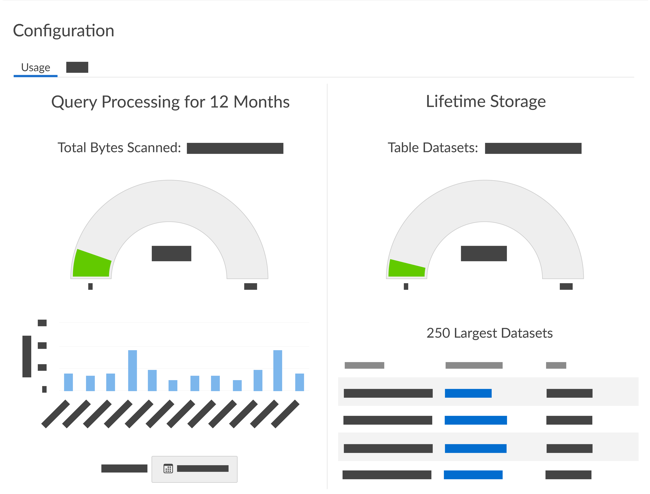 Query Processing—How much of your annual querying limit was used—overall and on a monthly basis—during a selected 12-month time period
Lifetime Storage—How much of your lifetime storage was used by all table datasets. To help identify major consumers, you can view your 250 largest datasets and their respective tables and sizes.
Note: To view a dataset's data, click its table's name.
Encryption
To ensure data privacy and integrity, API calls use Transport Layer Security (TLS) 1.2; Advanced Encryption Standard (AES) 256 at rest.
Feature Limits
Tables
| | |
| --- | --- |
| Feature | Limit |
| File Upload | CSV or TSV, up to 1G. To reduce the size of an upload, use a ZIP file. |
| Columns per Table | 150 |
Queries
| | |
| --- | --- |
| Feature | Limit |
| Parameters per Query | 30 |
| Query Parameter Name | 256 characters |
| Items per Parameter Pick List | 512 |
| Advanced Query Mode SQL Statement | 300,000 characters |
| Cells per Spreadsheet | 2,000,000 |
Views
| | |
| --- | --- |
| Feature | Limit |
| Query Rows per View | 1,000,000 |
Chains
| | |
| --- | --- |
| Feature | Limit |
| Connections | One provided with a Solution subscription; five with Enterprise. To purchase additional connections, contact your Customer Success manager. |