This article covers adding, removing, and editing members and groups in the Admin component of Wdesk.
If you need to manage member and group permissions, please see the Permissions Tab article.
For managing users in other Wdesk products such as Binders, Section 16, and Certification, please refer to those specific topics.
Members and Groups
Wdesk allows administrators to quickly and easily manage members using the People tab of the Admin component. From there, you can:
Add or remove members or Wdesk support staff
Edit member information and settings
Remove a member
Modify member security settings
Perform other modifications to member accounts
Wdesk strongly encourages you to utilize the Group functionality of the Admin component for setting permissions. Groups make setting and maintaining your document, project, and XBRL permissions easier and more efficient. You can use the default groups or you can set up your own groups, according to your business structure. More information on groups can be found further in this article.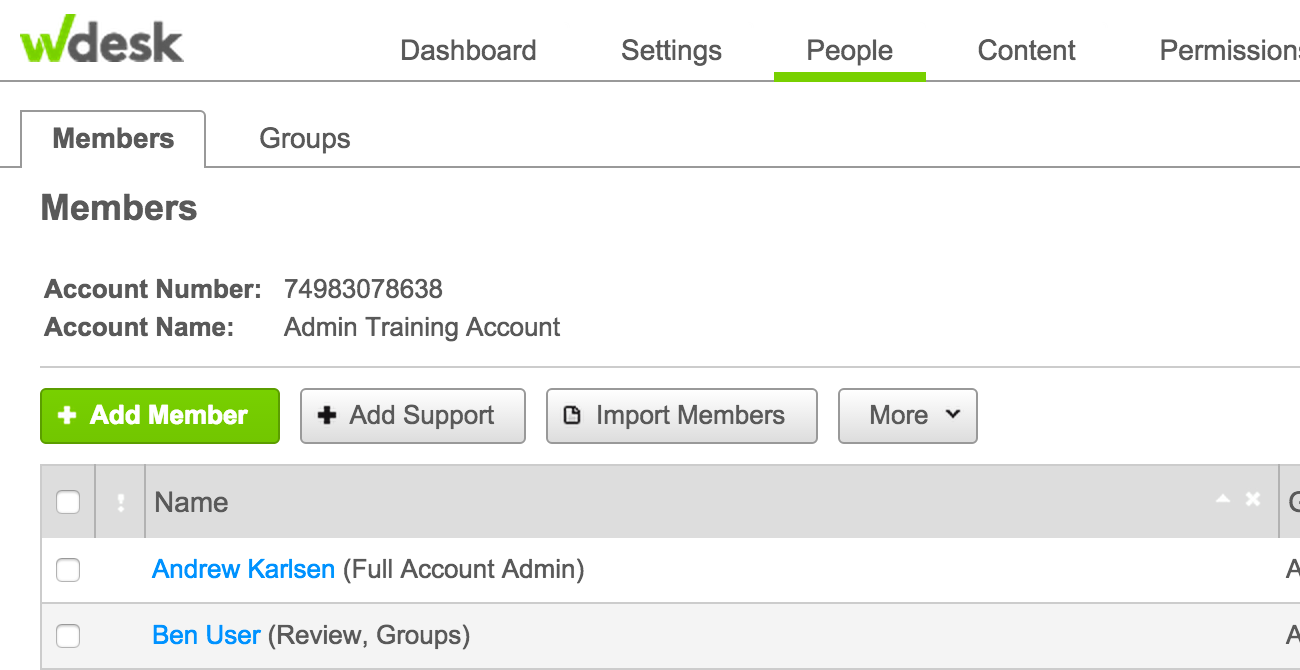 Adding a Member
To add someone to your account:
Click on the Add Member button. This will open a dialog where you must enter a username for the person being added.
Enter a unique username into the dialog, then press Enter or click Continue to proceed. It is recommended that you use the email address of your member for the username.
In the newly-expanded dialog, enter information on the new member such as name, phone number, and email.
Next, choose the access levels for this member. Hover over any License Level option in Admin to view a tooltip description. Some license levels will have additional options available after selecting them.
After you've finished entering information for this new member, click Save Member to finalize the addition of this user to your account.
Adding Members in Bulk
If you need to add multiple users at once, you can do so by importing a CSV file with your users.
To begin, click Import Members under the People tab to open the Import Members wizard. You will then be prompted to find your CSV file on your computer. User CSV files should be ordered Username, E-mail, First Name, Last Name, Solution Type to ensure a smooth upload process. Select the solution type that matches the work each user will be performing most often within Wdesk.
Solution types are used to better understand how Wdesk is used by our customers and will not impact what functionality the user can access, as this is controlled by license level. NOTE: Non-ASCII or special characters will cause errors when importing users in bulk.
Valid entries for solution type are as follows:
Audit
Budget, Planning, and Forecasting
Compliance Reporting
EHS Reporting
Emerging
ERM
Financial Reporting
Insurance Reporting
Investment Reporting
Management Reporting
Regulated Risk Reporting
SEC/SEDAR Reporting
SLEd Reporting
SOX/IC Reporting

Investor Relations Reporting
Depending on which fields you've enabled for user profiles, you may include additional information such as company, title, time zone, or phone numbers. After you've selected your CSV file, click Next to proceed.
In this step, your file's validity will be verified. This step ensures that your CSV file has been formatted correctly and will be imported properly.
You'll then be taken to a preview screen where you can review the members you'll be importing to confirm the information is correct. If all information is correct, click Next to proceed.
Here you will need to choose a license level for your imported users. Note that the license chosen here will apply to all imported users; users requiring a different license level should NOT be included in the bulk import file and should be added separately.
Before finalizing your import, you will be asked to confirm the number of users you are importing as well as their license level. If all information appears correct, click Next to import your users.
Once you finish importing your user file, you'll be asked to confirm that the information was imported correctly. Click Finish after reviewing the import results to close the wizard. Users can be edited as needed after importing.
Editing a Member
To edit an existing member:
Find the member's name under the Members list in the People tab. You may click the member's name to see a more detailed profile on that member.
From the Members list or a member's detailed profile, click the Edit button to the right of the member's name or above the member's profile respectively.
After choosing to edit a member you may change any information you entered during account creation (email address, phone number, licenses, etc.) except for username. Note that making changes to a member's license level will affect the available number of licenses.
Removing a Member
To remove an existing member, select the checkbox next to the members name. From one of the More buttons, select Remove Member from the drop-down list. You will be prompted to confirm the removal.
NOTE: Removing a member who has active drafts in any document will result in all of the drafts being discarded.
Select Remove Member to complete the action.
Bulk Member Actions
You can also perform actions on multiple users at once from the More menu above the user list. From this menu, you can remove members, reset passwords, and enable or disable two factor authentication for multiple users at once.
Adding and Removing Groups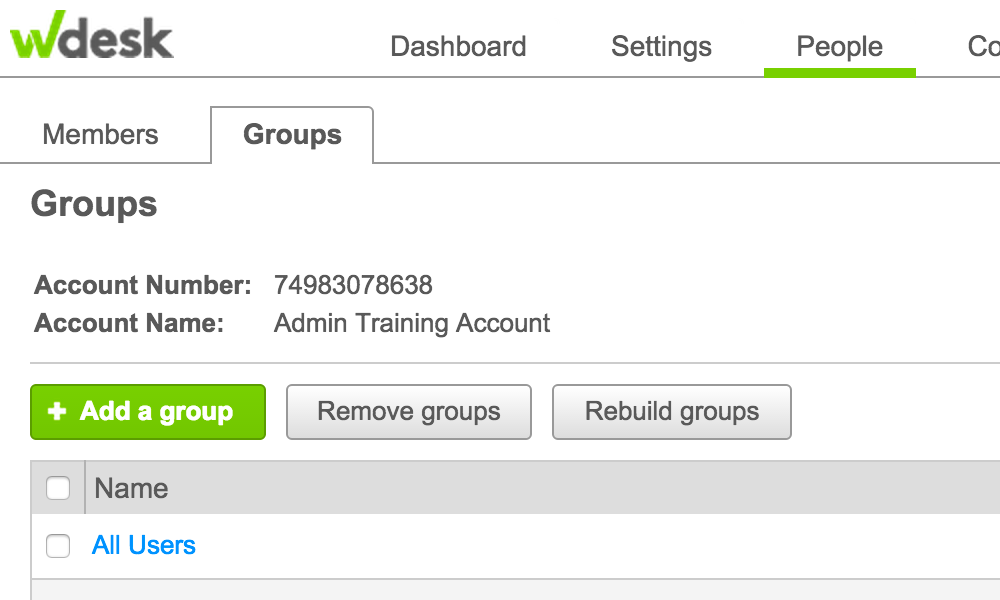 After members are added to the account, it may be beneficial to organize them into various groups in order to streamline the process of giving these members permissions to specific documents. Your Wdesk account will, by default, come with seven groups which you can use to control permission for projects, documents, and XBRL.
You can create your own custom groups to serve the same function. It may be useful, for example, to allow only your accounting department the ability to edit your documents while allowing your auditing department the ability to view documents.
Adding and removing groups is as simple as clicking the correct button. The Groups list under the People tab has prominent buttons for each function, making the process very simple.
To add a group:
Select the Group option under the People tab.
From here, click on the Add a group button and create a unique group name. An error will be returned if the group name you enter is in use.
Once your group has been created, the group listing will be updated to reflect the change. You can remove a group from this listing by clicking the Remove button to the right of the group you wish to delete.
Modifying Groups
To modify the members in a group:
Click on the group name from the Groups list. From this Group Details page, you have the option to add or remove members to the selected group.
Clicking the Add Members button will raise a window with the name of all members available to be added to the group. If no further members can be added to the group, a message will inform you that new members cannot be added.
Check the box next to the name of all members that you'd like to add to the group. Options at the top of this window allow you to select or deselect all available members.
Once you've checked all the names you'd like to add, click the Save Changes button to finish the process.
Removing members from a group is as simple as clicking the Remove button to the right of the appropriate member. A message will appear asking for confirmation, and agreeing here will finalize the removal. You can also remove multiple members at once by checking the box next to their names and clicking the Remove members button at the top of the page.
Two-Factor Authentication
If you require additional security for your account members, you can enable two-factor authentication on a member or account basis. To enable this setting for all account members, select Enable two-factor auth from the More menu at the top of the member list.
To do so individually, select Enable two-factor auth from the More menu to the right of the user's name under the Action column. You can see who currently has two-factor authentication enabled by adding the Two-factor Authentication Enabled column to your member list from the options menu. For more information, see Two-Factor Authentication.