next generation
You can edit line spacing and indentations for paragraphs from the Paragraph Properties panel. You can also use this panel to control how paragraphs interact with page breaks.
Formatting Paragraphs
To access the Paragraph Properties panel:
1

From the File tab, click the Properties icon.

2

Select Section Properties from the drop-down menu.

3

Select the Paragraph Properties tab from the panel's menu.
You can also access the panel by right-clicking in your document and choosing Paragraph Properties.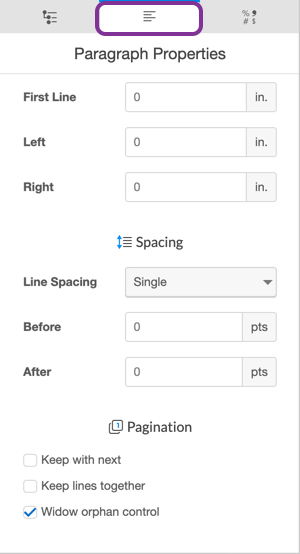 From here, you can modify indentation, spacing, and pagination.

Note: Formatting changes are only applied to selected paragraphs.
Formatting Paragraphs for Page Breaks
You can control how content flows between page breaks using the Pagination options.
Keep with next ensures that a paragraph will not be separated by a page break from the paragraph that follows immediately after.

Keep lines together ensures that the selected paragraph will only be split by a hard page break.

Widow orphan control prevents a single line at the beginning (a widow) or the end (an orphan) of your paragraph from being placed on a separate page.