Once you have content in your slides, you can format them for a more visually dynamic presentation.
Format Different Types of Content
When you select an object, valid formatting options will show on the Edit tab. If you select a text box, you'll see all of the options for formatting text in the toolbar. You can select multiple text boxes to format the text for all of them simultaneously.
If you select a table, then you can see the formatting options that appear in the toolbar. Other options appear when you select shapes, lines, charts or images. If you use a single selection over different content types such as text, shapes and tables, you can adjust the formatting of all of them at once.
Objects can be resized or rotated by clicking and dragging on the handles that appear when the object is selected. You can also right-click objects and select properties to access object-specific formatting options, such as chart properties or table cell properties. To delete slide content, select the edge of the object you're editing and click delete or backspace.
Presentations Properties
To set Presentations properties, click the Properties icon in the File menu. Click Presentation Properties to open the dialog box. You'll have access to the General, Slide Formats, Table Formats and Shape Formats tabs.
You can change the name of the presentation under the General tab as well as set Preferences (Smart Quotes) and Language & Formats. Set the language Locale from the drop-down options so that dates, spelled-out numbers and scale units are automatically updated.
Under Slide Formats, you can change the slide size by using the drop down or setting a custom size. You can also click on the Edit icon in the Document Style Guide section to access the Style Guide Editor. For more information about creating or editing a style, see Using Style Guides.
Under the Table Formats tab, you can adjust the Table Defaults including Entered In, Shown In, Formulas and Decimals defaults.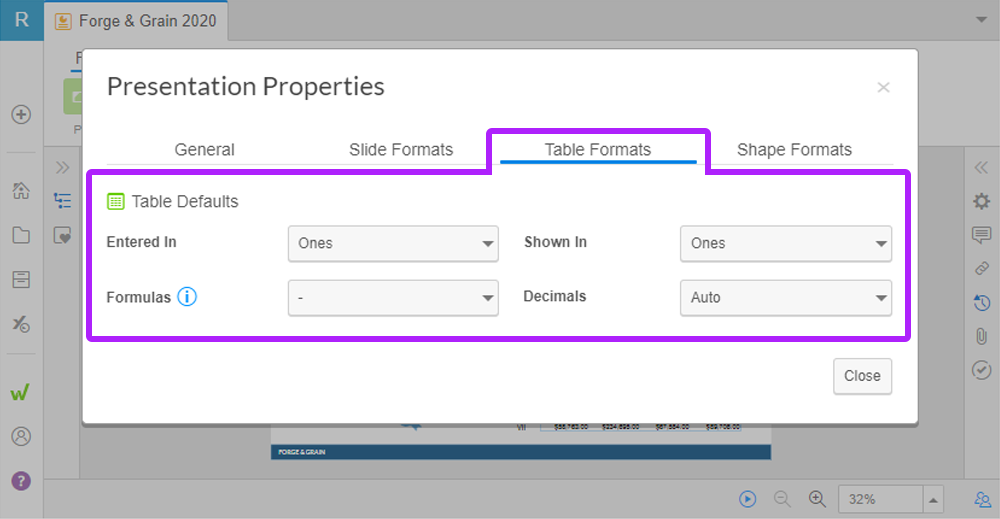 Under Shape Formats, you can set Text Margins for text associated with shapes. Setting a smaller text margin will allow you to fit more text within a particular shape.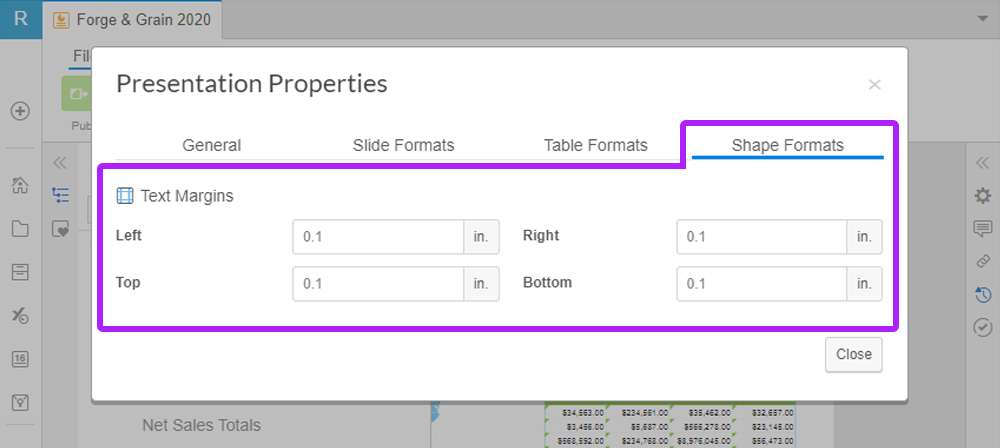 Click Close when you have set your Presentation Properties.
Slide Properties
If you go back to the Properties icon and choose Slide Properties, a panel will open on the right. The Slide Properties panel allows you to work with a number of formatting options for individual slides including changing the Layout by using the Slide Layout, setting a color or image as a Background , and controlling slide Numbering .
Arrange Objects in Layers
Objects can be layered as needed using the Arrange icon in the Edit toolbar. You can also arrange content from front to back using the options in the right-click menu.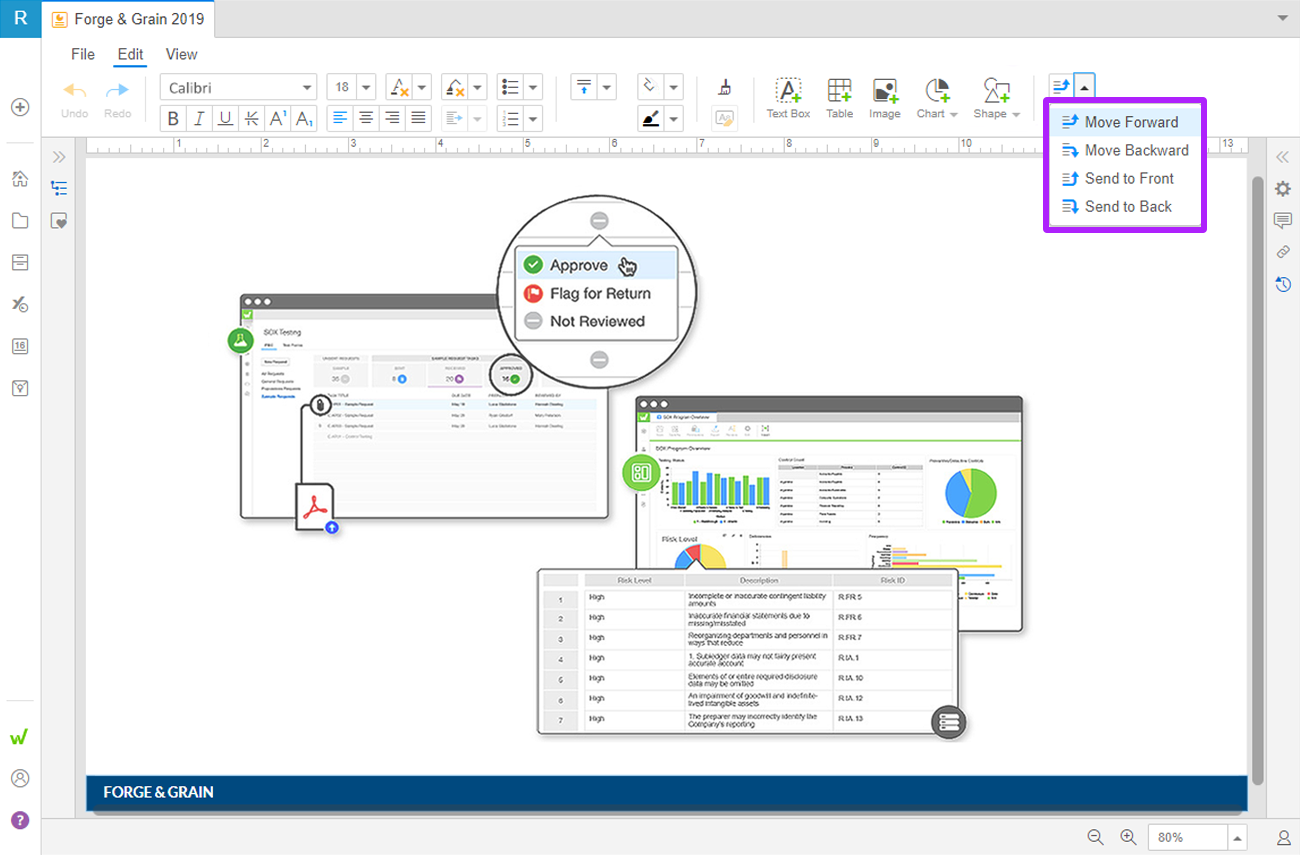 You can also use keyboard shortcuts to arrange objects. To move an object 10 px at a time, use [Shift] + [arrow keys]. To rotate an object in 15 degree increments, use [Alt] + [arrow keys].
For more shortcuts, see the Keyboard Shortcuts article. You can also access shortcuts by clicking the Workiva icon and selecting Keyboard Shortcuts from the pop-up menu.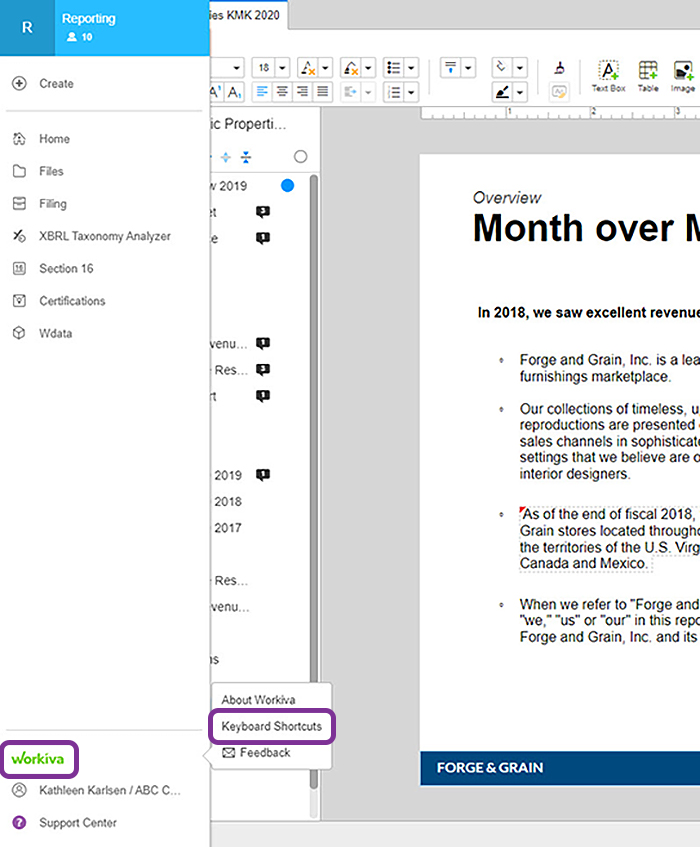 Align Slide Content
Content can be grouped and aligned as needed utilizing the Alignment icon in the Edit toolbar. Select the desired objects and then click the icon to see the various alignment options.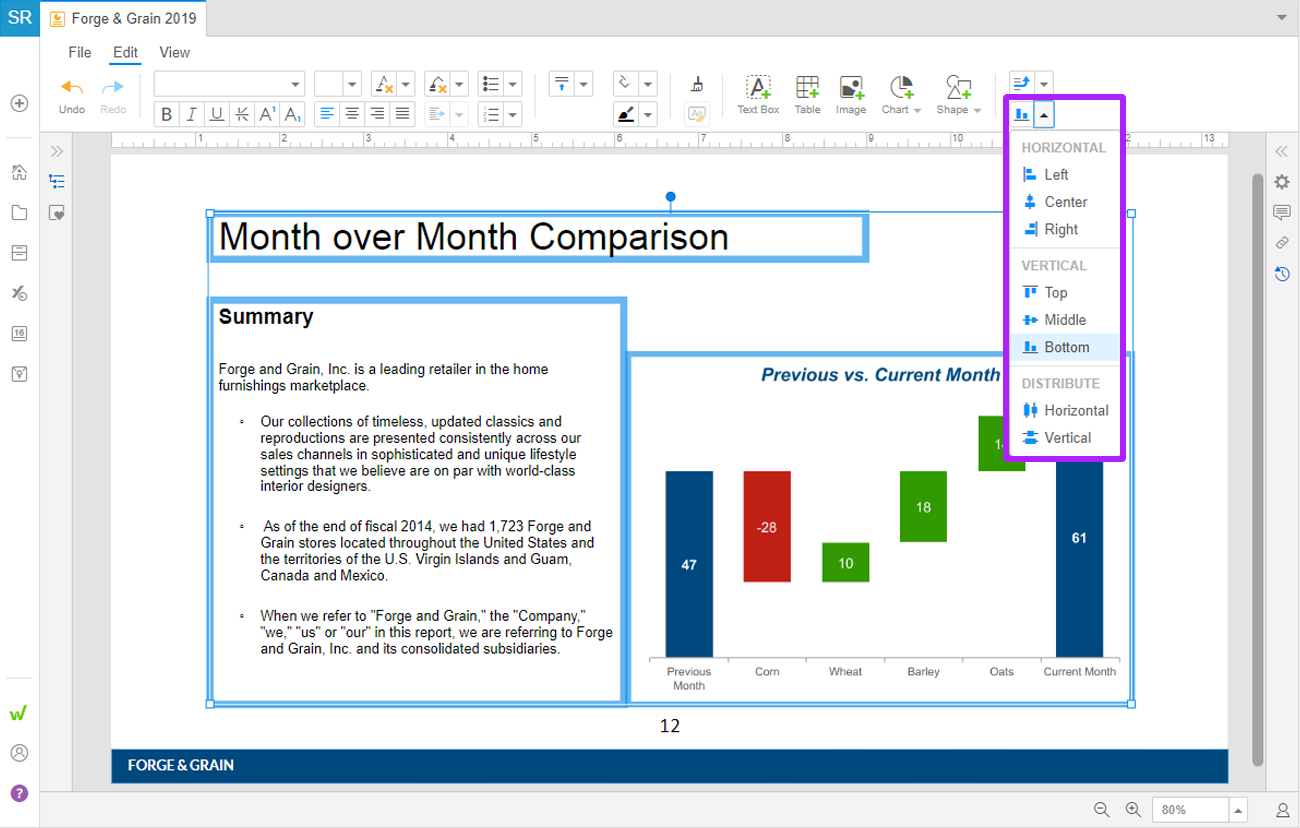 As you move and size shapes, equidistant snapping and grid lines will also help you to size and place your shapes consistently.