Basics of adding users
Org User Admins can add and manage users in an organization. When adding a new user, you can use an email address as the username or set a unique value. Usernames cannot include spaces or capital letters.
What you need:
First and Last Name
Email Address
Add a user
To add a new user to your organization:
1

Click your name in the bottom left, then select Organization Admin.

2

Click People .

3

Click Invite .


4

Enter the new user's information, then select options for any needed roles or licenses.

5

Click Save or Save and Add Another to continue adding more users.
After you've added users, they can then be added them to workspaces in your organization. To learn more, see Invite Members to a Workspace.
Welcome emails
Welcome emails are sent to new users when they are invited to their first workspace. They contain sign-in details and a temporary password that expires after 5 days. After signing in for the first time, users are required to enter a new password.
Note: If you send a welcome email before a user is invited to a workspace, they won't be able to access anything.
If needed, you can resend a welcome email to provide a new temporary password. To resend a welcome email:
1

In Organization Admin, click People .

2

Find the user and check the box next to them.

3

Click Welcome in the toolbar.


4

Click Send Email to finish.
Here are examples of what welcome and workspace invitation emails look like.
Welcome email
Contains sign-in details and a temporary password.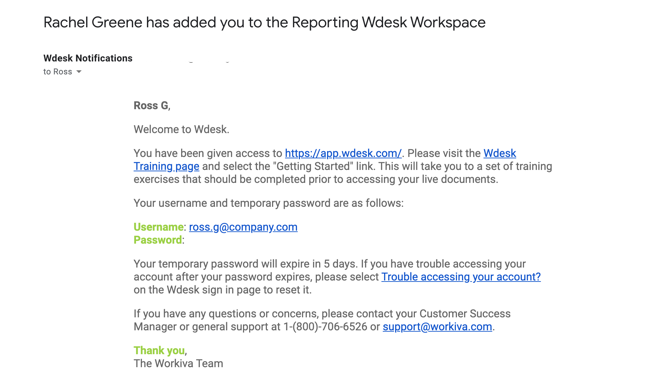 Workspace invitation email
Contains workspace details and a link to the workspace.