Formatting Text
In Spreadsheets, you can access cell and text formatting options in the Edit toolbar. From there, you can format text, select cell alignment, and change number options. You can also insert, remove, hide, and lock rows and columns from this toolbar.

Using Colors in Cells
To add a background color to a cell:
1

Select a cell or group of cells.

2

From the Edit toolbar, click the drop-down arrow for Background Color

3

Select a color to fill the cell(s).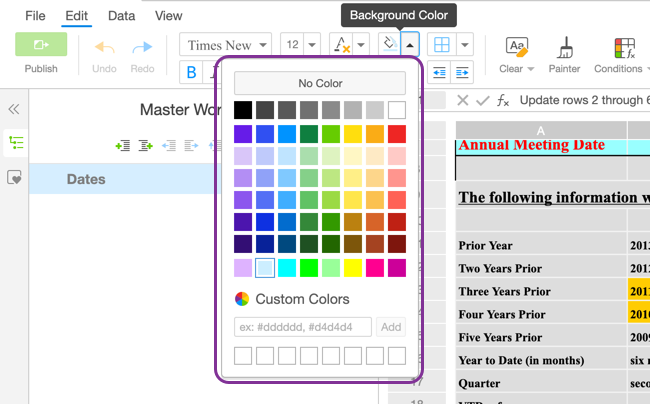 If you'd like to use a color that is not in the color selector, enter the six-digit hexadecimal code for that color in the Custom Colors field. Click Add to save the color to the bottom of the color selection menu.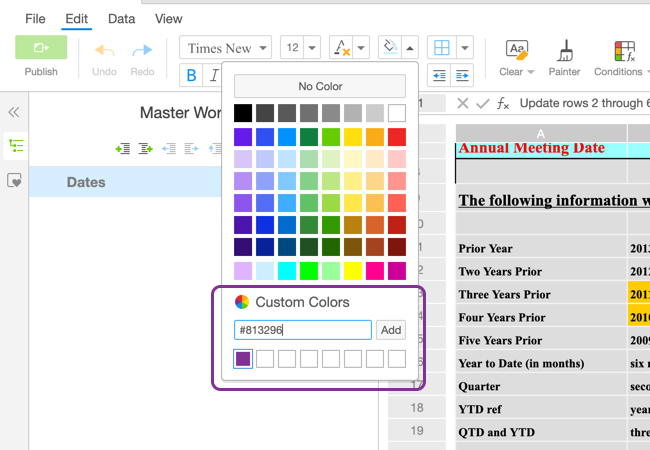 Sorting Data
You can sort data for one column or the entire table using the Sort feature.
To sort data in a column:
1

Click a column header to select the column.

2

From the Data toolbar, click Sort .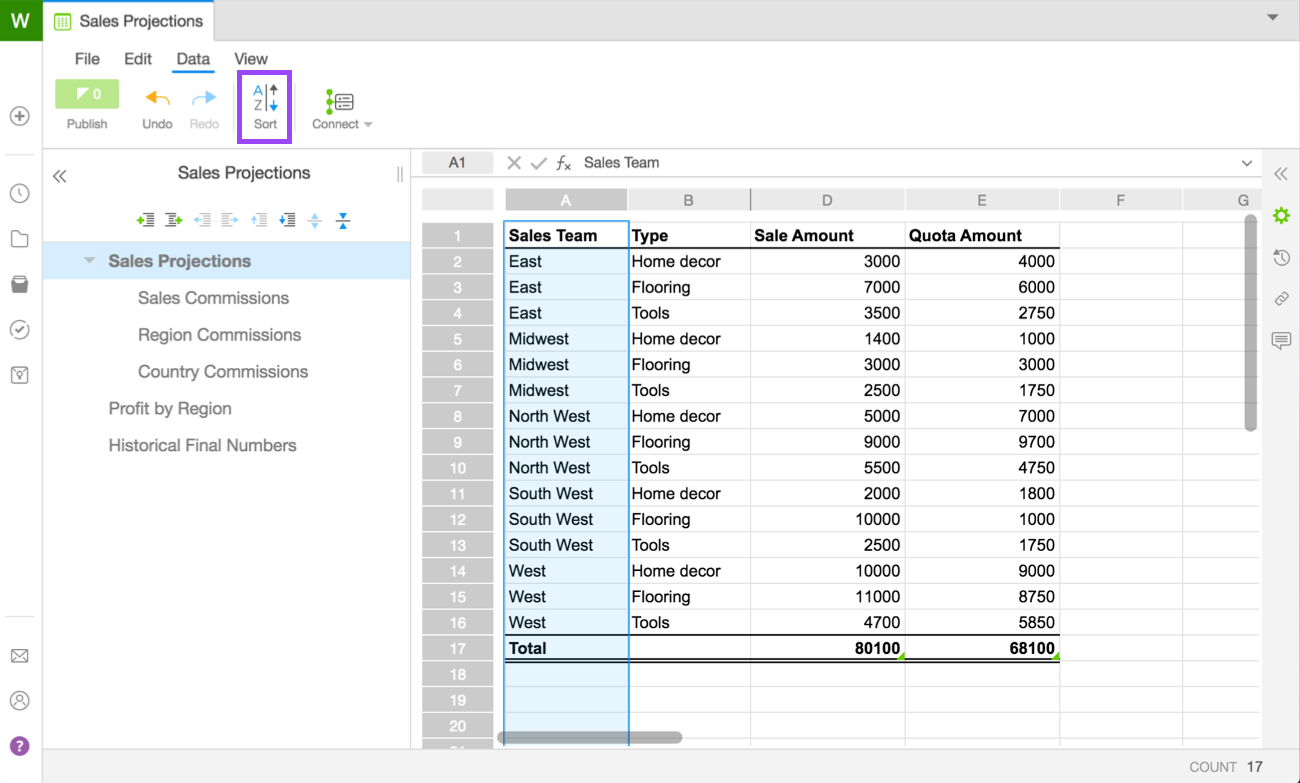 To sort a range of data:
1

Select the range you want to sort.

2

From the Data toolbar, click Sort .

3

If the selection has a header row, check Selection includes header row.

4

Select the column you want to sort by from the drop-down menu and choose alphabetical (A → Z) or reverse alphabetical (Z → A).

5

Click Sort.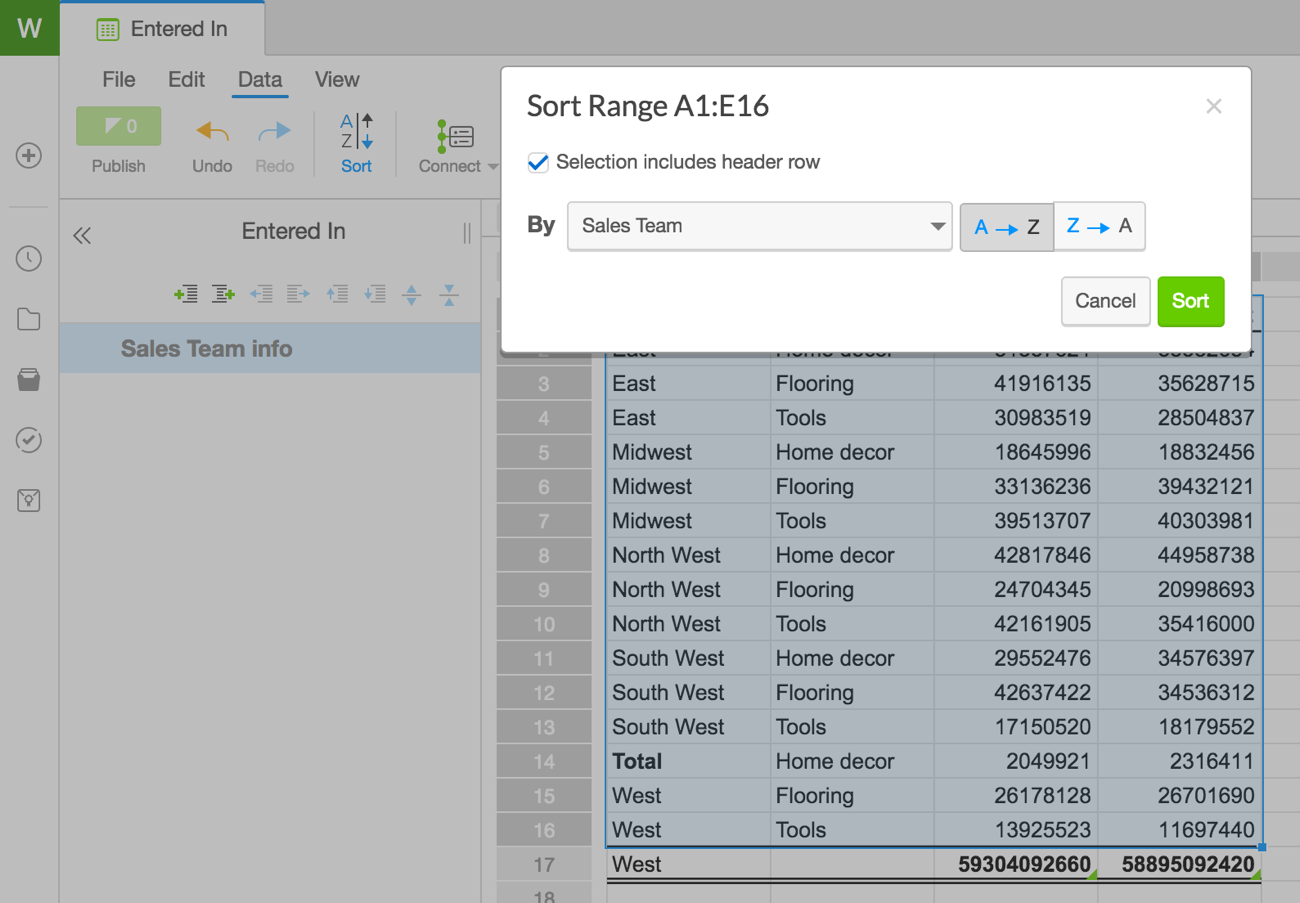 To learn more about working with data in Spreadsheets, see Viewing Data in Spreadsheets.
Filling a Range of Cells
To copy the same data or formatting across a range of cells, you can use the Fill Series options.
To fill a range of cells:
1

Select the cell(s) with the content you want to duplicate.

2

Click and drag the blue selection box across the range you want to fill.

3

Click the icon at the bottom of the selection.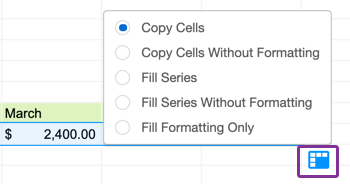 4

Select an option from the menu:
Copy Cells copies all the data and formatting in the selected range.
Copy Cells Without Formatting copies only the data in the range.
Fill Series fills the range with the selection's data and formatting.
Fill Series Without Formatting fills the range with only the entered data.
Fill Formatting Only fills the range with only the color and text formatting.