Folders are the main way to organize all of your files, such as documents, spreadsheets, and presentations. You can use folders to help make things easier to find and create subfolders to organize your files into meaningful ways, such as by year or quarter.
Creating Folders
To create a folder in Home:
1

Click the Create in the top left corner.

2

Select Folder .

3

Enter a folder a name and click the checkmark to finish. Clicking will cancel creating the folder.
You can also create folders by right-clicking on an existing folder and then selecting New Subfolder. You can create folder hierarchies up to 6 subfolders deep.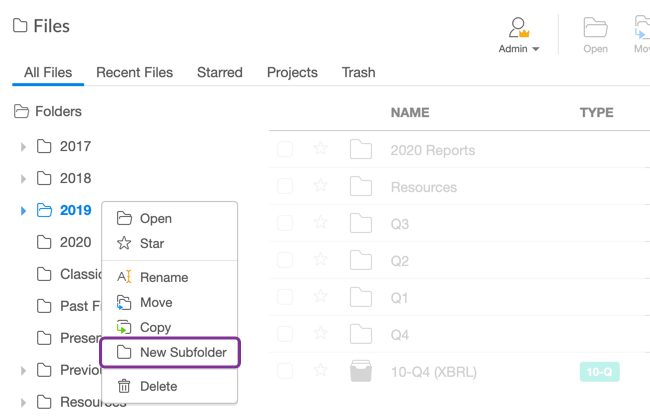 Moving Files and Folders
You can move items from anywhere in Files and Home by right-clicking and selecting Move. When viewing All Files, you can move files and folders by dragging them and dropping them into a folder.
Note: If you move folders with a lot of files or subfolders, it might take some time for you to see the changes.
Drag to a Folder
To drag a file or folder:
1

Go to Files, then click All Files.

2

Click and hold the item you want to move.

3

Move the item over the folder and let go.
You can drag and drop multiple items by checking the box next to them and following the same steps above. You'll see the status of the move in the lower right corner. If you moved items by mistake, click Undo.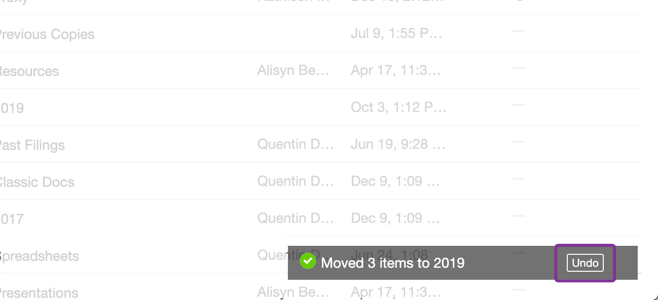 Move to a Folder
To move a file or folder:
1

Go to Files or Home.

2

Right-click on the item and select Move .

3

Click Choose Folder and select where you want to move the item.

4

Click Move to finish.
You can also move files by checking the box next to the files you want to move, then selecting Move in the toolbar on the top.

Note: You can move files between workspaces. To learn more, see Moving Files between Workspaces.
Uploading Files
Uploading files to Wdesk is helpful when you want to keep backups of documents or store files. Additionally, you can use file uploads to share items with team members.
To upload files from Home:
1

Go to Files and select All Files.

2

Click Upload . This opens a file browser dialog where you can select files on your computer.

3

Select the file you'd like to upload and click Open.
To download uploaded files, click the file name. This opens a new tab where you can download the file.